Lancaster County loves chicken corn soup.
An LancasterOnline archive dive found more than a dozen chicken corn soup recipes, from traditional with rivels or noodles to creamy versions and one with kale.
Here are eight chicken corn soup recipes from our archives:
Chicken corn soup with rivels
Makes eight 1-1/2-cup servings
Ingredients
3 pounds chicken pieces
3 quarts water
2 teaspoons salt
1/8 teaspoon pepper
7 cups (2 pounds) white corn, fresh or frozen
1 tablespoon instant bouillon, or to taste
2 tablespoons butter
2 hard-cooked eggs, chopped
1 tablespoon parsley, chopped
Rivels:
1/2 cup flour
1 egg, beaten
2 tablespoons water
Cook chicken in water and salt until tender. Remove chicken from broth, cool and remove from bones. Add corn, bouillon and pepper to hot broth, return to boil and cook 10 minutes.
Mix flour, egg and water. Drop rivel mixture by 1/4 teaspoonfuls into boiling soup; continue to cook 5 minutes. Add chopped eggs, parsley, butter and chicken.
Source: Arlene Giberson
---
Chicken corn soup with rivels
Ingredients
1 (5-pound) chicken, cooked and shredded
6 ears of corn, cooked
15 cups chicken stock
3 stalks celery, chopped
1½ large white onions, diced
2 cloves garlic, minced
1½ tablespoons fresh parsley, chopped fine
Salt and pepper to taste
2 eggs, beaten
1 cup flour
3 hard-boiled eggs, chopped fine
Cook and then pick the meat from chicken. Place the still-hot meat in a mixing bowl and work with a hand mixer on low setting until coarsely shredded. Do not overwork. Cover and set aside.
Boil 6 ears of corn for 5 minutes. When cool, cut off the kernels.
Bring the chicken stock to a simmer, then add the celery, onion, garlic, parsley and corn. Salt and pepper to taste and simmer 10 minutes.
In the meantime, combine the beaten eggs and flour to form the rivel dough.
Begin adding pea-size pinches of the dough to the pot. This is a tedious process, but resist the temptation to take bigger pieces of dough. Keep the rivels small.
Once all the dough is in the pot, simmer for another 10 minutes.
Stir in the cooked chicken and hard-boiled egg and simmer for another 10 minutes. Taste, adjust the salt and pepper, and serve. 
Source: Michael Long
---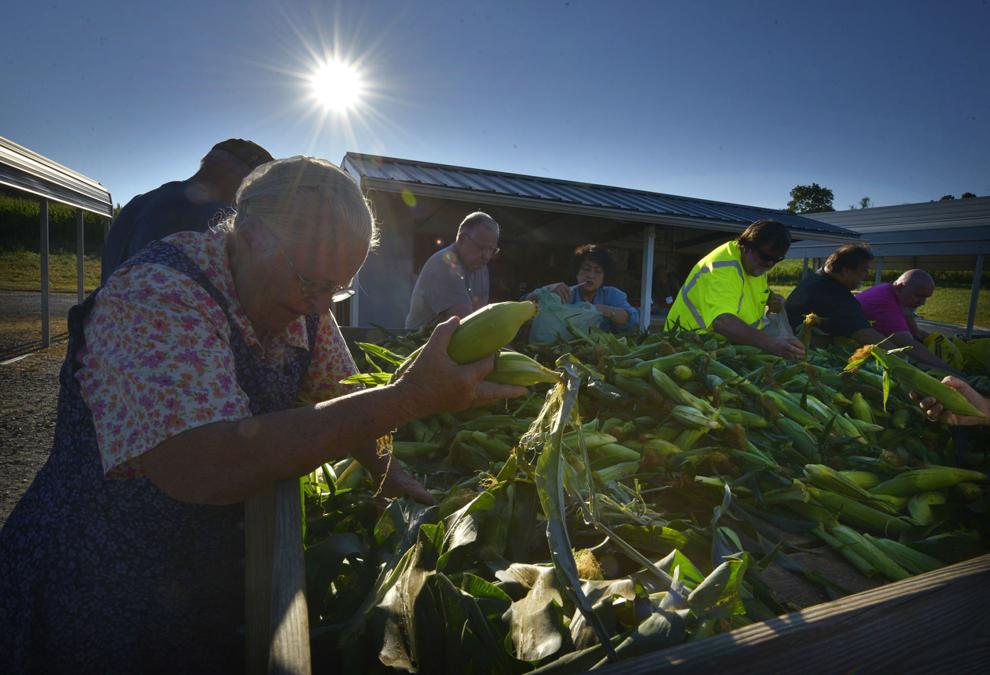 Pennsylvania Dutch chicken corn soup
Makes 6 servings.
Ingredients
1 chicken (3 1/2 to 4 pounds) cut into serving pieces
1 large onion, peeled and diced
Salt
8 black peppercorns
1 bay leaf
Several sprigs fresh thyme, or 1/2 teaspoon dried
1 teaspoon saffron threads or 1/4 teaspoon saffron powder
Freshly ground black pepper
2 cups corn kernels, preferably fresh
2 cups Alice's Mother's Noodles (recipe follows), or 6 ounces dried egg noodles
Rinse the chicken well. Place it and the onion in a large heavy saucepan or soup pot. Cover with water, and add salt, peppercorns, bay leaf and thyme. Bring to boil over high heat. Reduce the heat to medium-low, cover, and cook until the chicken is tender and nearly cooked through, about 30 minutes. Remove the pan from the heat, and remove the chicken pieces from the broth. Allow the chicken to cool.
When the chicken is cool enough to handle, remove and discard the skin, and pull the meat from the bones. Cut the meat into bite-sized pieces and set aside.
Remove the thyme springs, bay leaf and peppercorns from the chicken broth, and then bring it to a boil over medium- high heat. Add the saffron, season generously with salt and pepper, and cook for 15 minutes. Add the reserved chicken and the corn. Bring back to a boil. Add the noodles and cook until they are just tender, 5 minutes. Season to taste and serve immediately.
Alice's mother's noodles
1 cup unbleached all-purpose flour
1 teaspoon baking powder
1/4 teaspoon salt
1 large egg
1 to 4 tablespoons heavy (whipping) cream
Place the flour, baking powder and salt in a small bowl. Make a well in the center and add the egg and 1 tablespoon of the cream. Using a wooden spoon, mix the egg and cream until they are somewhat blended. Then quickly incorporate the flour mixture, mixing just until the ingredients are combined. If the mixture is quite dry and crumbly, add more cream. The dough should hold together; it can be moist but it shouldn't be wet. Cover the dough and let it sit for 30 minutes.
Roll the dough out on a lightly floured work surface to form a rectangle about 10x17 inches and 1/8 inch thick. Roll the rectangle up jellyroll fashion. Then cut the roll into 1/4-inch-thick strips. Unroll the strips, toss them with about 2 teaspoons of flour so they don't stick together, cover with a towel, and let them sit until you are ready to use them, at least 30 minutes.
To cook the noodles, bring a large pot of salted water or chicken stock to a boil, add the noodles and cook until they are tender but not soggy, about 5 minutes. Drain and serve immediately. Makes 2 cups uncooked noodles. Note: Alice Berner's family noodle recipe is put to much good use at the Berner farm. They are quick to make, and they cook within minutes...
Because these noodles contain baking powder, they increase slightly in size when cooked, so cut them accordingly. They need to sit to relax the gluten in the flour, so make them a couple of hours before you plan to cook them. Toss them lightly in flour and place them on a platter or work surface, covered with a cotton towel to keep them from drying out.
The reason for the range in the amount of cream needed is because it depends on how humid it is the day you make the noodles, the type and brand of flour you use and a host of other variables. Begin with 1 tablespoon and work judiciously from there. As it says in the directions, the dough should be moist but not wet.
Source: "Farmhouse Cookbook"
---
Chicken corn soup with noodles

2 cups chicken, cooked & diced
2 cups chicken broth
2 cups water
1 onion, chopped
1 cup celery, chopped
2 chicken bouillon cubes
2 cups corn (fresh or frozen)
Salt & pepper to taste
Parsley to taste
2 cups uncooked thin spaghetti broken into 2-inch pieces
Combine all ingredients except spaghetti pieces. Heat to boiling. (Add more or less liquid if desired for thickness of soup). Add spaghetti after liquid is boiling and simmer about 15 minutes. Variation: May use 1 cup uncooked rice instead of spaghetti. Noodles may be used also, if that is what you have on hand.
Source: Dot King
---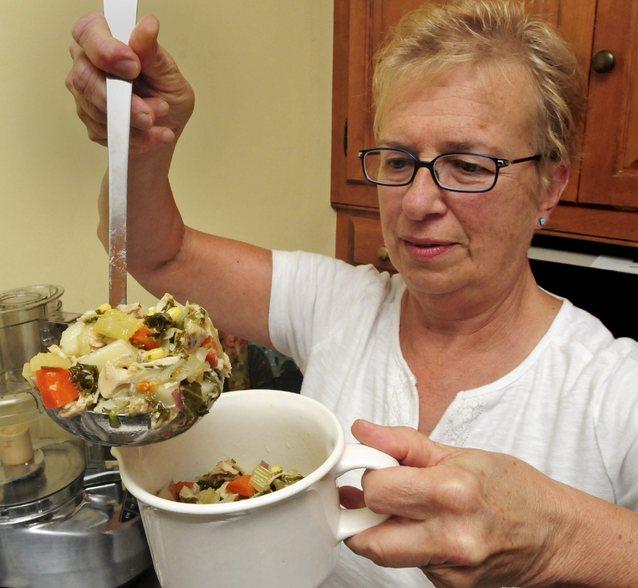 Modern chicken corn soup
Ingredients:
2 cups chicken, deboned and chopped, to be cooked
4-6 cups of water, for cooking chicken
4-8 stalks kale, stems removed, chopped into small pieces
1 leek, chopped (use white part of the vegetable)
2 tablespoons onion, peeled and chopped into thin slices or diced
8 cups water
½ head cabbage, chopped
1-2 medium red potatoes
5-6 carrots, sliced
2 -3 stalks celery, chopped
10 ounces frozen corn
½ to 1 tablespoon olive or coconut oil
Cook chicken well ahead of time or even a day before, in a stockpot with 4-6 cups of water. To cook chicken, bring chicken and water to a boil and then simmer until chicken is done.
Refrigerate chicken until ready to use.
Wash all vegetables well to be sure all dirt and grit is gone; remove any dirt particles and residue.
Put kale, leek and onion into large pot with oil. Saute until soft and slightly browned. Add 8 cups water and start boiling while adding the rest of the vegetables. Add chicken.
Bring to boil and simmer for 45 minutes until all vegetables are soft and flavors are blended.
If not serving immediately, refrigerate and heat when ready to use. Makes 4-5 servings.
NOTE: For even more flavor and nutrition, you can use some of the water that you cooked the chicken in. And, when it is available, use fresh-cut corn off the cob.
Source: Lolita Haverstick
---
Chicken corn soup
Ingredients:
1 (2½-pound) chicken
Water
Pinch saffron
2 teaspoons salt
¼ teaspoon pepper
2 cups corn kernels
1 cup chopped celery
1 tablespoon chopped parsley
Put chicken in a large kettle. Cover with enough water to make at least 4 cups of stock. Add saffron, salt and pepper. Bring to a boil and simmer until tender. Let chicken cool enough to handle. Remove skin from chicken; de-bone. Cut meat into bite-size pieces. Measure 2 cups of chicken, saving remainder for chicken salad or another dish. Bring 4 cups of broth to a boil. Add corn, celery and parsley. Boil for 5 minutes. Add chicken. Add more salt and pepper, if needed.
Source: Betty Groff's "Country Goodness Cookbook"
---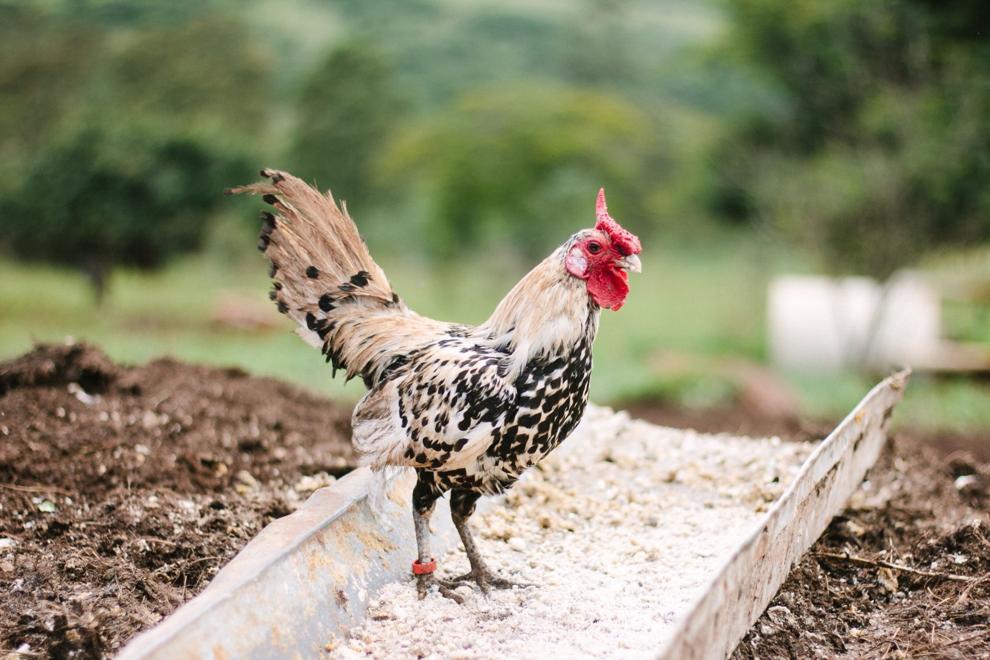 Chicken corn soup
Ingredients:
1 chicken, cooked and boned
1 box Cope's Dried Corn
1 double box of Mrs. Grass Noodle Soup
Broth of cooked chicken
1 teaspoon parsley
1/2 cup margarine
Salt and pepper to taste
Handmade noodles (recipe below)
Combine ingredients and simmer about 30 minutes. If broth is too rich, add more water or add more corn.
Handmade noodles
1 cup flour
1 egg
Mix with fork. Make small balls and drop in hot soup. Simmer 15-20 minutes more.
---
Creamy chicken corn soup
Ingredients:
3-1/2 cups chicken broth
1/4 cup celery, diced
1/2 cup carrots, diced
1 teaspoon minced onion
1 teaspoon salt
1/8 teaspoon pepper
1 tablespoon parsley
2 cups corn
2 cups chicken, cooked and diced
1 cup medium egg noodles
1 cup milk
3 slices American cheese
1/4 cup sour cream
Cook celery, carrots, onion, salt, pepper and parsley in broth until soft. Add corn, chicken, and noodles. Boil 7-10 minutes. Reduce heat to simmer and add milk, cheese and sour cream. Stir until cheese is melted.
Source: Tim and Linda Martin