Jay Brenneman holds the program from the 2016 service celebrating the life of his late wife, Marie Brenneman.
It was a memorial service, not a funeral.
His wife's body had been taken, after her death, to the Penn State College of Medicine at Milton S. Hershey Medical Center.
In the early 1980s, Jay and Marie Brenneman made the decision to donate their bodies to science — to the study of medicine.
"(Marie's) whole life was devoted to volunteer service for less-advantaged people," Brenneman says. "She felt, this is one gift that I can give."
The Brennemans chose to sign up with Humanity Gifts Registry.
It's a state agency, based in Philadelphia, that coordinates the distribution of donated bodies among 11 medical and dental schools across the state — which, in turn, aids in the anatomical education of future medical professionals.
"My wife and I made a decision to donate our bodies to the Humanity Gifts Registry at the same time," Brenneman, of Brethren Village, along Lititz Pike, says. "But it was her health condition that drove it. ... At age 30, (Marie) inherited from her dad the worst kind of asthma."
For many years, she struggled with lung issues, intensive treatments and, later, congestive heart failure.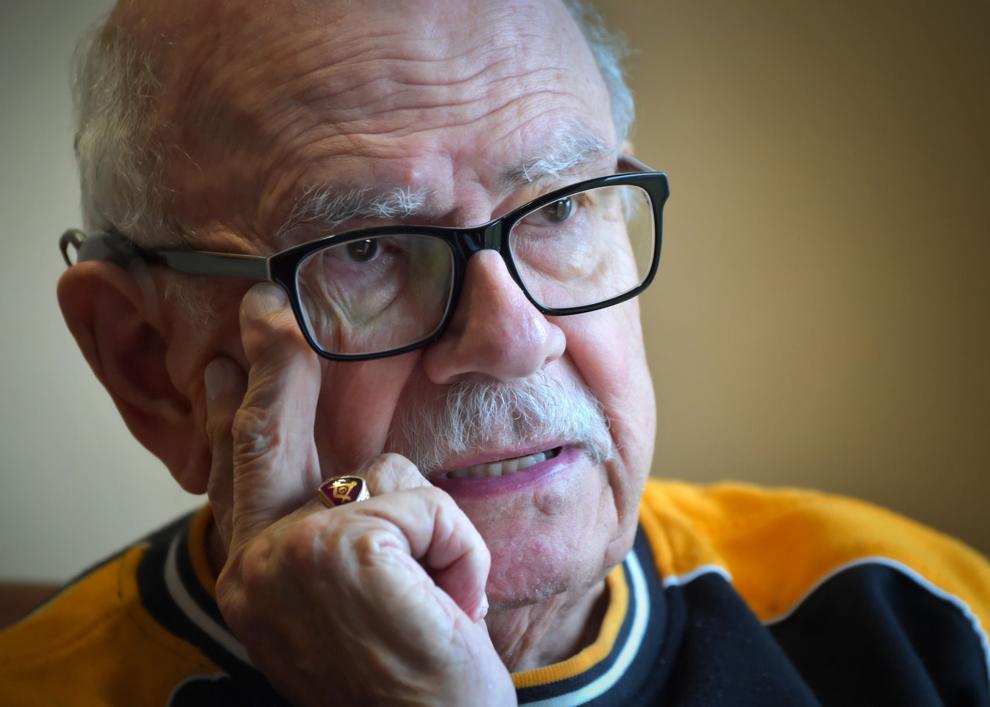 In her mid-30s, Brenneman says, his wife was enrolled in a National Institutes of Health experimental treatment program. They were told she might only live into her early 60s.
(Marie Brenneman died in late 2015 at age 82, a month shy of the couple's 60th wedding anniversary).
It was the NIH staff that told them about the gifts registry.
"Marie was very good at talking up the donor program" before her death, Brenneman says, because she believed her donation would help further the cause of science.
Brenneman keeps his own donor card and registration paperwork handy, preparing for the eventual day when his body will go to the Hershey medical college, as well.
---
Humanity Gifts
The registry was founded under the Anatomical Gift Act of 1883, says Clariza Murray, manager and outreach specialist for the agency.
Unless the family or donor requests a body go to a specific medical school, Murray says, they're generally assigned to the school in closest proximity to the death.
In Lancaster County, that means Penn State Hershey.
"The service of the funeral home and the transportation of the body (are) the financial responsibility of the family," Murray says. "So we wouldn't want them to incur extra cost to transport them to a farther school."
When a pre-registered donor dies, Murray says, the staff of the registry determines whether his or her body can be accepted at a medical school.
"We can't know how people are going to die," she says. "So we can't determine acceptability until after death has occurred."
If the death needs to be investigated with an autopsy, or if the donor has a contagious disease, the body can't be accepted, she says.
She adds it also generally won't be accepted if the person was obese — generally over 180 pounds for a woman or 230 for a man — or if they died from crushing injuries, Murray says.
If the body donation is accepted, a funeral home transports the body to the medical school.
"Like cremation and like funerals and burials with caskets, taking ... the body donation to our science institutions is just another form of disposition," says Lisa Groff, president of Groff Funeral & Cremation Services on West Orange Street.
Once the registry staff determines the body is eligible for donation, Groff says, "we still need to do the death certificate, going through that with the family, and finding out what memorialization they wish to have."
Body donors through the registry cannot have donated major organs, though they can donate eyes and skin — as long as the skin donation isn't too invasive — Murray says.
Once the donor's body has been delivered to the medical school, Murray says, "we embalm the donor and keep them for 30 days ... in case the legal next of kin change their minds."
After the donated cadavers have served their educational purpose, Murray says, they are cremated.
Some families elect to have the ashes buried in a cemetery near the medical school; it's Hershey Cemetery in this region, Murray says.
Once a year, in the spring, the medical students who have learned from donors' bodies create a memorial service for their families, featuring original music, poetry and more, in tribute to the donors who have given their bodies as a gift.
Brenneman received notification that his wife's body, having been used in anatomy classes, had been cremated in the spring of 2017. He attended the group memorial service in Hershey, but asked that her cremated remains be returned to him through a funeral home.
"That memorial service meant more to me, coming back two years and some months later," Brenneman says. "This service took the edge off of grief. It really did. Because it was a celebration, really."
Groff estimates 85% to 90% of donor families she has worked with ask for the ashes to be sent back to them.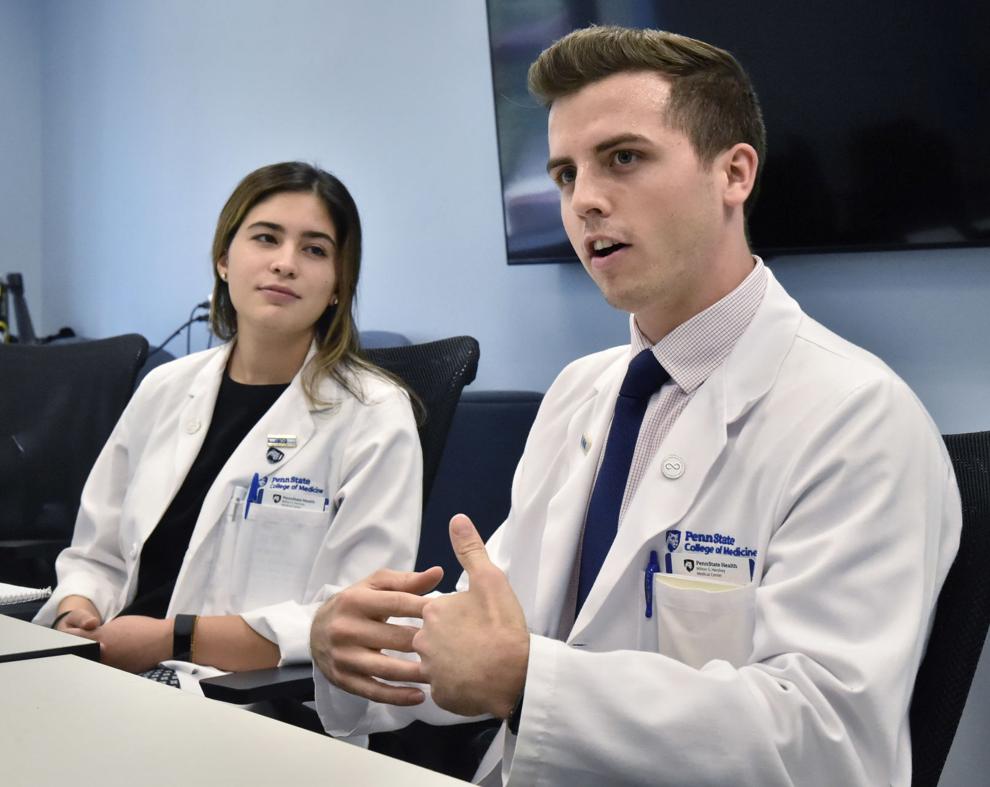 ---
Education and awe
Hershey medical students Jesse King, from Lancaster, and Jennifer Mardini, from Effort, remember when they were first introduced to the cadavers that would add to their knowledge of anatomy.
"I remember that first day, going in, and learning their name, learning their occupation, learning why they passed, how they passed and their age," King says.
His donor's name was William.
"For me, it brought on a respect and an awe for the human body," King says "I felt like I needed to approach the cadaver in a different way than I did any other dissection."
While dissecting his cadaver, King says, he was struck by "how tightly compact muscles are, when they are within their sheaths."
"His name was Dennis," Mardini says of the first cadaver she worked on in undergraduate school. "I remember feeling a wave of emotions before we stepped into the lab. It was hesitance. It was excitement. It was honor. It was respect. It was fear."
To give students, who were "strangers to him, the gift of learning about his body in the most intimate way, just struck me at different times on several different emotional levels," Mardini says.
"We never dehumanized the experience," she says. "We had respect for their sacrifice and donation."
As second-year students, King and Mardini became anatomy curriculum chairs for the next group of first-years coming to Penn State Hershey, helping to develop a humanities curriculum that aids in preparing new students intellectually and emotionally for the anatomy class.
Evan Goldman, head of the anatomy department at the medical college, says though there have been great strides in educational 3-D imaging of bodies, it can't duplicate the experience of dissecting a real human body.
"The cadaver is so central to the learning process," Goldman says. "It's an unparalleled ability to understand the human structure, compared to looking at a picture, compared to listening to a lecture, compared to using some computer program."
---
Science Care
The four children of Bill and Meta Robb, of Lancaster, chose a different path for helping them advance science.
The Robbs donated their bodies through Science Care, a nationwide, for-profit company that provides bodies for medical studies and physician training in surgical techniques.
"My dad was a very early supporter of (the) Green movement," their daughter, Carrie Robb, of Ephrata, says. "He was never a fan of burial because of the implications for ... the environment.
"And my mother had always said she was interested in donating her body to science," Robb adds.
"When (my father) was diagnosed with terminal prostate cancer," Robb says, we started talking to him: What option would you like? He wanted to be cremated, but he didn't want anything that would cost us a lot of money or require a lot of stress on us."
The hospice in which her father spent the last three days of his life in 2016 told the family about Science Care, and then helped them answer the company's health-screening questions over the phone to determine his eligibility for donation.
After having a good experience with Science Care, Robb and her family turned to the company again, pre-registering their mother before she died the following year.
Katrina Hernandez, vice president of donor services for Science Care, which has an office in Philadelphia, says potential donors can pre-plan by signing up for the company's general registry.
Or the company's Hope Program offers registration for terminally ill patients and those in hospice care, Hernandez says.
"It allows us to actually go through the medical pre-screening prior to (the person's death) and guarantee the donation for up to one year," Hernandez says.
If a person who wants to be a donor dies without a plan, she adds, "we can accept body donations up to seven days after the person has passed away."
Science Care also screens out those with contagious diseases or extreme obesity — "for females, it's over 260 pounds, and for males, over 300," Hernandez says.
Local funeral homes Science Care takes care of transporting the bodies to one of six company facilities across the U.S.
"You can be an organ donor and a body donor with our program," Hernandez notes.
There's no cost to the families, she says.
"We cover the transportation, filing of the death certificate, obtaining the permits, (performing) the cremation and returning the cremated remains," Hernandez says.
Through Science Care, donors' bodies might be used for disease studies, for training doctors in new surgical techniques or for testing medical devices such as knee and hip replacements or cochlear implants, Hernandez says.
"For every one donation, the donor contributes to, on average, seven medical programs," she adds.
"We return cremated remains within three to five weeks from the time of passing," she says.
At 30 to 45 days from the date of passing, we do send what we call a legacy letter," Hernandez says. "It details what studies their loved one has contributed to."
"Having a science background myself," Robb says, "I liked getting a letter and seeing what studies were going on and what (my parents) did toward the advancement of science.
"Another nice thing is that, on the anniversary of the death, (Science Care) sends you a card saying they've planted a tree in your loved one's name, and tell you where it is," Robb says.
"I thought that was a nice touch," Robb adds.