Before pre-lit PVC Christmas trees stood tall and before aluminum trees basked in the glow of color wheels, the first artificial holiday trees were made from feathers.
These trees were first crafted in Germany and came to the United States as residents immigrated. They gained popularity about 100 years ago and still have fans because of their history and their look. While most modern artificial trees are lush and full, these trees traditionally have plenty of space between the branches. To some, that's a Charlie Brown tree. Others see the chance to highlight ornaments.
---
'Our forest'
Janice Sonnen likes her four feather trees so much that after the holidays she puts the ornaments away and sets the trees on a table in her bedroom.
"My husband calls them our forest," she says.
Sonnen decorates her farmhouse near Richland, Lebanon County, in a traditional style, with plenty of primitives. Feather trees are a natural fit.
"The lines of the tree are so simple," she says. "When you put little ornaments on it or little stars, they show up so well on that simple little tree. I just love them."
She found her first tree 30 years ago at a craft show. The second came from Carol Wardell, a retired teacher who lives near Lititz and makes them. Sonnen made the third with a kit but turned to Wardell for some rehabilitative work. Naturally, she went to Wardell for her latest tree.
---
From trash to tree
As a girl, Carol Wardell admired her grandmothers' feather trees, but the tradition goes back to the 1800s.
As Wardell tells the tale, when more and more people in Germany cut down trees for Christmas, it took a toll on the forests. When people weren't allowed to cut down their own tree, they came up with something new. They found an alternative from something considered trash.
Goose down and some of the feathers were used for bedding, yet a thin feather from the goose's wing became a new type of tree.
The quills are stripped in half. These biots have a quill on one side and fine feathers on the other side.
"Look what happens when you roll it around," Wardell says. "It automatically opens up to this perfect little pine needle or fir needle."
That small feather is wrapped around a wire and fastened.
"This doesn't go fast," she says. "You get about a quarter to a half an inch per feather."
As German immigrants came to the U.S., they brought their feather tree tradition with them.
In 1913, they were in the Sears Roebuck catalog, Wardell says. By the 1950s, however, most Americans looking for artificial trees moved on to the aluminum variety.
---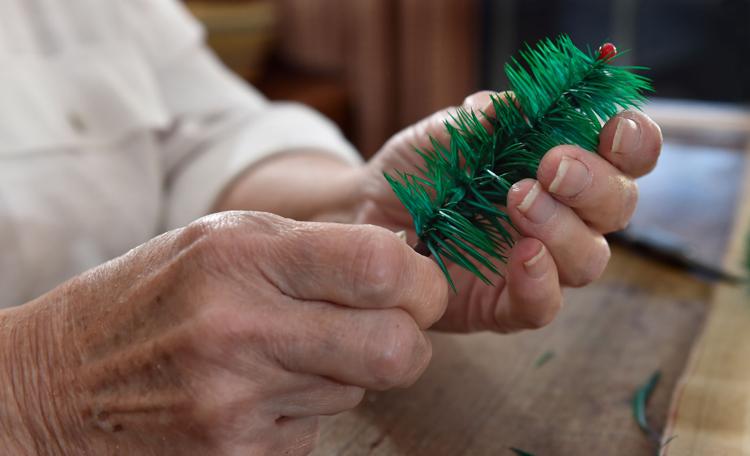 First feather trees
The feather trees, however, still had some fans. Carol Wardell's grandmothers had their own feather trees, but both were gone by the time Carol and her husband, Ron, had a house of their own.
She spotted a kit in a magazine and made her own. When friends would try to make their own, they turned to her for help. Someone asked her to make one. And the feather trees grew from there.
When Ron Wardell retired from his engineering job a few years ago, he started lending a hand.
These days, he makes the bases, following examples spotted in museums.
He cuts the wires for the branches and adds red berries on the end. Ron Wardell also has created his own holders for miniature candles, even if the candles are never lit.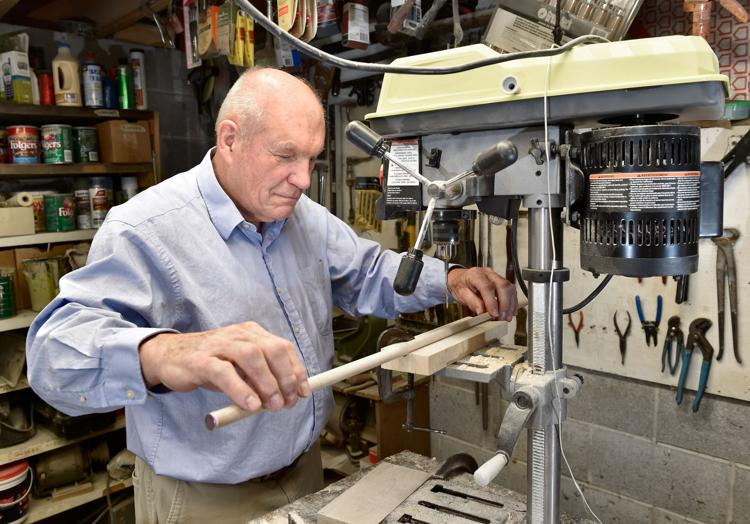 Once the branches are secured to the base, he wraps the joints in wire, then tape, then crepe paper, which looks just like bark.
"My training is engineering, and I want to make sure it's not going to come apart," he says.
---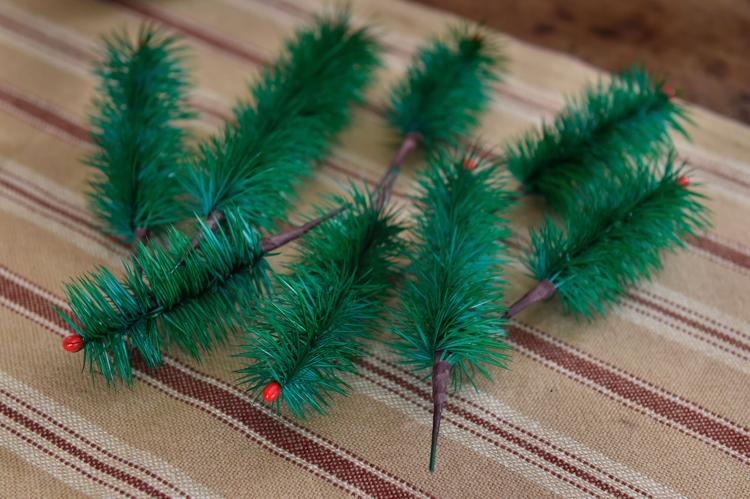 Five shades of green
Years ago, the trees were made with turkey and goose feathers. The Wardells stick to goose feathers. To make trees in five shades of green and two shades of white, they buy pre-dyed feathers. Sometimes, Ron Wardell will dye feathers to come up with Christmas green, dark green, spring green, antique olive and spruce, plus white and antique white.
Once the holidays are over and the weather clears up, Carol Wardell teaches feather tree classes in their home. At the end of two classes, her students leave with a tree of their own.
---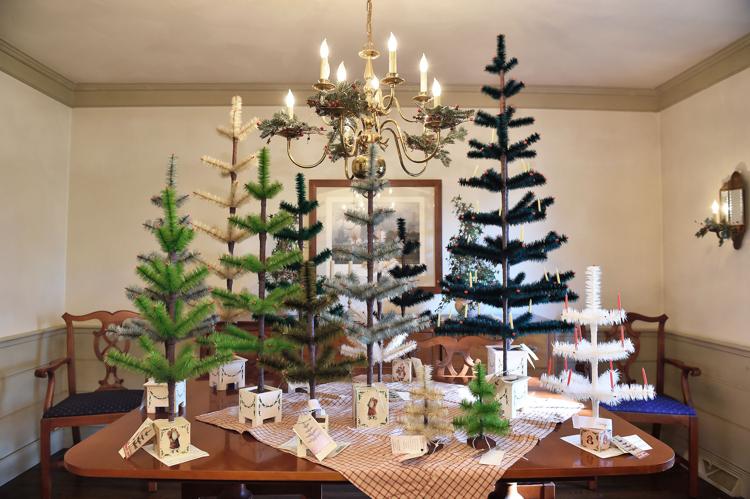 A 6-foot feather tree
While the trees are made from feathers, they are tough. The Wardells have seen some in museums that are 100 years old.
A tree will last longer if it's kept in a climate-controlled space, not an attic.
These days, Carol and Ron Wardell make trees from 9 inches tall to 6 feet tall.
They also sell single-feather tree branches for people to add to their Santa or Belsnickel decorations.
The trees are popular, but the couple are limited to the amount of feather branches they can make. Carol Wardell is a retired teacher and spends plenty of time feathering inside the house, outside on the porch and at craft shows.
"A lot of people don't understand how this could be a feather," she says.