Manheim Township's Michael D. Riley has one or more poems in 300-plus books.
The emeritus professor of English at Penn State Berks also has written six books of poems.
The latest, "Ordinary Time: Poems for the Liturgical Year," is his first collection devoted entirely to faith. It evolved from two lengthy experiences: 20 years of writing poems as Christmas cards and 20 years of writing about 100 pages of poems annually at St. Joseph's in the Hills
Retreat House, in Malvern, on Palm Sunday weekend.
The 193-page book, published this year by Wipf and Stock Publishers, Eugene, Oregon, features a chapter of Christmas poems, titled "Incarnate," and a chapter of Lenten and Palm Sunday poems, titled "Eastertide," with "Ordinary Time (1)" in between and "Ordinary Time (2)" at the end.
In a blurb on the back of the book, the title, "Ordinary Time," is described as "deeply ironic."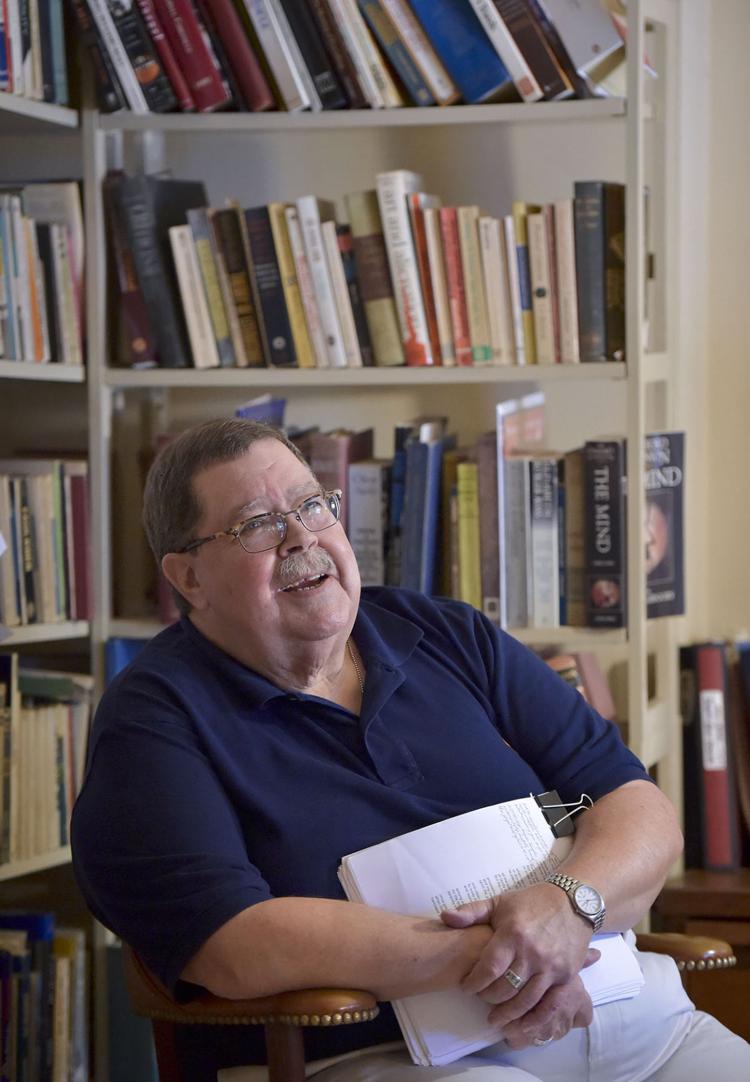 "Although 'ordinary time' is the church's official designation for the time of the year (broken in two halves) not surrounding the major feasts of the Incarnation (Christmas) and the Resurrection (Lent and Easter), I liked the phrase because the life of faith is, in fact, never 'ordinary' in the most important senses, yet it is 'ordinary' in that it is a vital part of the daily life of a believer," Riley wrote in an email.
A Lancaster native, Riley describes himself as a lapsed Catholic who then found his way back. He has been a member of Saint John Neumann Catholic Church, 601 E. Delp Road, for 30 years.
A 1963 graduate of Lancaster Catholic High School and a 1967 graduate of the University of Scranton, a Catholic and Jesuit school, he received master's and doctorate degrees from Ohio University, then taught English at the former Floyd Junior College in Rome, Georgia, for five years and at Penn State Wilkes-Barre for three years before moving to the Berks campus in 1981, retiring in 2009.
 He and his wife, Anne, a nurse, met at LCHS and recently celebrated their 50th wedding anniversary.  They have a daughter, Erin Riley, 47, of Los Angeles, and a son, Devin Riley, 45, of Lititz, and two grandchildren.
Riley's first published poem won a prize in a contest sponsored by the Catholic Diocese of Harrisburg when he was in eighth grade.
"I think the arts hit you when you're a kid," he says. "I always kept a notebook."
Poetry is hard to write
His first published poem when he was an adult appeared in 1980.
"Since then I've made less than $1,000 as a poet," says Riley. "I would have been a fulltime poet if I could have made a living."
He quotes Rainer Maria Rilke (1875-1926), widely recognized by the Poetry Foundation as one of the most lyrically intense German-language poets, who once said, "If you don't have to write poetry, don't."
"There's a lot of pain, a lot of disappointments, a lot of staring out the window," Riley says. "Poetry is a compulsion."
Riley marvels at the productivity of painters, musicians and novelists.
"It's difficult to make a good poem," he says. "Ninety-six point five percent of the time is revision…. Good poetry is difficult."
To explain what prompted him to write a book of poetry on faith, Riley refers to the late Catholic poet Josephine Jacobsen, an American who died in 2003 at the age 94, who had three mystical experiences as a child.
"She found the urge to write poems came from the same place," Riley says. "You have to do it. If you deal with words, you have to use them."
Riley sometimes envies photographers, painters and musicians, who can skip the words and go straight to the feelings.
"With words, you're navigating through meanings that have accumulated over hundreds and hundreds of years. It's the pull of mystery and awe that you're trying to reach."
Riley refers to John Carey, an American who trained in Celtic studies and wrote about "the full extravagant strangeness of existence" that captures poets.
"They can't get away as well as other people can," Riley explains. "When cooking eggs or walking the dog, it's always there — the strangeness, the awe that faith shares with poetry."
Faith and poetry also share a sense of giftedness, Riley says.
"By this I mean not that you have a gift but it's a gift that is given to you, like faith is a gift. Often writers and artists who are not particularly religious feel swept into art. Often it feels you've only helped to create it. It's a feeling that something has taken hold of you. It's given. You haven't just done it.
"People ask me how I do it. I say, 'I don't know. I just do it.'"