Growing up in Kirkwood, Aaron Fisher knew what it was like to be hungry.
"My dad was in a wheelchair," he said. "We were pretty poor. Somebody would bring us food once in a while and I thought this was amazing. It was almost like Christmas. So I determined at that point I would do something with my life to help people."
Today, he and David Lapp operate Blessings of Hope, a 16,000-square-foot food bank distribution center in Leola that serves 117 ministries from New York City to North Carolina.
Fisher, 38, who serves as executive director, and Lapp, 36, who is CEO of the company, began helping others in 2006 through an outreach program at Christ Community Church in Harrisburg.
Fisher and Lapp would return to Lancaster with the leftover food and contact ministries in need of food for their pantries.
When they began operating their food bank in 2006, they had three clients — Bethesda Mission in Harrisburg, Water Street Mission in Lancaster and the Bowery Mission in New York City. At that time, it was part of Light of Hope Ministries. In 2010, it became a separate and independent organization from Light of Hope.
How it works
Blessings of Hope has a relationship with 40 food distributors. Lapp said that food buyers get better prices at food sales when they buy in bulk.
"If (a buyer) gets 20 skids, he might get rid of 16 and the profit margin more than pays for four he then donates," Lapp said. "It gives them buying power and if they can't move it, they have an outlet for it."
Fisher said there are times when a truck has extra pallets of a product, or a store rejects a product because the expiration date is too near.
Tom Tillett, who served as U.S. Congressman Joe Pitts' district chief of staff and is now director of development for Blessings of Hope, said Fisher and Lapp have the contacts to move the food to places where it is needed.
"That's where these guys shine," he said.
Blessings of Hope also has a large refrigeration and freezer capacity to store perishable items.
That came in handy recently when a large truckload of broccoli from California arrived locally.
 "The top two layers didn't have ice on it," Lapp said, "so the whole load got rejected (by the food distributor.) The top two layers we had to throw away but the rest was fine."
Added Fisher, "We one time got 36 pallets of lemonade because there was one word on (the label) that was misspelled," he said.
Once the food arrives, volunteers break the amounts into manageable family sizes. Fisher said they have more than 200 volunteers who help separate and bag food for the ministry partners.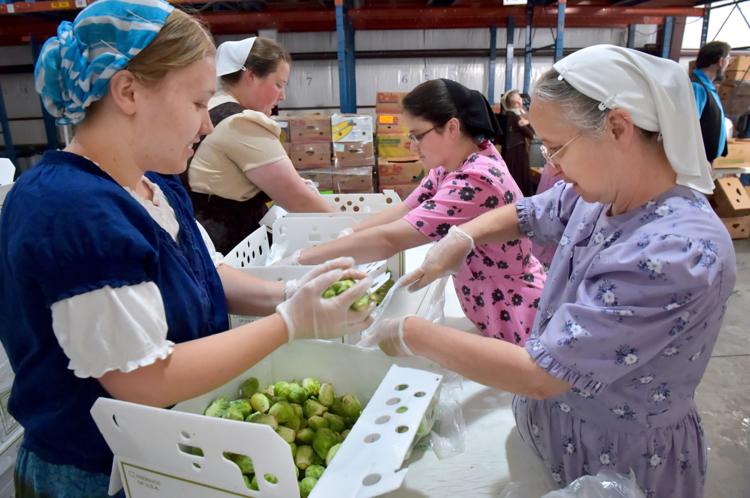 The ministry partners then come to Blessings of Hope to pick up the food to take to their food banks and pantries.
Who pays?
Blessings of Hope has an annual budget of $700,000. Revenue is generated by donation and through subscriptions paid by the ministries they serve.
The subscriptions are on a sliding scale — smaller fees for ministries that pick up occasionally; larger subscriptions for ministries that pick up food on a weekly basis.
"We have some organizations that get like 500 pounds a month," Fisher said. "And we have some that get 17,000 pounds per month."
One ministry — Bowery Mission, which receives one truckload of food per week — has an employee on site.
Overcoming challenges
Fisher and Lapp grew up Amish and are proud of their Amish heritage, but they see their work as more evangelical in nature.
The pair acknowledged that despite their good intentions, building the business has not been easy.
"It's been 12 years of trial and error," Lapp said. "Sometimes we didn't know if we'd be able to operate the next day. "
In 2014, they had to move their operation from a building they were leasing in Ephrata. They had to rent refrigeration trailers to keep produce fresh while they looked for another location. They moved into their current facility in January 2015.
Lapp said they also faced financial issues due to their rapid growth. To this day, Lapp attributes their success to maintaining focus on their mission and a lot of prayer.
"I would say, number one, it was God. There's no way we'd be here without God."
"We've seen amazing things just work out," Fisher added.
Goals
The organization leases its facility at 48 Eagle Drive, Leola. Their ultimate goal is to own their own building.
One possible path to ownership is to expand by creating an online e-commerce ordering system.
"That would include bar coding, so we would know what's on the skid, expiration dates, all that stuff," Lapp said. "The online shopping cart would allow us to broaden our base and allow ministers ... to order online what they need, and then we could ship it to them."
Tillett also wants to put in place what he calls the "Bridge Initiative" for those people struggling to find themselves.
Revelations of Freedom Ministries, Blue Ball, and Restart Training Center Ministries, Strasburg, both of which are faith-based residential recovery support programs for men who struggle with addictions, provide volunteers as part of their recovery programs.
Tillett said Blessings of Hope is hiring a volunteer coordinator to offer education and spiritual mentoring to volunteers from those programs.
"We could then be a reference to a future employer," Lapp said.