I had been meaning to visit Upohar, a small vegetarian and vegan restaurant in a New Holland Avenue shopping center, since it reopened a year ago.
I'm drawn to its cuisine and its mission; more on that later.
On a recent Saturday night, I finally got there, with three friends in tow.
Since I don't eat meat or poultry, it's great to be able to go to an eatery where I can choose absolutely any item on the menu — knowing it's meat-free.
A variety of world music plays in this cozy restaurant of 50 or so seats. The place has cheerful yellow walls lined with framed color photographs — taken in various locales around the world by Pablo Jenik, husband of the owner.
My friends and I were greeted by said owner, Srirupa Dasgupta, who was also our no-nonsense server for the evening.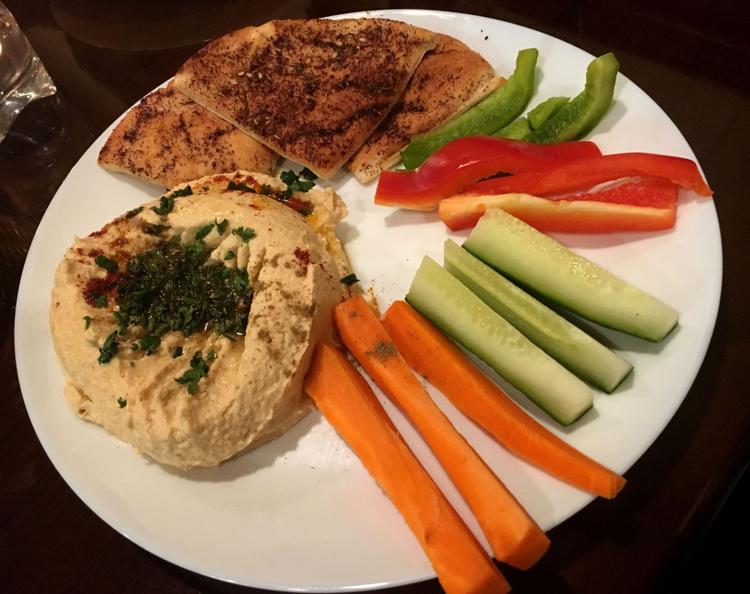 She handed us menus featuring appetizers and light fare, entrees, a mix-and-match "global feast" option and desserts. Most of the entrees are "ensembles" — dishes consisting of a few different items from a given part of the world. For those who avoid gluten or eggs, those ingredients' presence is noted on the menu in any dish where they're found.
Upohar's other owner, Christina Maldonado, who runs the Christina's Criollo Puerto Rican cuisine stand at Lancaster Central Market, soon emerged from the kitchen to ask if we had any questions about the menu.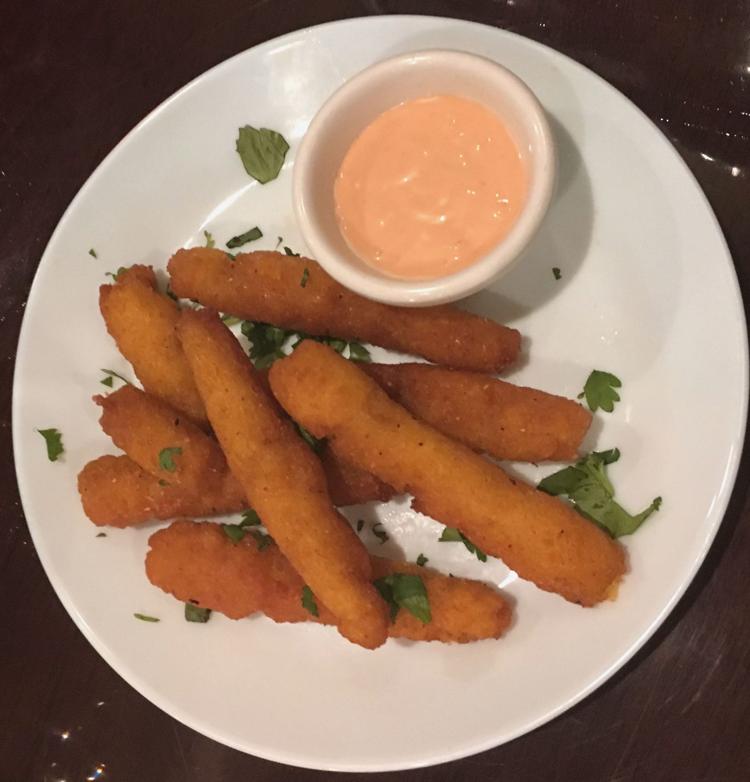 Dasgupta took our orders on a computer tablet at our table, which took a little while because we asked for separate checks. Later, she settled our credit card payments the same way.
My side of the table chose to share the hummus platter ($6), with a heaping mound of smooth Iraqi-style chickpea dip, served with flatbread and vegetables for dipping. The flatbread was a bit hard to tear, but everything tasted good.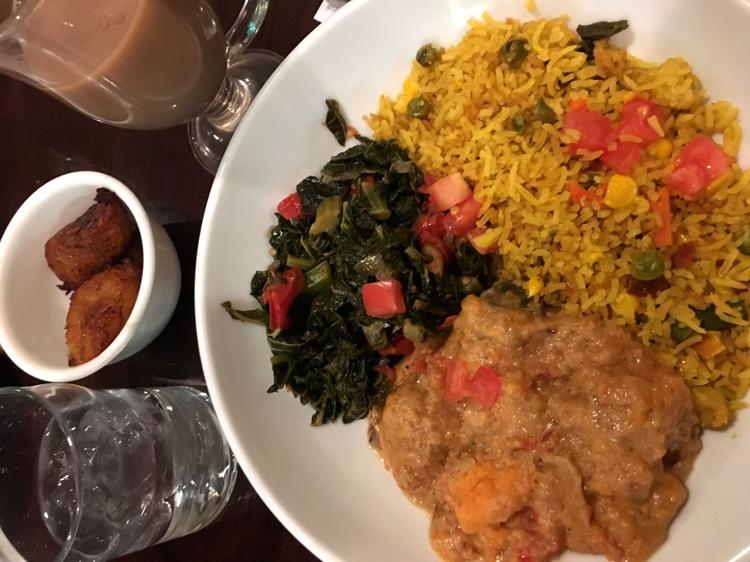 The couple we were with chose to split an order of sweet fried sorullitos, which are yummy, soft, finger-shaped Puerto Rican corn fritters with mayonnaise-ketchup-garlic dip ($5). They tasted like Puerto Rican-style hush puppies with a kick; I am definitely getting those in the future.
My dining companions brought a bottle of wine to this BYOB establishment. Instead, I ordered a steaming glass mug of spiced masala chai with soy milk, to which I needed to add a little sugar. It was a great warm-up on a cold night.
You also can get the chai cold, and with real milk if you choose.
A friend and I both ordered the $16 Sub-Saharan African Ensemble, with a thick and creamy peanut soup containing chunks of yam, eggplant, peppers and tomato. The tasty dinner bowl also contained chopped and cooked Congolese kale, served on Nigerian fried rice with corn, peas and other vegetables along with coconut milk and spices.
A few little sweet, deep-fried plantains in a separate bowl completed this ensemble.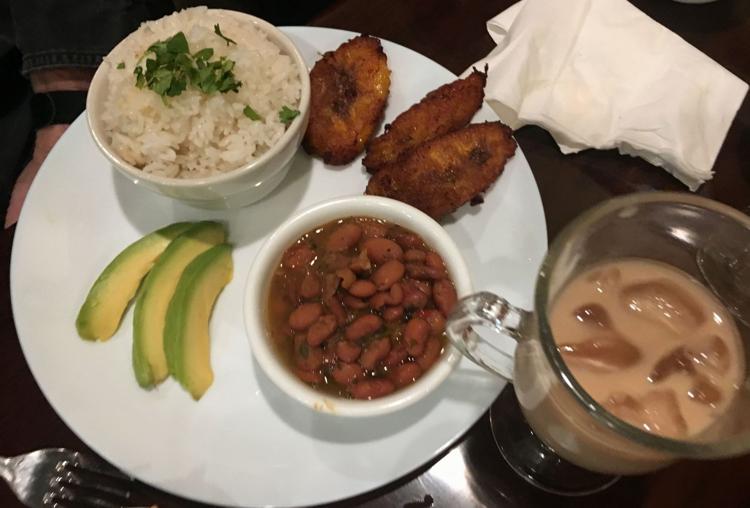 I liked the kale; I thought the way it was cooked removed the expected bitterness and gave it a piquant flavor. My dining companion liked the rest of the meal but didn't care for the kale.
I ate every bit of my delicious dinner and would have licked the bottom of the bowl if I could have gotten away with it.
Another diner enjoyed his Puerto Rican Ensemble ($14) of pinto beans and white rice, with fried plantains and a cabbage slaw with cilantro-lime dressing.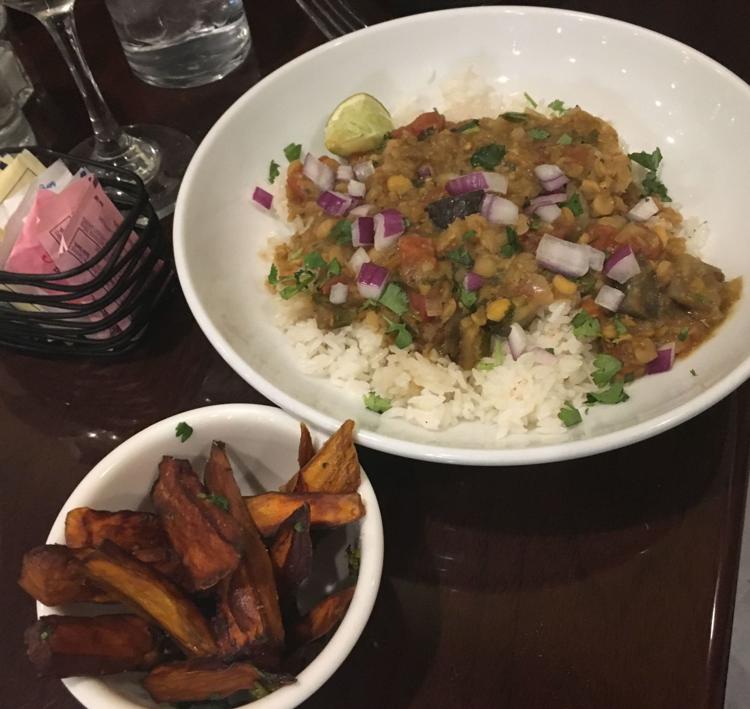 Still another chose the Parsi Ensemble ($16) starring a spiced dhansak — a lentil, eggplant, tomato and green chile pepper stew over white rice with red onion. Though the menu cautioned "spicy!" my friend said the dish was delicious and not too spicy at all. The sweet potato fries on the side were delicious; I stole a few from her bowl.
That Parsi dish is what I plan to order on my next trip to Upohar. Though I'd also like to try the every-day lunch buffet, to sample a variety of dishes, or the dinner buffet on Thursday nights.
One of my dining companions and I each got a bowl of thick pumpkin pudding ($4) for dessert. It was more savory than sweet, and was topped with a few strands of crunchy, toasted coconut. Normally I like my desserts sweet, but I didn't mind the low sugar content of this season-appropriate pudding.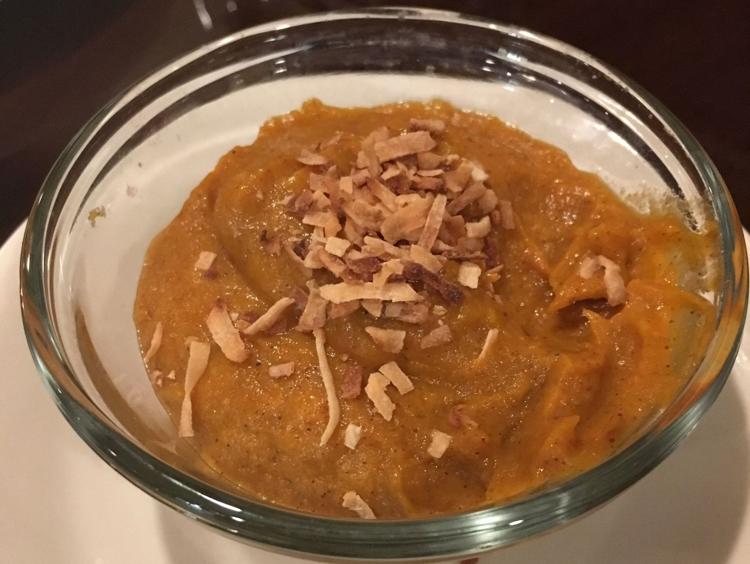 One note: You'll have to ask for ice — your server will bring it in a drinking glass — if you want it in your drink. Dasgupta says having ice in your drink is not an Indian tradition.
Upohar means gift in Bengali, implying the restaurant's international dishes are a gift to diners.
But Upohar, which was formerly located on West Roseville Road, is also a gift to the community.
The restaurant takes diners on a culinary trip around the world. But it also has a separate founding purpose — an official social mission. Upohar strives to give jobs to people with barriers to employment, such as former refugees and people who have been homeless. Refugees' recipes from their home countries have found their way onto the menu.
Upohar, in short, offers comfort, and comfort food, in many languages.