Who doesn't love a good diner?
Some of my fondest food memories are laughing with friends and family over piles of cheese fries, burgers and giant fountain sodas at our favorite unpretentious neon-signed diner.
So when Max's Eatery, a new Lancaster city restaurant with the motto of "Everyday Eating" opened, I was bright-eyed and bushy-tailed. The menu seemed to elevate comfort food you'd find in your favorite greasy spoon, serving it up in an Instagram-friendly atmosphere that plays off of the Technicolor diners familiar to so many.
After a few visits to Max's, I'm happy to report that it does not disappoint.
On my most recent visit on a weeknight, my partner and I made a reservation. It probably wasn't necessary for a weeknight, but on another trip during dinner time on a Saturday, the only available seats were at the lunch counter. It proved to be a fun experience, but if you plan to go during a busy hour and prefer a seat with a back over a barstool, I'd recommend making a reservation.
The storefront is decorated for Christmas, with string lights aplenty and vintage hollow, plastic snowmen you might see on a lawn of yesteryear. It added to Max's kitschy, fun environment.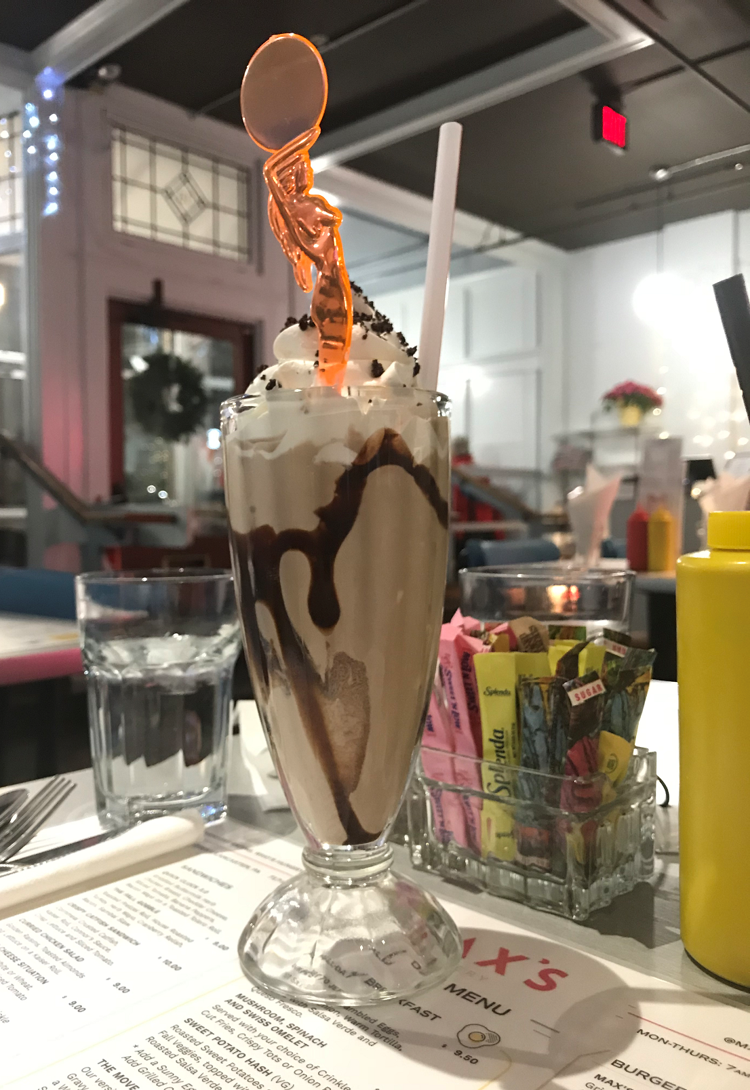 Behind the lunch counter is a large, pink neon sign with the restaurant's name and motto. It's quite eye-catching and makes for a photogenic background. The restaurant is decorated in pink and teal, with foliage scattered appropriately. It's joyful and energetic, making it a nice atmosphere to eat with kids or before a night on the town with friends.
Our server was incredibly pleasant, and was upfront with us that it was her first shift. Still, she was attentive and kind, and asked questions when needed. I liked that she let us know it was her first day, which set a friendly tone for the evening.
Max's has a full bar, and one of its specialties is magnificent alcoholic milkshakes. I've yet to take a sip, but my partner quite enjoyed the Twist and Shout ($10.50), which combined chocolate and vanilla soft serve with vodka and tiramisu Italian liqueur. It's served up with flair in a tall, old-fashioned-style glass.
I opted for one of Max's many nonalcoholic options, the Roy Rogers ($2.50). The syrupy mixture of grenadine and Coke brought out the kid in me. It's super sweet, but I love having the option to order a fun beverage that doesn't have alcohol in it. There are other nonalcoholic drinks on the menu as well, including the Astronaut, an orange drink with a Tang rim ($2.50).
We started our meal with an order of the onion rings. They come piping hot with a side of spicy Marie Rose dip, a mayo with a slight kick. It's the perfect complement. The rings are finely breaded and fried nicely. They're messy to eat, but boy, are they tasty.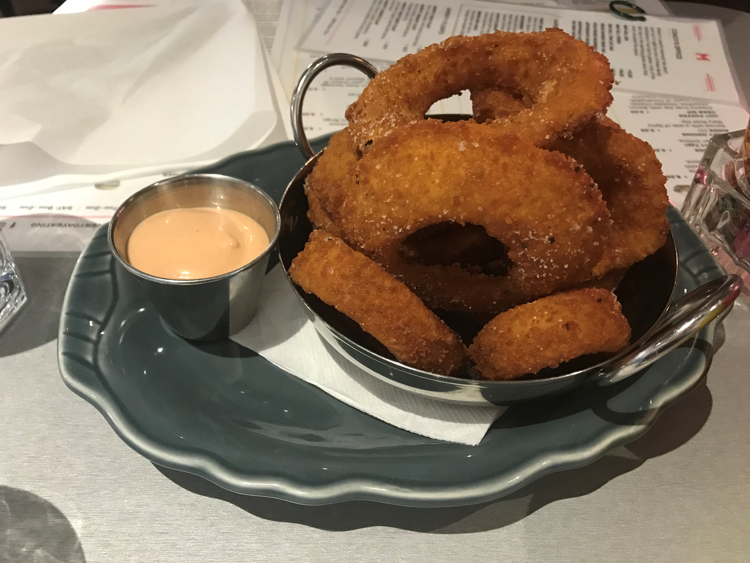 As my entree, I kept it classic and ordered the Max's Smash Burger, adding bacon ($8). Patrons can order the burgers as a single ($7), double ($13) or triple ($16). The patties are griddled and pressed, giving a fresher and juicer taste than from frozen. My favorite part might be the Alfred & Sam's roll, which seemed to be buttered and then griddled for toastiness. It's a small detail, but one that elevates the burger to a new level for me.
I upgraded from the standard chips to tots ($1), because like Napoleon Dynamite, I can't turn down an opportunity to have them. They were greasy, crispy and hot, just as they should be.
My partner had the Quick Cluck 3.0 ($8.50), which I enjoyed myself on a previous visit. The sandwich features grilled buttermilk herb chicken breast, cheddar cheese, sliced tomato, banana peppers and bacon mayo on a toasted tolero roll. My partner opted for no tomato and heartily enjoyed it. The bacon mayo adds a delicious smokiness to a standard chicken sandwich. The roll, which reminded me of a ciabatta, was a great complement.
He chose the crinkle-cut fries for his side ($1), and like the tots, they were hot, crispy and delicious.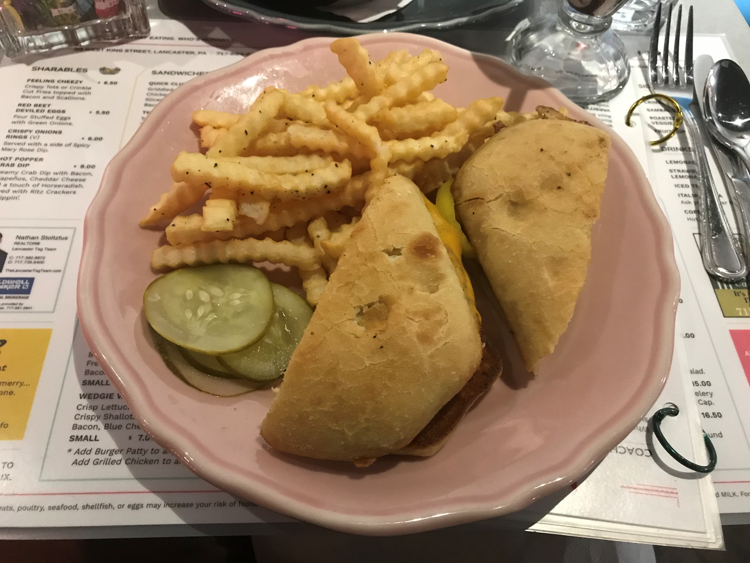 We were pretty stuffed from dinner, but I'm no quitter, and asked for the dessert menu. They were sold out of a few options, but I went with the spice cake waffle ($7), which was adorned with a beautiful cranberry compote. The flavor balance between the sweet cinnamon waffle and tart compote was good, but the waffle was a bit too soft for my preference. It needed a bit more crisp on its edges.
There's much more on the menu at Max's, like a 25-ingredient Frito pie ($8 small, $13 large), blackened catfish ($15) and a hot-sausage breakfast burrito stuffed with tots ($9.50). It's a nice downtown option when you're not in the mood for a stuffy, fancy restaurant and just want to reconnect with your inner child.