Remember how Barbie's feet remained in that perpetual high-heeled position? She was doomed to a life of walking on tiptoes.
But rather than looking at that as part of an impossible ideal, perhaps it's more a testament to the strength of women.
That's probably the way artist and Millersville University professor Line Bruntse would see it.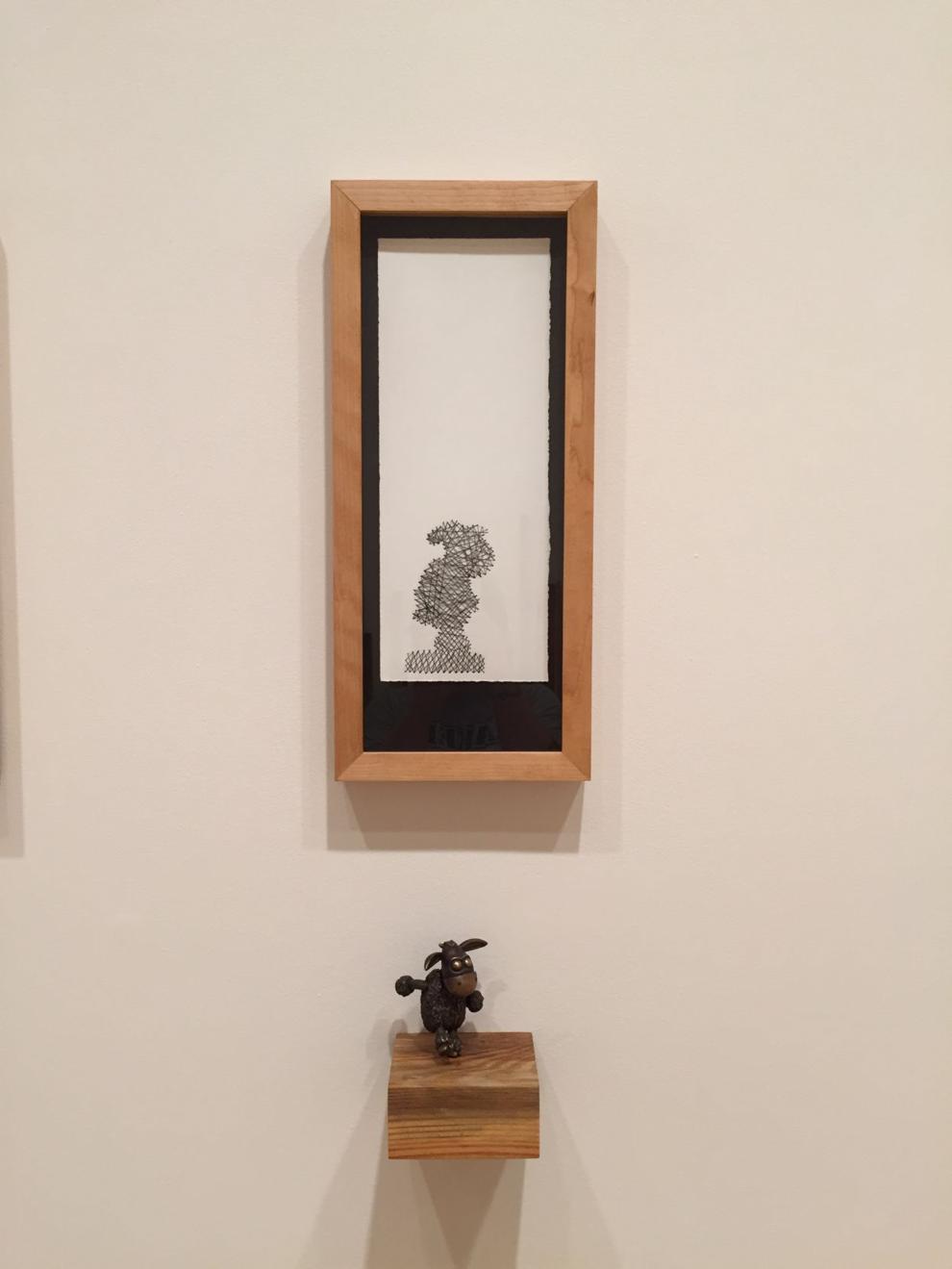 Bruntse's installation and sculpture exhibit, "Toe the Line,'' on display at MU's Eckert Art Gallery, relies heavily on that strength.
Dominating the exhibit is a row of dozens of vertical wood beams. Their lengths vary. The type of wood varies. But each was milled, cut, sanded and oiled to bring out its individual beauty.
It's easy to get caught up in the sheer number of planks and the natural nuances in each piece, whether they're exotics like padauk and osage orange or staples like walnut and cherry .
But eventually, the eye will slide downward.
That's when you'll notice that many of the hefty pieces are girded up by bronze castings of dainty, shapely Barbie legs.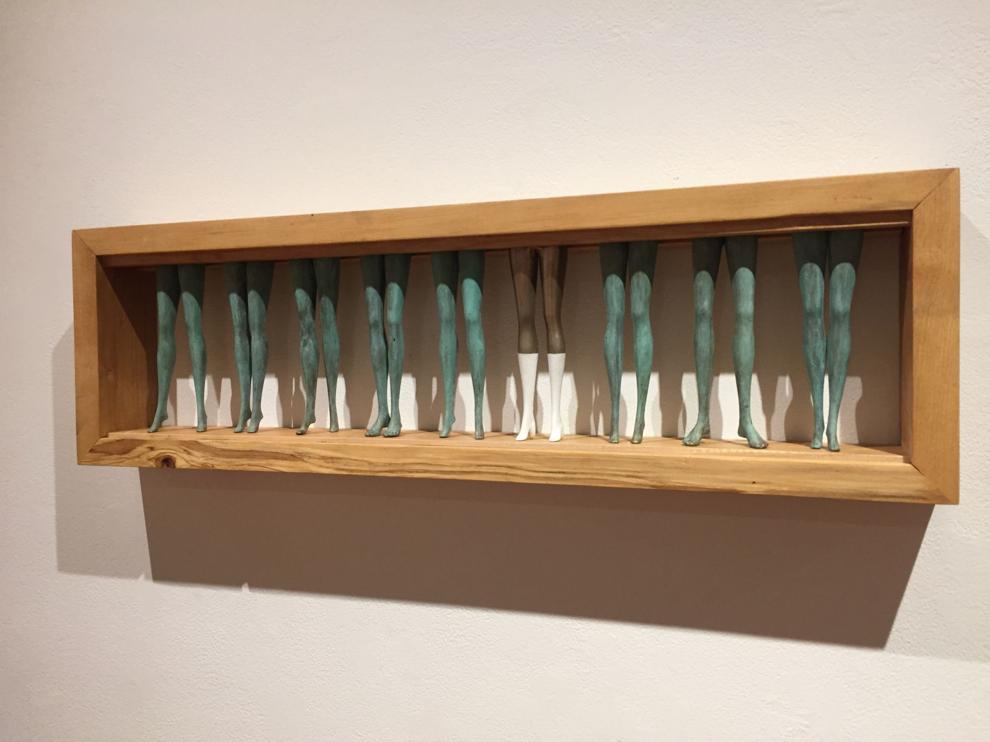 "I want the viewer to see the beauty and the fact that wood is a construction material that provides safety, home, structure,'' Bruntse says. "And women as the foundation perhaps, who are powerful and of vital importance in a figurative and real sense.''
The show, which started as a concept a couple years ago, plays with the idea of gender roles, Bruntse says. But it goes beyond that.
"It's about formative years, what makes us individuals. And it's also taking another look at being a woman as a position of strength. At the same time, I think it's fun.''
Bruntse's work was featured in 2016 during a symposium at Columbia University titled "Why Talk About Gender.'' Her exhibit was a natural fit.
But she has expanded that body of work for the current show in Millersville.
An oversized set of "Jills'' (instead of Jacks) features an 11-inch ball made out of rubber bands.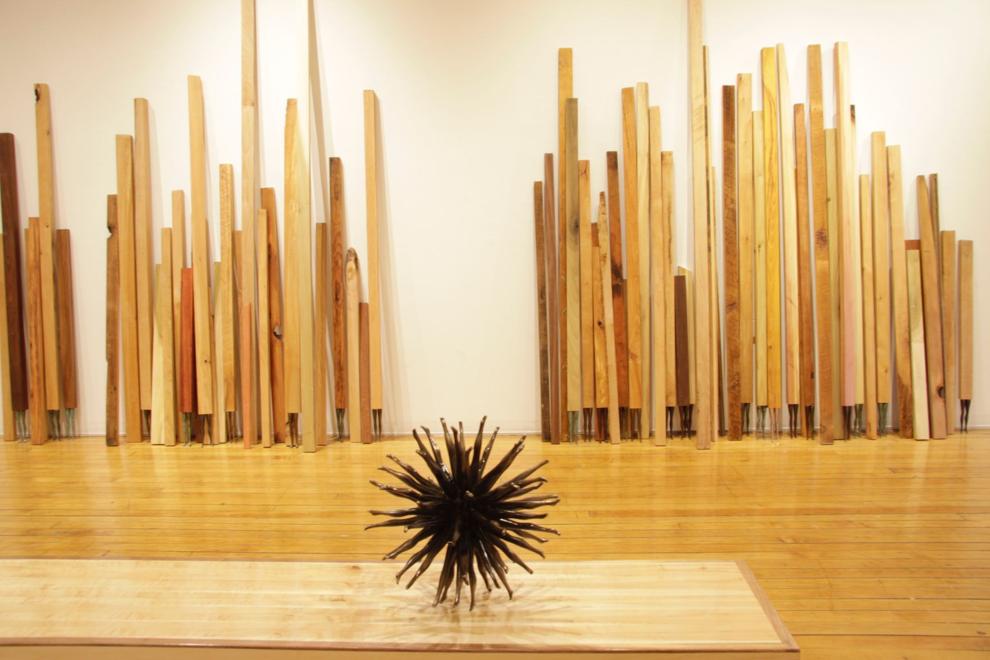 _MG_8542.jpg
Part of "Toe the Line'' by Line Bruntse
Another piece is a giant ball, that looks more like a sea urchin, on a shuffleboard. But the ball is made of — you guessed it — cast bronze Barbie legs.
"You just start to imagine how much power this ball would have when it rolled,'' she says.
Barbie legs permeate the work, not only because of Barbie's iconic role in the lives of generations of little girls, but because the doll itself has raised questions and sparked conversations about gender roles.
And that's what Bruntse wants to do.
"I started this commentary on games and how they play into gender roles. I want to challenge that. I hope the work does that or at least draws attention to it.''
"I don't want to tell you how many Barbie legs I cast,'' she says. "It was well over 300.''
Actually, Bruntse's students did a lot of the casting work, under her guidance, and she's quick to credit them for helping with her projects.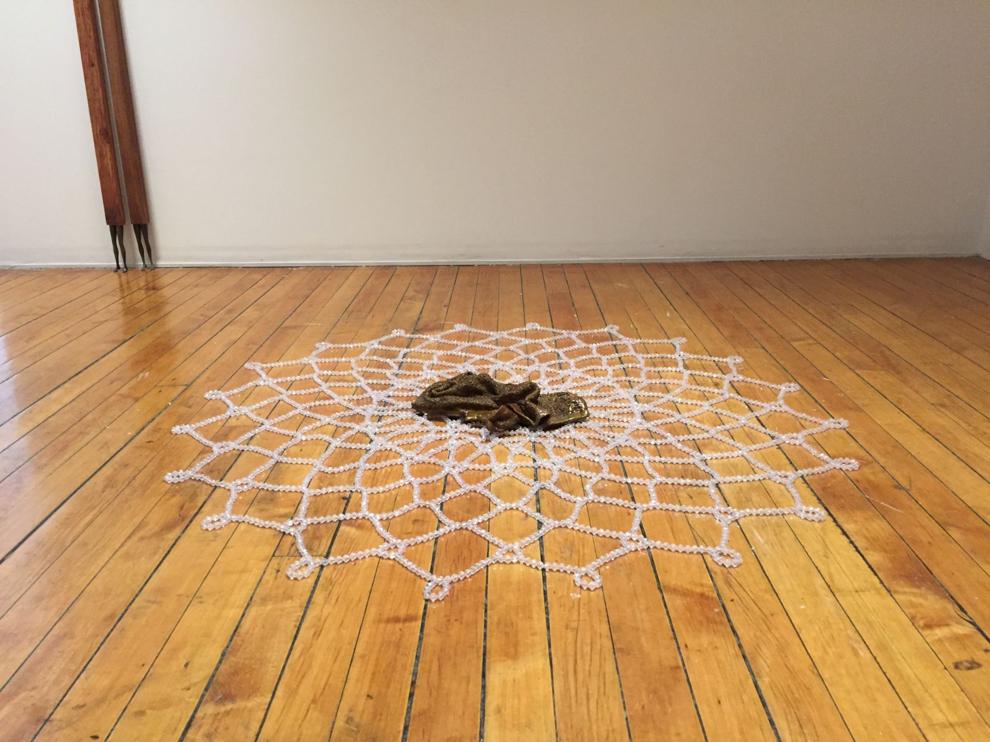 IMG_0946.JPG
Part of "Toe the Line'' by Line Bruntse
Aside from her attraction to metal, particularly cast bronze, Bruntse brings decidedly more feminine elements to her work.
The exhibit comprises works not only in cast bronze, but in beads, wood, and thread renderings on paper.
A delicate, beaded cross between lace and spiderweb and intricate thread drawings add hints of a nurturing presence.
There's good reason for that.
Bruntse grew up in Denmark, and by age 7 her two grandmothers had already taught her a wide array of traditional women's handwork techniques, including lacemaking.
"The root of my process is my very early training,'' she says. "They tend to sneak into my work. I had an epiphany that it was OK to be a girl. So now I try to bring that kind of history to the work.''