Even in childhood, Rob Swanson was no stranger to fine music.
Swanson's parents were both classical musicians and filled their Wilmington, Delaware, home with the sounds of the genre. But it was a neighbor who lived down the street who introduced him to jazz with Vince Guaraldi's soundtrack to "A Charlie Brown Christmas." Swanson was just 6 at the time.
"That was a pivotal moment for me," Swanson says.
For more than 20 years, Swanson has been celebrating that influential record with the Cartoon Christmas Trio. He and two other seasoned jazz musicians perform music from other classic Christmas cartoons as well, like "The Grinch Who Stole Christmas," "Rudolph the Red Nose Reindeer," "Frosty the Snowman" and others.
The Cartoon Christmas Trio will perform at Tellus360 on Sunday. The group will be joined by baritone Grant Youngblood and Lincoln Middle School's Lincoln Jazz Singers. It will be the Cartoon Christmas Trio's first performance in Lancaster in several years. The show is open to all ages, but attendees under 18 must be accompanied by a parent or guardian.
Swanson's illustrious career as a bassist, composer and bandleader has had him playing everything from bebop to funk to rock. He's played everywhere from New York punk venue CBGB's to Philadelphia's Kimmell Center.
In 1995, Swanson had just wrapped up a late summer gig at a jazz club in Wilmington. The club's owner asked how he got into jazz, and Swanson told him about his kind neighbor and the Guaraldi record. The owner asked Swanson if he ever thought about putting together a concert celebrating the soundtrack.
"He's like, let's do it here in December," Swanson says. "We did that. It was the first year we did it, and people kind of freaked out."
Pianist Jeff Knoetter has performed in the trio since its inception.
"Jeff is one of the best around," Swanson says. "He's just a phenomenal player."
Drummer Jimmy Coleman joined a few years ago after the trio's original drummer departed. Coleman has recorded and toured with R&B artist John Legend and soul-pop singer Eric Hutchinson, among others.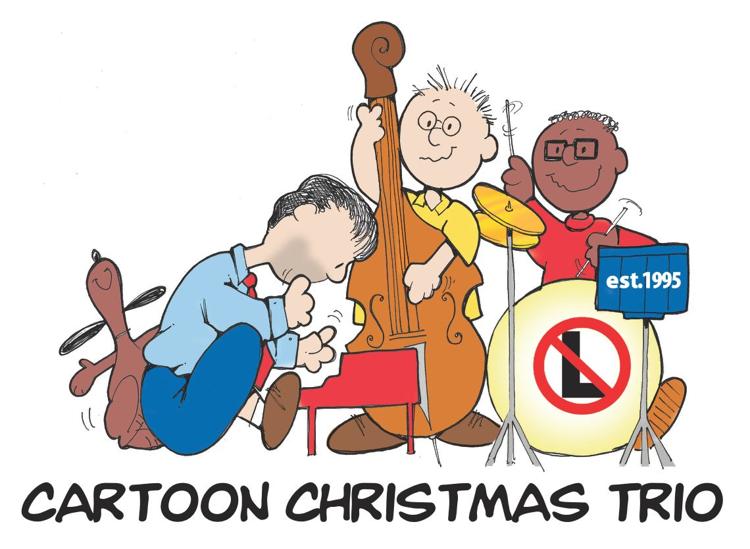 All three players have a history in music education as well, teaching music lessons as much as their performance schedule allows.
"We all feel it's important to reach out to the kids," Swanson says.
Around 2015, the Cartoon Christmas Trio began inviting local children's choirs to sing the three Guaraldi songs on the record featuring children's vocals: "My Little Drum," "Christmas Time is Here" and "Hark the Herald Angels Sing."
"It seems to work great," Swanson says. "The kids are all into playing with a professional trio, and we're all into hearing the kids sing those tunes because it's just a whole 'nother level."
When their schedule allows, the Cartoon Christmas Trio hosts school assemblies in tandem with a nearby gig. Because the Lancaster show is closer to Christmas than the band usually plays, there won't be an assembly component.
Swanson says the Cartoon Christmas Trio usually kicks off its season the day before Thanksgiving at the Winterthur Museum in Wilmington. The performance marks the start of the museum's annual Yuletide Jazz & Wine Series. He says interest in the music has stayed steady throughout the years, including his own.
Even after 23 years of playing the same songs, Swanson still hasn't grown tired of Guaraldi's creation. In fact, he and his family listen to it every year on the way to pick out their Christmas tree. He thinks jazz's improvisational nature is partly to thank for why he's still such a fan of the record.
"We're not playing Nutcracker Suite, which has to be performed a certain way every time we do it," Swanson says. "So yeah, you're going to hear the same melody of all those tunes, but in between every time we play it, it's different."
And, of course, it doesn't hurt that the album transcends generations with its popularity.
"Guaraldi just had a wonderful moment there. … He was able to kind of tap into the the melancholy personalities of the cartoon characters that Schultz was putting to graph," Swanson says. "It was just a magic pairing, for sure."