Las Vegas.
Glitz, gambling and gaudy glamour are the order of the day and night there.
At the American Music Theatre, Las Vegas is the theme of the latest musical revue, "Vegas Legends," which turns out to be a magical show.
Magical for a number of reasons, including a cast of terrific singers who sing songs made famous by everyone from Frank Sinatra to Elton John to Prince. (Yes, Prince played Vegas back in 2006 and 2007. )
Magical for a fantastic orchestra led by Andy Roberts, which handles every song masterfully. Nine musicians is a wonderful luxury these days when so many shows offer fewer musicians and more synthesizers. It has an old school sound, and I mean that in the best way possible.
"Vegas Legends" is magical for its lavish costumes and a set design that nicely captures the various moods of the show. You'll see glamour gowns, swanky tuxes and gaudy head gear.
And the dancers do a magical job setting moods and helping empower the music.
And most of all, it's magical because it features magician Peter Gossamer and his assistant and wife, Carol Maccri Gossamer.
He tells a lot of groan-worthy jokes, but his magic is first rate and a bit awe-inspiring. And what fun it is to watch.
Once again, Andrea McCormick has overseen every element of the show, from directing and choreography to song choices and set and costume designer
As always, she is meticulous about everything, and it shows.
"Viva Las Vegas" opens and closes the show, as it should. It sets the mood quickly and gives the show plenty of oomph.
The old days of Vegas are explored, as Gossamer explains that certain artists are known for playing at certain hotels.
Sinatra at the Sands and later with the Rat Pack at Caesar's Palace; Elvis at the Hilton in the 1970s and more recently, Elton John at Caesar's, Garth Brooks at the Wynn and Tim McGraw and Faith Hill at the Venetian.
Sinatra and the Rat Pack are the first songs we hear, including "Luck Be A Lady," "The Lady is a Tramp," and "The Birth of the Blues."
Tributes to Paul Anka, Donny and Marie Osmond and Liberace follow.
Orchestra leader Roberts lets loose with Tchaikovsky's Piano Concerto No. 1, and he doesn't even need a gaudy outfit to impress.
Tom Jones gets only one song, "I (Who Have Nothing)," with Randy Jeter. That's too bad, since some of his hits, like "It's Not Unusual" and "What's New Pussycat," are Vegas naturals.
Patrick Detloff, a newcomer to AMT, portrays Elvis with a medley that includes "Heartbreak Hotel," "Hound Dog" and a big "Suspicious Minds."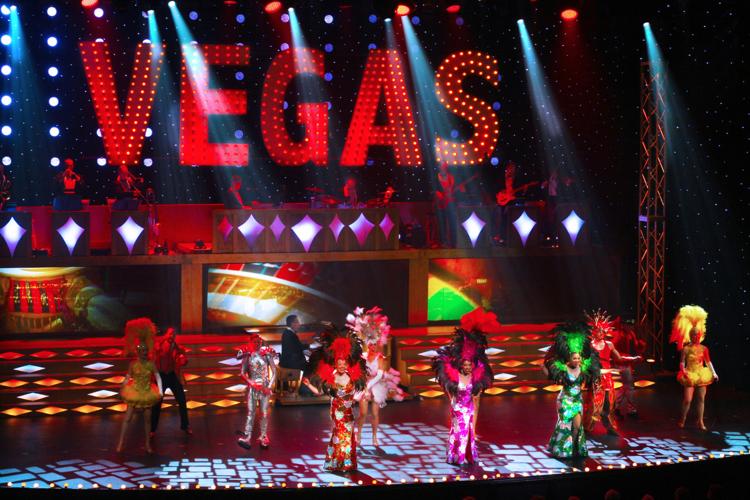 And before intermission, Ricky Howsare, another newcomer, has fun with a Barry Manilow tribute.
He begins as the janitor with a broom who stumbles into a piano and before you know it, he's in a white tie and tails singing "Copacobana."
Another singer making her AMT debut is Kalie Martin, who does a great job with a lavish production of Prince's "Purple Rain."
But don't worry, favorites are back, including Wess Cooke, who portrays Sinatra as well as country singer Garth Brooks, with "The Thunder Rolls."
Julie Keough is back too, with a moody rendition of "Good-bye Yellow Brick Road," which I liked a lot.
The Elton John segment was terrific, with funky, mod costumes and interesting song choices, including "Bennie and the Jets," "Mona Lisas and Mad Hatters" and "Rocket Man" — songs John wrote long before he ever considered playing Vegas.
Annie Leigh had fun with Bette Midler and the Seaweed Sisters singing "Mr. Sandman."
Jeter blew the roof off the place with Celine Dion's "My Heart Will Go On."
That felt like the end, but the orchestra was back with a tribute to Santana, and Roberts even sang a few verses of "Evil Ways."
And "Viva Las Vegas" closed the show.
So many performers have played Vegas, it turns out to be a great subject for a musical revue.
And the magic added something special. I am still trying to figure out how Gossamer got all those wine bottles on that small table and put all those drawers back into that box when his wife was in it or how she managed to float in the air holding on to a chair.
But what happens in Vegas stays in Vegas. The couple wasn't giving anything away.