What is it about weddings that can bring out the best, and worst, in families?
Whatever it is, it's so relatable that it has long been fodder for theater comedy and musicals.
Take "It Shoulda Been You," the current musical at Gretna Theatre, which offers a contemporary take on a wedding crossed with traditional, door-slamming nuptial farce. Director Dennis Courtney has a great cast to work with, their fine voices and gift for comedy making this an entertaining romp through the hotel nuptials of Rebecca Steinberg and Brian Howard.
The show sets up a clash of cultures between the Jewish Steinbergs and the WASPy Howards. For their own reasons, the mothers of these two 30-somethings don't want their kids to marry.
Keeping the proceedings on an even keel is Jenny, Rebecca's capable older sister, about whose weight mother Judy Steinberg is always kvetching.
Jenny's portrayed by the terrific Molly Tower, who uses her powerful singing voice to take Jenny on a real evolutionary journey — from cynicism about marriage as she sings "I Never Wanted This" to yearning for someone to think she's truly "Beautiful."
Her sassy, second-act declaration of independence, "Jenny's Blues," in which she decides to grab life by the horns and ride it, is a true show-stopper. Offering up a plus-size woman as the lead to root for, in a theater world filled with slender ingenues, is one of this show's great gifts to its audience.
The fly in the nuptial ointment is Marty Kaufman (Kevin Toniazzo-Naughton). He's Rebecca's Jewish ex-boyfriend whom Jenny has accidentally tipped off about the wedding. Marty confides to Jenny, his childhood best friend, that he wants to stop the marriage.
Jenny and Marty have a cute chemistry and sing well together — so well that you might think they … well, you'll have to see for yourself.
 "It Shoulda Been You," Judy and Marty Steinberg sing to Marty, expressing how much more suitable a groom they feel he'd have been for their daughter than Brian.
Known for her years as Reva Shayne in TV soap "Guiding Light," Kim Zimmer is a delight as Judy — bold and brassy, with a strong singing voice and impeccable comic timing. Zimmer inhabits the judgmental, overbearing Jewish mother with appropriate gusto, but without giving in to an obvious temptation to take her role over the top.
Zimmer has a lovely moment in Act 2, while singing "What They Never Tell You," and giving some heartfelt, motherly advice about marriage and taking romantic risks.
As bride Rebecca, Kayleen Seidl also has a marvelous singing voice, which she uses well in a second-act song of self-validation, "A Little Bit Less Than."
Judy and tipsy, scheming mother-of-the-groom Georgette (a funny Jane Brockman) enjoy hurling not-so-subtle insults at each other through fake smiles in such numbers as "Nice" – which neither woman can bear to be as they clash while getting their hair done for the wedding.
Joel Briel is sweet and charming as Rebecca and Judy's dad (and Judy's put-upon husband) Murray, who has clearly learned over many years how to hide from his overbearing spouse at just the right time.
Ryan Bloomquist, as handsome groom Brian, and Mark Epperson as his father, George, have a lot of fun trying to connect, through hilariously tepid hugs, and performing a song-and-dance over a prenuptial agreement. Brian, we learn, is about to inherit a pile of money.
Harrisburg actor Tom Blaisse is having a blast as Albert, the urbane wedding planner who has seen it all. In his song "Albert's Turn," he tells tales out of school, and reveals himself to be "invincible, impervious to shock" and a wedding magician like "Martha Stewart crossed with Dumbledore."
Throughout the show, he expresses giddy, subversive delight over the family drama festering beneath the surface of the "perfect" Steinberg-Howard wedding.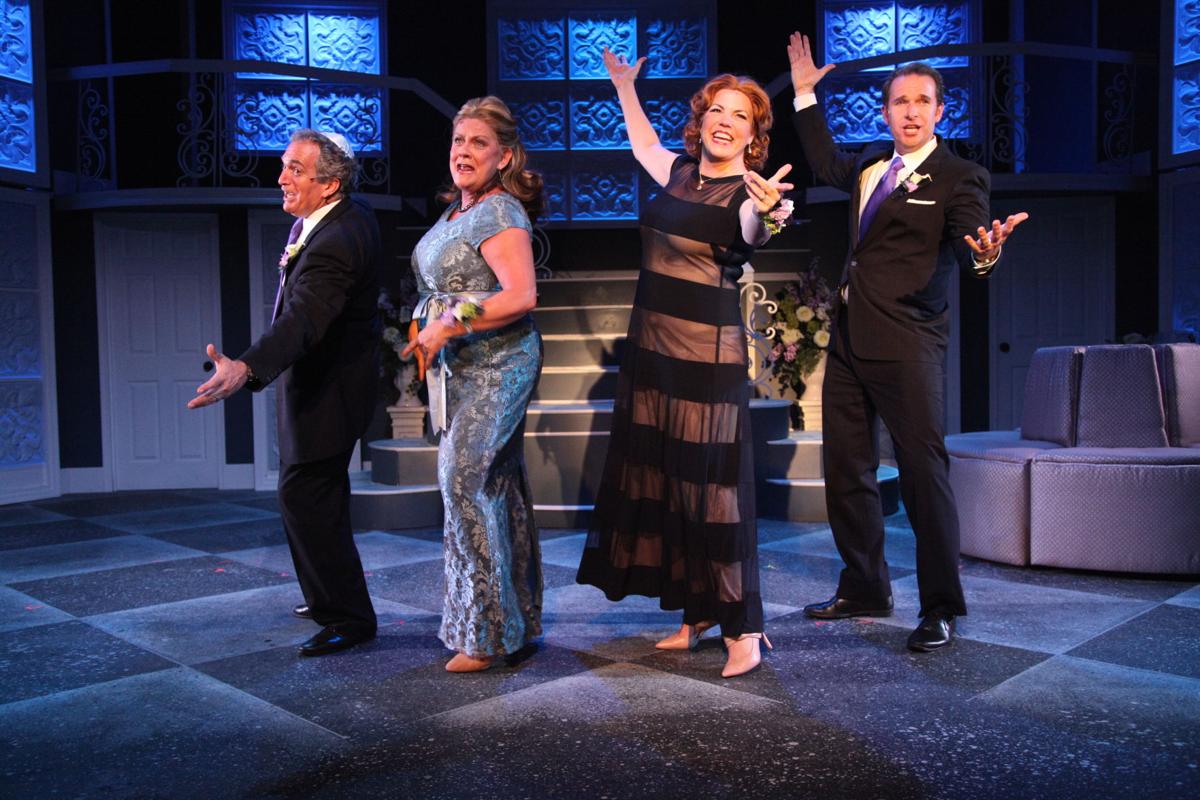 There's a gasp-inducing plot twist in the final seconds of Act 1 that ensures Act 2 is not going to be anything like the audience thought it would be. Let's just say the bride, groom, maid of honor and best man have been keeping a couple of really big secrets.
Maid of honor Annie (Drew Tildon) and best man Greg (Chris Giordano) get to chew the scenery a bit while delivering a truly wacky wedding song that's informed by that plot twist.
Even Luther Chakurian and Tracy Bidleman, playing small roles of a Jewish uncle, a man-hungry aunt and hotel staff members delighting in the family drama, are well used in this show.
This musical embraces the classic farce at its foundation, with the wedding party and hotel staff running up and down the staircase and in and out of numerous doors and hallways.
But the door-slamming chaos is kept at a minimum, and thankfully doesn't overshadow the themes of self-acceptance and the complicated nature of love, marriage and family that are explored in the show. 
The creative team scores a bullseye with this production. Kyle Dixon's set is a stunner – a lovely, flower-decorated hotel lobby framed in ornate white panels and centered by a staircase – which allows a lot of movement on an otherwise small stage, and infuses the production with energy.
The set is complemented beautifully by Jose Santiago's lighting design, which evokes emotion as it bathes the set in various hues and illuminates Judy's private, petty thoughts about Georgette with the clever use of a spotlight.
The stage-veteran team of Janell Berte and Beth Dunkelberger is the perfect choice to costume this show; Berte also designs wedding attire, after all. Gowns, suits and street clothes are all marvelous to look at on these actors.
"It Shoulda Been You" is fresh from Broadway, where it premiered just last year. While Brian Hargrove's script is filled with funny dialogue, there are only a handful of solid songs from Barbara Anselmi within the show's mostly-forgettable score. As lyricist, it seems, Hargrove tried a little too hard with some of his rhymes — Houdini-panini, anyone?
Further, the clash-of-religions stuff seems a little old-fashioned for the year 2016 — can those sophisticated Howards really be so clueless about everything about the Jewish faith?
But these are minor points in a show with a big heart that obviously delighted its Friday night audience.
You can be happy about accepting the Steinberg-Howard invitation to this wedding. "It Shoulda Been You" is a clever and charming, and offers a truly entertaining, feel-good night out at the theater.