About 10 years ago, Marc Robin and Curt Dale Clark presented their musical "Treasure Island" at the Fulton.
It was a pretty good show, telling the classic story by Robert Louis Stevenson about Jim Hawkins and his quest to find a treasure. It had lots of power ballads, and I remember thinking it felt a little empty — all puff and not enough heart.
On Thursday night, a new version of Robin and Clark's "Treasure Island" opened, and wow, what a difference a decade makes.
This is a heartfelt show with depth, humor, adventure and a story that deserves those power ballads.
It also helps that this production features an amazing cast — 37 in all —  incredible sets, thanks to Thomas M. Ryan; great costumes by Ryan J. Moller; and wonderful lighting by Paul Black and Colin Riebel that sets the tone for the show beautifully.
Not only does the story feel deeper and more exciting, but the look of the show draws you into an old classic.
It's quite an adventure.
As the show opens, a teenage Jim Hawkins (a wonderful Michael Nigro, who has a great voice and a solid presence on stage) has just lost his father. His family owns an inn and one of its tenants is Billy Bones (Paul-Jordan Jansen), an old pirate who possesses a treasure map. Blind Pew (James Michael Reilly) blows into the inn and demands the treasure map. He is one of a number of pirates who found the treasure but don't know where it was buried.
Blind Pew is so terrifying, Billy Bones dies of a heart attack, but not before giving Jim the treasure map and warning him, quite dramatically, about a man with one leg.
The two men who have promised to look after Jim arrive and hear the story. Dr. David Livesey (James Patterson) is serious and protective. Squire John Trelawney (Michael Iannucci) is a potent comic relief, who manages to do everything wrong while dressing well for each disaster. The two men work as a comedy duo throughout the show.
They decide to set out on a ship to try to find the treasure and, wouldn't you know it, the squire hires a group of men who look a lot like pirates, led by a man with one leg, Long John Silver (a funny and terrific Jeremiah Jones).
They set sail on the Hispaniola, and Silver befriends Jim. There is a lovely scene between the two in the galley of the ship, where Silver works as a cook. In a way, Silver,  who will prove to be quite menacing later on, is a father figure for Jim.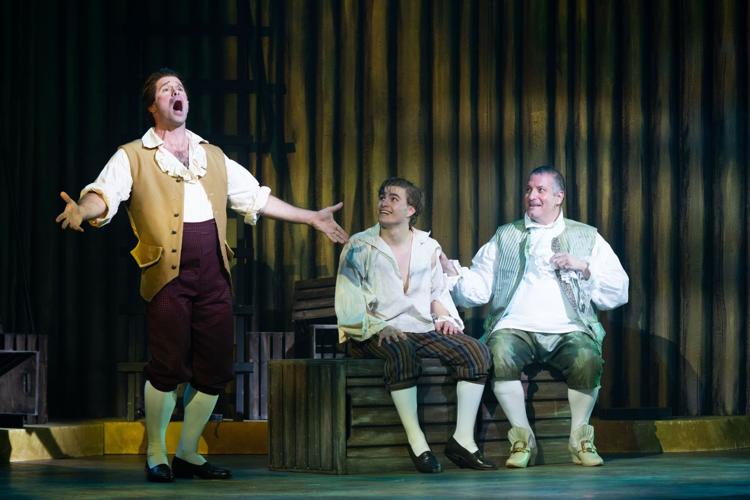 Jim has several father figures, including Livesy, who is the scolding father figure because he is too protective and won't let Jim do anything  and Captain Smollet (David Girolmo), the distant figure, whom Jim respects.
But Silver is a pirate, and his buddies rise up and do battle on the ship in a mutiny filled with sword fights.
The scene was awash in painterly lights and it looked quite beautiful, like you were watching an old movie.
The sword fights were dashing — kudos to fight director Joseph Travers — but too many characters on stage were swinging on ropes for no reason at all. It got distracting.
But I liked the way the first act ended, with Silver dressed in a plush purple coat declaring himself the new captain of the ship.
In the second act, we arrive at Treasure Island and have some fun. Ben Gunn (a wonderful James Michael Reilly again) is a castaway who is desperate for cheese, rum and bread. He was one of the original pirates who buried the treasure years ago, but then got trapped on the island.
Jim meets him and the two bond. But it isn't long before Silver and his pirates arrive, ready for a standoff.
"Treasure Island" is a coming-of-age story, and Robin and Clark understand this. Their show takes the time to develop relationships between Jim and his father figures. This depth pays dividends in the final scene between Silver and Jim.
This is a beautiful-looking show and an adventurous one. Robin, who directs, and Clark, who co-directs, move the show along nicely.
Ray Fellenbaum does a great job with the lush score. The songs range from those power ballads to fun songs and stirring ones. It's a nice mix.
This new version of "Treasure Island" certainly has a modern vibe to it, which, of course, it needs, but it stays true to Stevenson's adventure story.
Young children might get freaked out by the nasty pirates, but I suspect older kids — 7 and up, perhaps — will love the adventure.