"Million Dollar Quartet," now playing at the Dutch Apple Dinner Theatre, is based on a famous event that took place on Dec. 4, 1956.
On that date at Sun Studios in Memphis, Tennessee, Carl Perkins was making a new record with the young, barely-known Jerry Lee Lewis on keyboards.
Elvis Presley happened to come by with his date and then Sam Phillips, who ran the studio and turned these young men into stars, called Johnny Cash and told him to come over.
The quartet sang a bunch of songs, which Phillips was smart enough to record, and the day turned into legend.
Now, you won't be hearing the exact songs that Cash, Presley, Lewis and Perkins sang because that list includes a bunch of Christmas songs and gospel music.
And everyone knows when Elvis and company are in the room, you want to hear straight out rock 'n' roll.
And boy, that is what you get in this show — with just a touch of gospel to save souls.
Blistering and joyful, the songs being played on the stage of the Dutch Apple are fantastic.
The music here is gonna knock your socks off and curl your hair.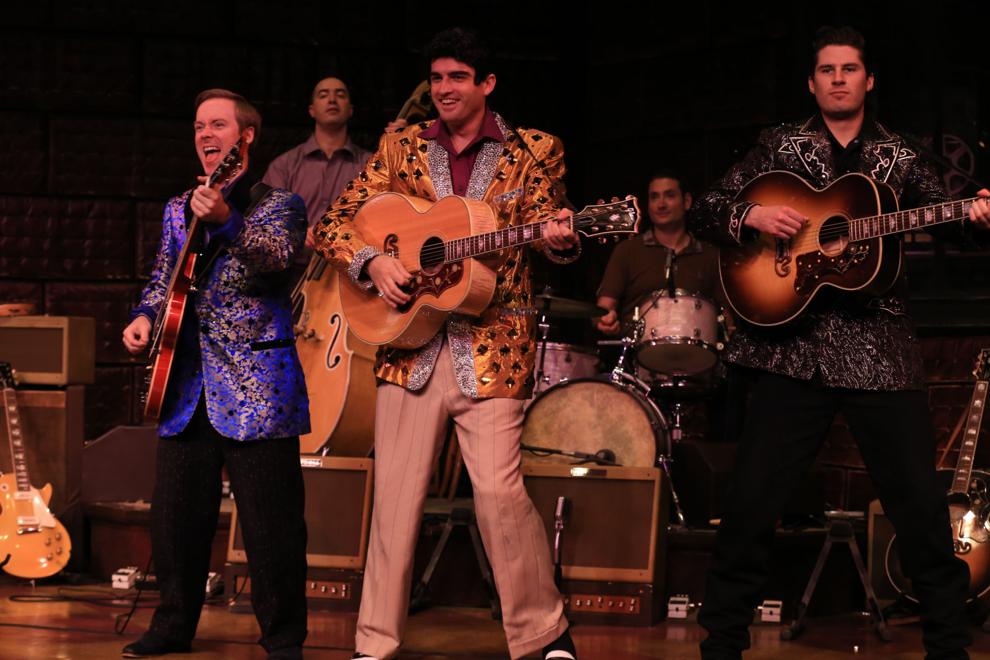 I don't know that I've heard a hotter version of "Who Do You Love?" Or "Long Tall Sally." Or goodness gracious, "Great Balls of Fire."
And that date Elvis brought? In this version, she's a singer who sizzles with "Fever" and "I Hear You Knockin'."
The fantastic musicians who make up the Million Dollar Quartet are Jason Cohen, who steals the show as Jerry Lee Lewis; Christopher Wren (as Perkins), whose guitar work is incredible; Skip Robinson, who reminds us why Elvis Presley became such a phenomenon, and Evan Buckley Harris, who captures Cash's intriguing style.
And Elvis's date, Dyanne, is played by Jackey Good, who knows her way around sexy songs.
For the most part, the acting is fine, but not outstanding. Neither is the book, which was written by Colin Escott and Floyd Mutrix.
Yes, there is a story. We learn about each of their backgrounds — all grew up in the South in poverty — and how Phillips, who serves as narrator, discovered the four. Matthew Scott does a nice job with the role, giving Phillips an understated wisdom. As he tells his superstars, be yourself. Simple advice, but rarely followed in the music business.
Considering that Phillips is given credit for discovering how to connect the link between white hillbilly music and black bluesy rock, that understated wisdom is the perfect tone for the show.
We learn there's some jealousy between Perkins and Presley because everything Presley touches turns to gold and Perkins needs a hit.
That's why they bring in Lewis. Maybe a piano will charge up his music.
Perkins is resentful and the young Lewis, who literally can't sit still, drives him crazy.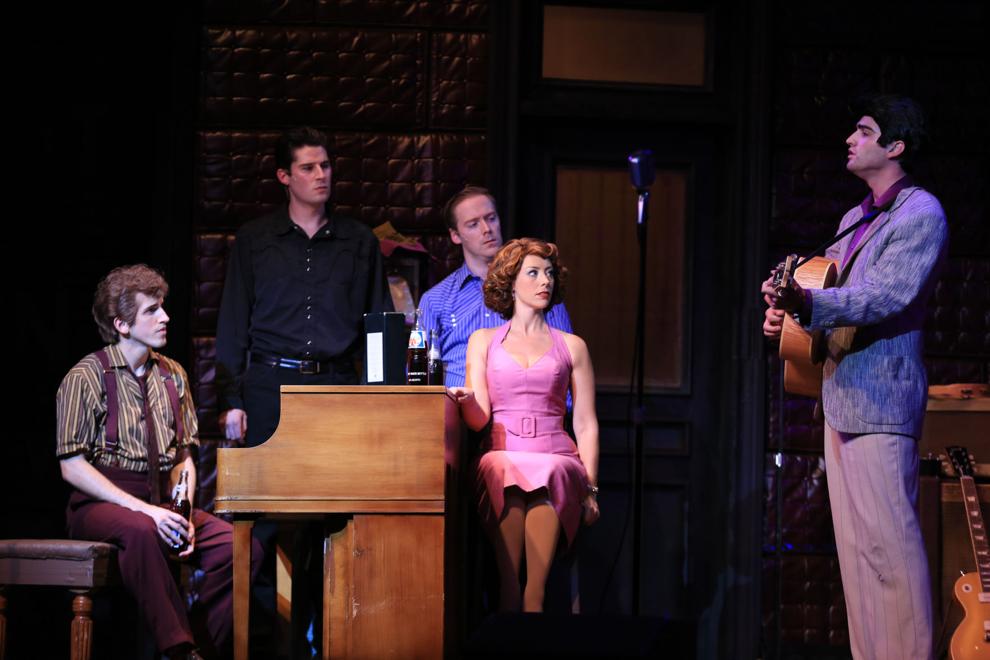 Cohen has Lewis down pat. His playing is fantastic, he knows how to throw out his lines in that Louisiana drawl and get laughs while he's doing it.
Cohen and Wren sound great together, something the troubled Perkins never seems to realize.
Robinson gives Elvis the star power you'd expect, but he's just one of the guys as they play. And Harris has that quiet dignity Cash had.
The songs work so well because of the entire group. The show features great renditions of "Folsom Prison Blues" "Hound Dog," "That's Alright," "Let's Have a Party" and "Whole Lotta Shakin' Goin' On."
This group has been on tour (with Prather Touring, which is affiliated with the Dutch Apple) for some time, giving their playing a connection that is often breathtaking.
Joining the band and doing excellent work are Jody Alan Lee, who is the bass player (and Carl Perkins' brother) and Jon Rossie on drums.
The original music arrangements are by Chuck Mead, the musical supervisor is Austin Cook, and the program states "direction and staging recreated by" Lauren L. Sobin.
The set — the scruffy but legendary Sun Studios — is by Derek McClane and the spot-on costumes are designed by Jane Greenwood.
There's a sadness to the show.
All four members of this legendary quartet were planning to leave Phillips and Sun Studios — Elvis already had — and he wasn't quite ready for it.
When Phillips, in looking back on that day says he wishes they all could have been happier, I teared up. .
Ironically, the only one left is Jerry Lee Lewis, who's 80 and has had some dark and nasty times in his life.
Better to remember them when they were young and all they wanted to do was play.
IF YOU GO:
What: "Million Dollar Quartet"
Where: Dutch Apple Dinner Theatre, 510 Centerville Road
When: Runs through June 19. Wed. - Sat., 6 p.m. dinner, 7:30 p.m. show, select matinees, 11:45 a.m. lunch, 1:15 p.m. show, and twilight shows on Sunday, 5:30 p.m. dinner, show at 7p.m.
Cost: $51 - $60, adults, $30, show only, $27 ages 13 to 18, $23 ages 3 to 12.
Contact: 898-1900, dutchapple.com