A very funny "Vanya and Sonia and Masha and Spike" opened at the Ephrata Performing Arts Center Thursday night.
Well, opened and closed before the end of the show.
In the middle of act 2, a fire alarm went off, sending the audience into the parking lot, with the hope that the problem could be fixed and we would all get to go in and watch the final scenes.
Alas, it was not to be.
A sprinkler had sprung a bad leak and the basement of the theater was flooding. Nobody could go back in.
So I returned on Saturday to see what I'd missed.
If you need some good laughs, this is definitely a show you don't want to miss before it closes Saturday.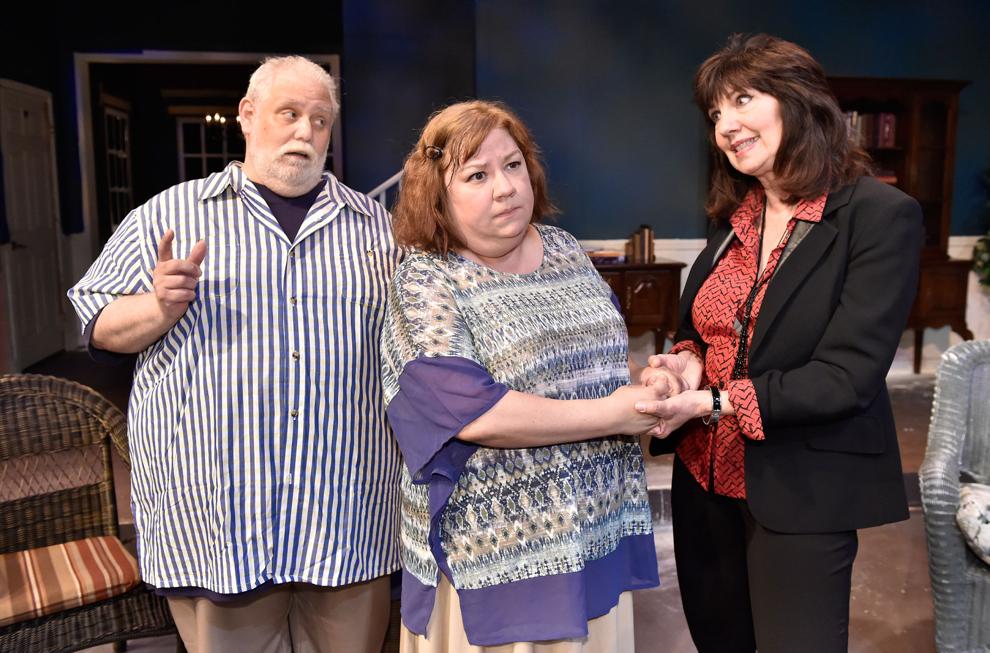 The Hardwick family is like many families: They bicker, don't understand each other and then turn around and realize that in between the arguments and thrown coffee cups, they really do love each other.
We meet Vanya (Ed Fernandez) and Sonia (Sharon Mellinger) as they drink their morning coffee. They live in the house they grew up in in Bucks County and neither seems to have any kind of job.
Sonia is in despair because she has done nothing with her life. Vanya seems content to read a good book and enjoy his morning coffee, something Sonia will make difficult to do by throwing those coffee cups.
Sonia tells her brother she had a dream where she was 52 and single and Vanya asks, "Are you dreaming in documentary mode now?"
That was one of about a dozen extremely funny lines in the opening scene that had me laughing hard.
Playwright Christopher Durang knows how to write good humor and Fernandez and Mellinger know how to deliver it.
Their parents, whom Vanya and Sonia took care of until their deaths, were community theater actors and named their kids after characters from Chekhov.
If you know the playwright and his work, you will enjoy -  and groan - at some jokes about despair, cherry orchards and uncles. If you don't, you'll still have plenty of fun and enjoy the dynamics of this family because they are universal.
We soon discover that their sister, Masha (Cynthia Charles) is coming for a visit, which agitates Sonia, who has always felt inferior to her.
Masha is a movie star and has the self-obsession and insecure personality of one. She's been through five marriages and brings her newest boyfriend, Spike (Brian Viera) along. He has the maturity level of a 12-year old but is great looking, which he knows.
Masha has come to go to a costume party at a wealthy and powerful neighbor's house.
She ignores, insults and angers Sonia in the same way you know she did when they were kids. Those dynamics never change.
I like the way Charles turns Masha into a self absorbed older sister the minute she walks in the door and I like the way Mellinger infuses her frustration with wry comments.
There is a crying contest — who is hurt more — in act 2 that was priceless.
Viera is a hoot as Spike and his physical performance is fantastic. He's bouncing constantly.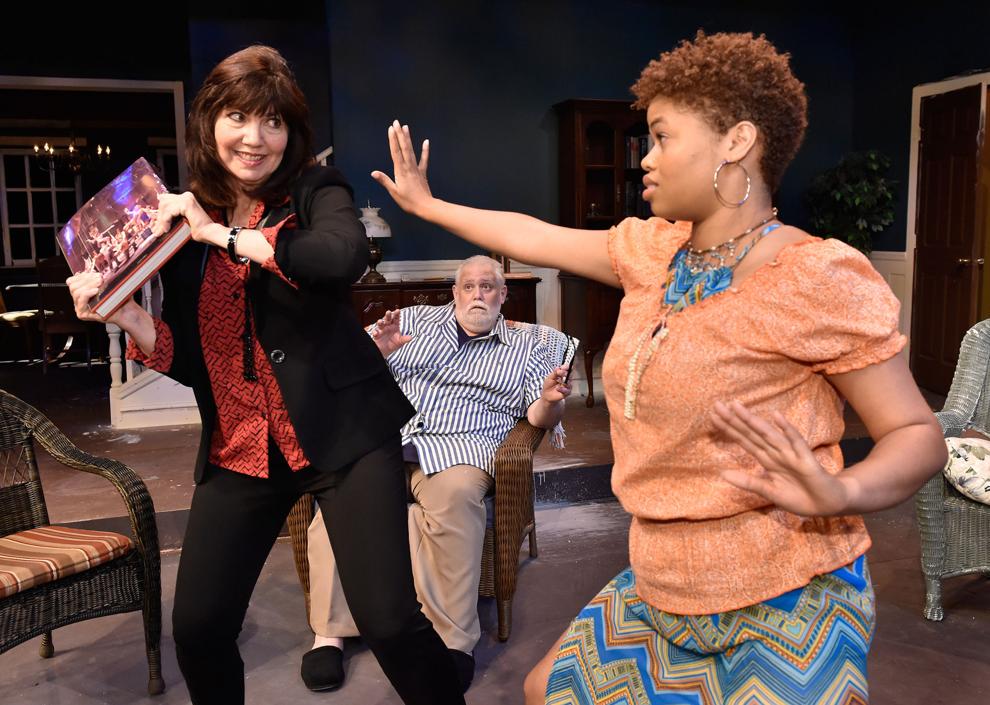 Adding to the fun is Blessing Robinson, who plays the housekeeper Cassandra, who like her namesake, has the gift of prophesy. Cassandra announced her visions with great drama and humor.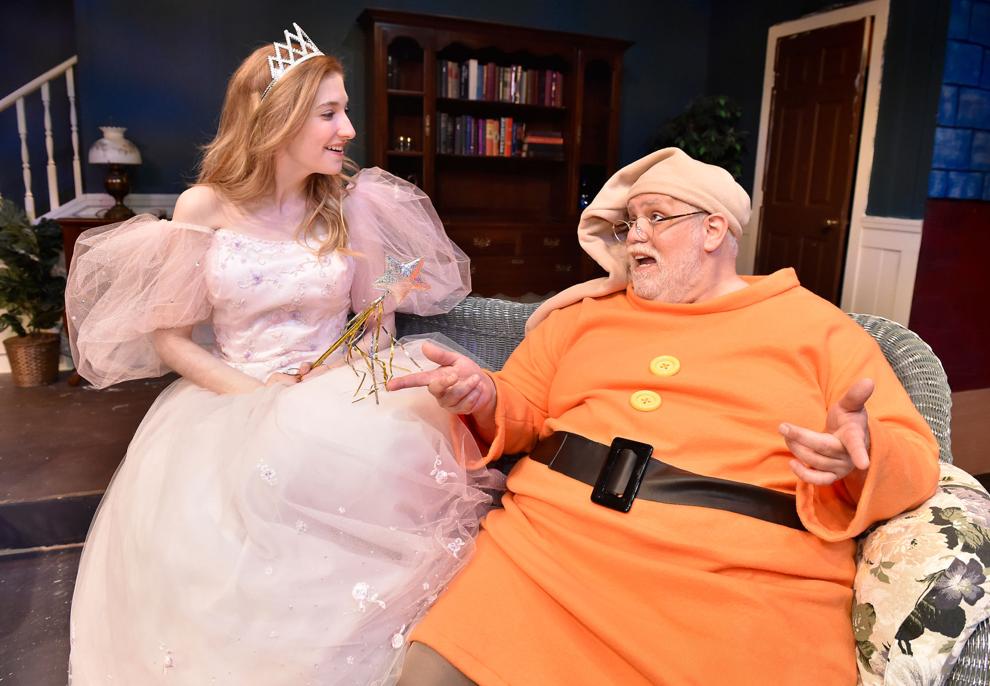 And Nina (Jennifer Amentt) is visiting her uncle next door. She is the sunny optimist who is thrilled to meet Masha and tag along to the costume party.
Masha is jealous of Nina because Spike likes her and she is young and pretty. But then, Masha is jealous of anyone who takes away the spotlight.
Dressed as Snow White and insisting her siblings go as one of the seven dwarves, Masha feels the pain of aging and becoming less relevant to the world.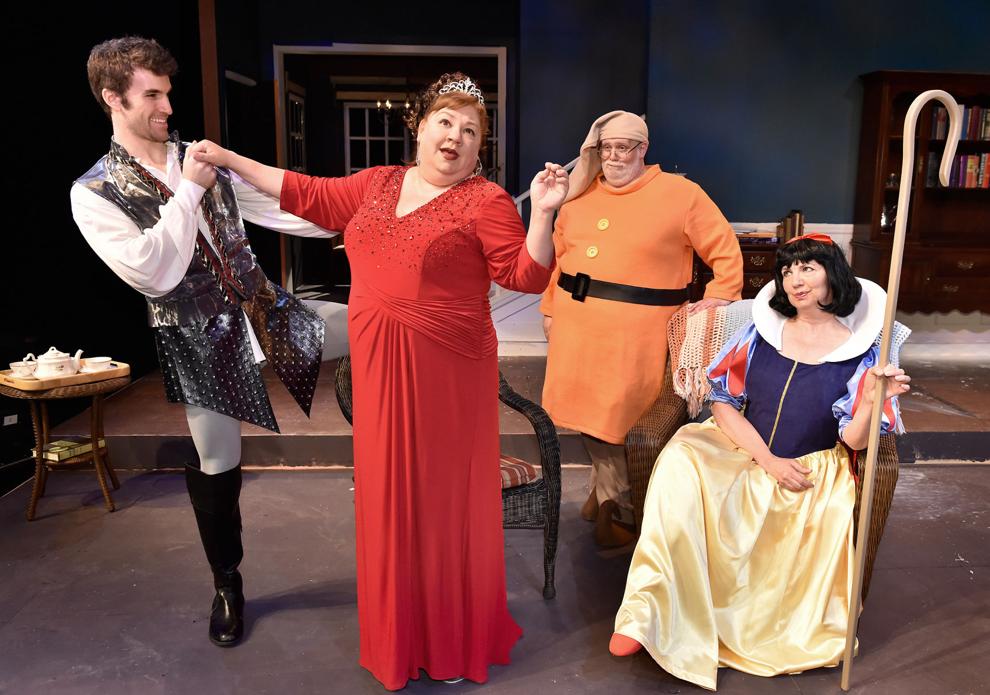 Sonia, who defies her sister and wears a sparkly red dress to the party, begins to feel some power and Vanya just goes along, trying to keep everyone happy. He does have a pretty funny rant in act 2 that will comfort baby boomers. 
Durang's exploration of aging and family is a deft and enjoyable play but not an especially deep one.
That is just fine. I'd rather laugh about getting old and replaying my life with my siblings over and over than cry and feel my mortality,
Kudos to set designer Braden Hooter for a solid set, and to Kate Willman for excellent costume design.
"Vanya and Sonia and Masha and Spike" might sound exotic and heavy, but it is a spirited comedy that wants and gets plenty of laughs while it contemplates the inevitability of getting older.
To quote Chekhov: Do silly things. Foolishness is a great deal more vital and healthy than our straining and striving after a meaningful life."
IF YOU GO:
What: "Vanya and Sonia and Masha and Spike"
Where: Sharadin Bigler Theatre, Ephrata Performing Arts Center, 320 Cocalico St., Ephrata
When: Wed. and Thurs. 7:30 p.m.; Fri. 8 p.m.; Sat. 2 and 8 p.m.
Cost:$25 - $32, evenings, $25 matinees.
Contact: 733-7966, ext. 1. ephrataperformingartscenter.com.