"Heathers: The Musical," which opened Thursday at the Ephrata Performing Arts Center, is about surviving high school. Literally.
If you've seen the 1989 movie, you know high school murder, suicide and bullying are all part of the show. The Heathers of the title thrive in hurting people, a teacher's attempt to save kids from suicide is mocked and murderous revenge is played for laughs.
Wow.
But here's the thing: "Heathers: The Musical," written by Kevin Murphy and Laurence O'Keefe, of "Legally Blonde" fame, is a hoot and it actually has something rather poignant to say about the ruthlessness of high school. The sarcasm is heavy and a little uncomfortable at times, but the show never becomes fatalistic or so dark there is not way out.
As director Ed Fernandez told the opening night crowd, this is a skanky show. And it's not for young kids. There is swearing, adult situations and a high level of sarcasm that has to be accepted to enjoy the show. Young kids will be confused.
Sacred cows are knocked over, stereotypes reign, and you'll be laughing at things you can't believe you are laughing at. Be prepared.
Set at Westerburg High in suburban Ohio, "Heathers" is about Veronica Sawyer (a brilliant Martha Marie Wasser) a smart girl who wants to be part of the popular Heathers crowd.
The Heathers rule the school and they are a nasty trio. Heather Chandler (Maggie Shevlin) is the boss and she has contempt for anyone who isn't as cool as she is.
The other Heathers - McNamara (Corina Raine Connelly) and Duke (Meghan O'Neill) can only aspire to be as nasty as she is.
Jocks Ram (Brian Viera) and Kurt (Drew Boardman) hang with the Heathers and are just as mean, though they are so dumb you can't help but laugh at them.
The Heathers accept Veronica into their elite crowd because she is a good forger and gets them out of trouble. But Veronica is conflicted. She loves being popular but she finds the Heathers to be completely odious.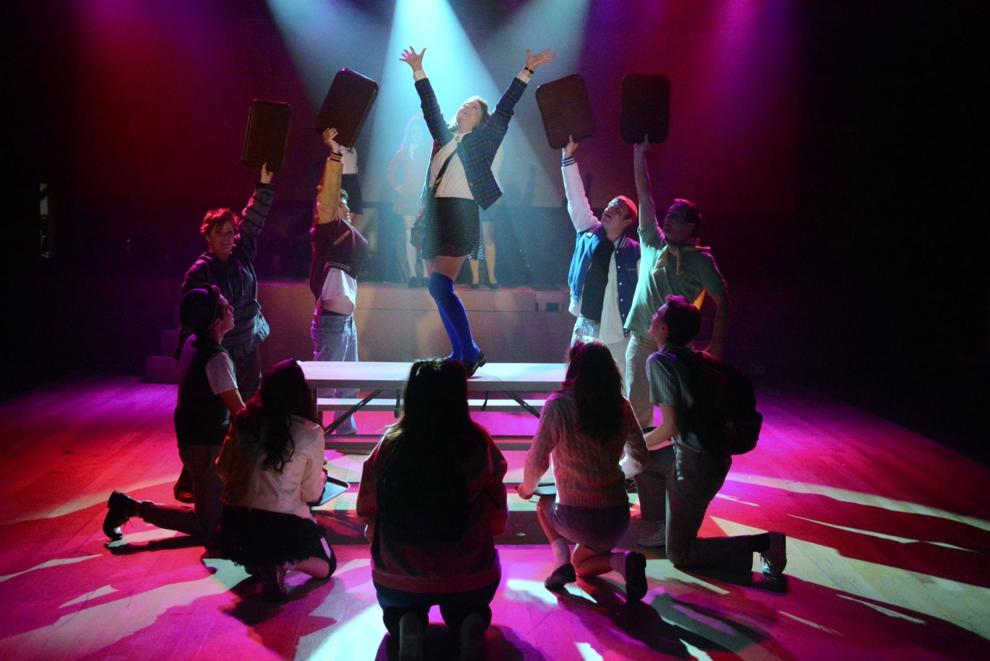 She meets J.D. (A wonderful Michael Roman), an intriguing bad boy who doesn't care about being popular.
The two fall in love and you feel their chemistry.
But J.D. is a troubled soul and it becomes clear he's got psychopathic tendencies. When Veronica and Heather Chandler have a horrible fight, he "accidentally" gives Heather drain cleaner and kills her. After Ram and Kurt try to rape Veronica, he goes after them too.
Veronica forges suicide notes and the school responds by holding a ridiculous healing session led by Ms. Fleming (a funny Niki Boyer Swatski) singing the overly sweet "Shine a Light," which only makes things worse.
Veronica's best friend, Martha (Emily Rhinehart) is bullied by just about everyone and attempts suicide for real and sings the touching "Kindergarten Boyfriend."
Here is where "Heathers" shows a heart, which is essential for the show to succeed since everything is so dark and so sarcastic.
Director Fernandez and his cast are having fun while reminding the audience that the nastiness of high school is complicated, that kindness is essential and that everyone deserves respect.
Kate WIllman's costumes take you back to the 1980s with panache and the choreography of assistant director Lawrence Love, is smart and well executed.
The only problem I had Thursday night was with the sound system, which was muffled at times and made strange noises from time to time. But the bigger problem was that some cast members had a tendency to shriek. There is a lot of belting in the show, much of it done quite well but sometimes, it pierces the ears.
The cast is wonderful across the board. Wasser and Roman are funny, occasionally heartbreaking and charismatic. Viera and Boardman are hysterical, all three Heathers are perfectly nasty and Kevin Fisher and Bob Breen are hilarious as various stereotypical bigots.
"Heathers" is not for everyone. If you can't fathom the idea that humor can be found in the subjects the show explores, you aren't going to enjoy it.
But for those of us who survived high school and realized it was just a temporary situation, "Heathers: The Musical" is great fun.
IF YOU GO
What: "Heathers: The Musical"
Where: Ephrata Performing Arts Center, 320 Cocalico St., Ephrata
When: Runs through Nov. 5. Thurs. 7:30 p.m., Wed. (Nov. 2) 7:30 p.m., Fri.- Sat. 8 p.m., Sat. (Nov. 5) 2, 8 p.m.
Cost: $25 - $32 evenings, $25 matinees
Contact:733-7966, ephrataperfromingartscenter.com