"Show Boat," which opened Thursday at Dutch Apple Dinner Theatre, was revolutionary when it first opened in 1927, bringing together a serious story and songs that moved that story along.
Today, it can still pack a punch, but also induce some cringing.
The racial perspectives between black and white people is one problem. The other is the perspective between men and the women stuck on them.
Put your historical lenses on, and you can enjoy the Dutch Apple production of "Show Boat" for its music, its frustrating but dramatic plot and some solid performances.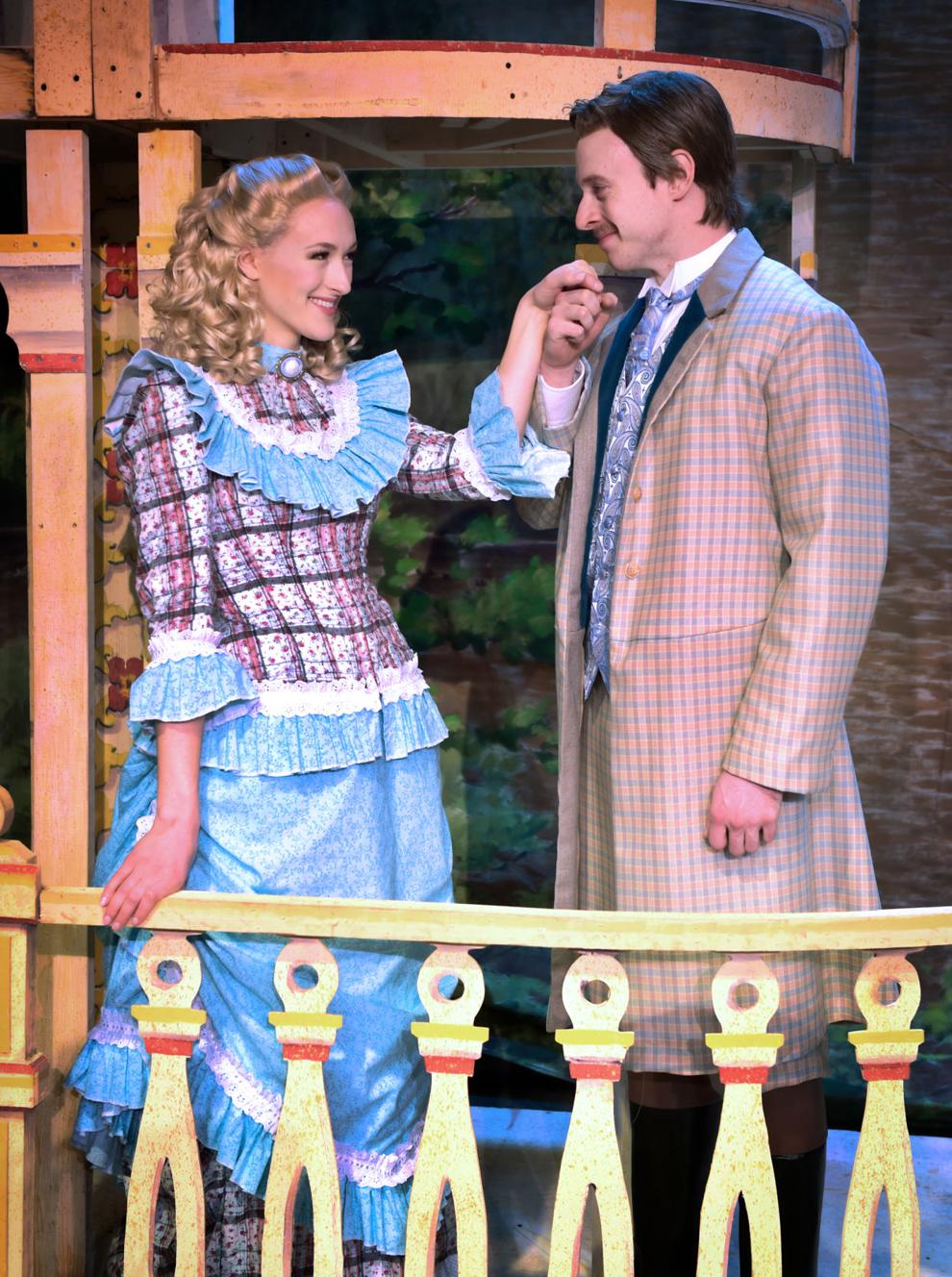 Based on a popular best-seller of 1926, "Show Boat" is the story of the people who work on the Cotton Blossom, a boat that goes up and down the Mississippi River, stopping in small towns to put on melodramas. It spans 40 years, from 1887 to 1927.
Captain Andy (Mike Brennan) and his wife, Parthy (Jennifer Hope), see the world differently. Parthy is suspicious and fearful; Andy seems to like everyone he meets.
The stars of the show boat's melodramas are Julie (Kira Galindo) and Steve (Eric Waters), who are married.
When it is discovered that Julie is of mixed race, the local sheriff of Natchez, Mississippi, wants to arrest her for marrying a white man, which was against the law. But Steve cuts her finger and sucks her blood, then declares that he has black blood in him as well.
They still have to leave because it is illegal to have a black woman performing on the show boat.
In 1927, it was unusual to address the brutal Jim Crow laws of the time and have a sympathetic portrayal of a black woman, so kudos to Oscar Hammerstein (who wrote the book and lyrics) and Jerome Kern (music) for being ahead of their time.
Julie disappears from the show but returns years later, only to serve the purposes of her white friend, Magnolia (Carin Lagerberg), who is Andy and Parthy's daughter.
Magnolia falls for a riverboat gambler, Gaylord (Troy Bruchwalski), and the two become the new leads of the melodrama.
In the second act, they are married and living in Chicago and have a baby. But Gaylord's gambling destroys them and he abandons his family.
Then there is Joe (Marc-Anthony Lewis), a black man who is a dock worker on the show boat, and his wife, Queenie (Shuga Henry).
They have no story line of their own, except her complaining about how lazy and shiftless Joe is, which is strange considering the lyrics to the first song of the show, "Cotton Blossom," sung by the black characters:
"Here we all work on de Mississippi.
Here we all work while de white folks play."
The show is dated and our country has changed too much to make a lot of "Show Boat" work in 2018.
Director Dean Sobon does his best and states in the program notes that we can't turn our backs on history. He has a point.
The cast is solid, the voices are superb and the orchestra sounds great.
And I was moved by Galindo's portrayal of Julie. Brennan made a jovial Andy, and I liked the dynamic between him and Parthy.
It does seem like all the men do what they please and the women suffer for it.
Lewis does a beautiful job with the show's most famous song, "Old Man River." It is used throughout the show, to link the show boat down South with what happens in Chicago.
And despite the datedness of the scene between Queenie and "shiftless" Joe, the actors feel like a loving old married couple that enjoys arguing.
Be warned, the show contains racial epithets that were more common around the turn of the century. Today they are clearly offensive.
So remember to take your historical lenses and head over to the Dutch Apple for a show that features some fine songs and singing and a look back at a different time in the theater and in the world.