If you are looking for a low-key, gentle story about the meaning of Christmas, you might want to see "A Christmas to Remember" at Bird-in-Hand Stage. It's a musical that has no interest in pounding you over the head with the holidays, which is nice.
Matthew and Mary are an Amish couple who have opened a thrift shop in Paradise, right next to their home.
It's Christmas Eve; the store is open. The two have been struggling financially, and they are hoping for some last-minute customers.
The couple take care of Mary's mother, Hazel, who has dementia and doesn't know it's Christmas Eve. When anyone tells her what day it is, she says she has to go to the kitchen to start cooking. But she will forget within a minute and repeat herself.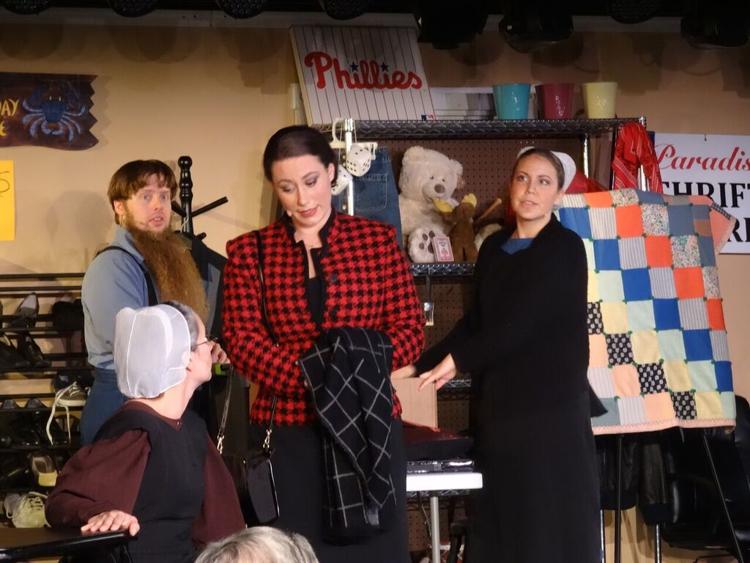 A woman comes into the shop and starts badgering Mary about Hazel's condition and how she should be in a nursing home. The two clearly have a relationship, but it will take a while to find out what it is and how it came to be.
Various customers come to the store, some to offer Christmas cheer and others to check out the shop.
One man brings boxes and boxes of his soon-to-be ex-wife's stuff, including a bizarre abstract painting that will play a significant part in the show and bring some laughs with it.
A woman comes into the shop needing a place to stay for a few hours. Her tire is flat, and so is the spare, so she's waiting for a mechanic.
She and Mary get along just fine.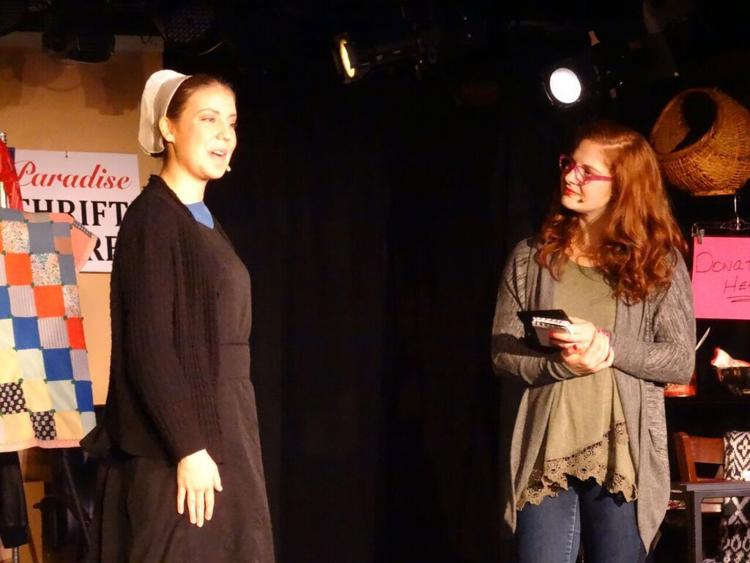 Family stories are revealed and Christmas carols are sung.
The cast is solid. Anna Carroll gives Mary a nice sense of humor and a good, nonjudgmental spirit.
Nathan Garner is Matthew, who is proud of the quilt holder he made and patient with his mother-in-law. Too bad he doesn't have more to do.
Rachel Wolin plays Mei, the stranger with car troubles. She's a terrific listener and a bit of a lost soul. I liked the connection Wolin and Carroll make. Mary does not lay her faith on too thick, she lives it, which is what the play itself does.
John Michael McDonald and Connor Murphy-White play the various other characters and both do a nice job catching different personalities.
But the heart of "A Christmas to Remember" belongs to Monica DePaul, who plays Hazel.
Her performance is wonderfully delicate, and when she talks about her dead husband, thinking he is still alive, it's a sweetly sad moment.
The songs in the show range from Christmas carols to a hip-hop number and some cheerfully funny songs. "A Mechanic Named Beau" is the song the man who brings all those boxes in sings, and it's a good one.
The shows at Bird-in-Hand Stage use recorded music, though the actors do sing. The stories tend to be simplified, and the stage is not elaborate.
But with all the glitzy, slick shows out there these days, it's kind of nice to see something homey and gentle.
Blue Gate Productions, based in Indiana, puts the shows together.
This one was written by Wally Nason and Martha Bolton. Nason also directed the show and composed the music.
Yes, the story could go deeper and feel more emotional. And the ticket price of $37 seems high. (There are options for meals to go along with the show. My $37 ticket was just for the show.)
You know your own preferences when it comes to Christmas shows. If you are looking for big, bold and colorful, look elsewhere. If you are looking for mild, gentle and low-key, "A Christmas to Remember" might be the show for you. There are no Santas, elves or Christmas ghosts to be found.