GROVE CITY — Showstopping metal sculptures are sprinkled throughout this borough of 8,000, mostly known for its college and its outlet shopping.
One sculpture depicts a gold wristwatch sitting atop a whimsical arrangement of silverware. In nearby Sharon, a staff with musical notes describing the first few bars of Louis Armstrong's "What a Wonderful World" pours out of a musician's trumpet.
These statues were not built by renowned artists or constructed by welding companies. They're made by students in the Pointing the Way program at George Junior Republic, a private, nonprofit residential treatment community that provides academic and vocational training for at-risk youth.
Many students at George Junior Republic were ordered by a judge to attend the school after committing a crime. Others attending the school were removed from their homes because of abuse, neglect or for other reasons.
When the sculptures are completed and placed on display, the students attend public unveiling ceremonies that have attracted public figures, including Grove City's mayor and state representatives.
"One of the best lines that I heard when a kid got up on the stage and spoke was ..., 'You know, this means so much to me, because for years I've taken away from my community and this is one way I can give back to it,' " says Jim Anderson, the principal of George Junior Republic.
The Pointing the Way program has attracted the attention and admiration of Pennsylvania's arts community. Thursday, it will accept the Arts Leadership & Service Award during the Governor's Awards for the Arts in Pennsylvania at the Lancaster County Convention Center.
Bike racks
The Pointing the Way program was founded by Glen Sanders, George Junior Republic's fine arts director.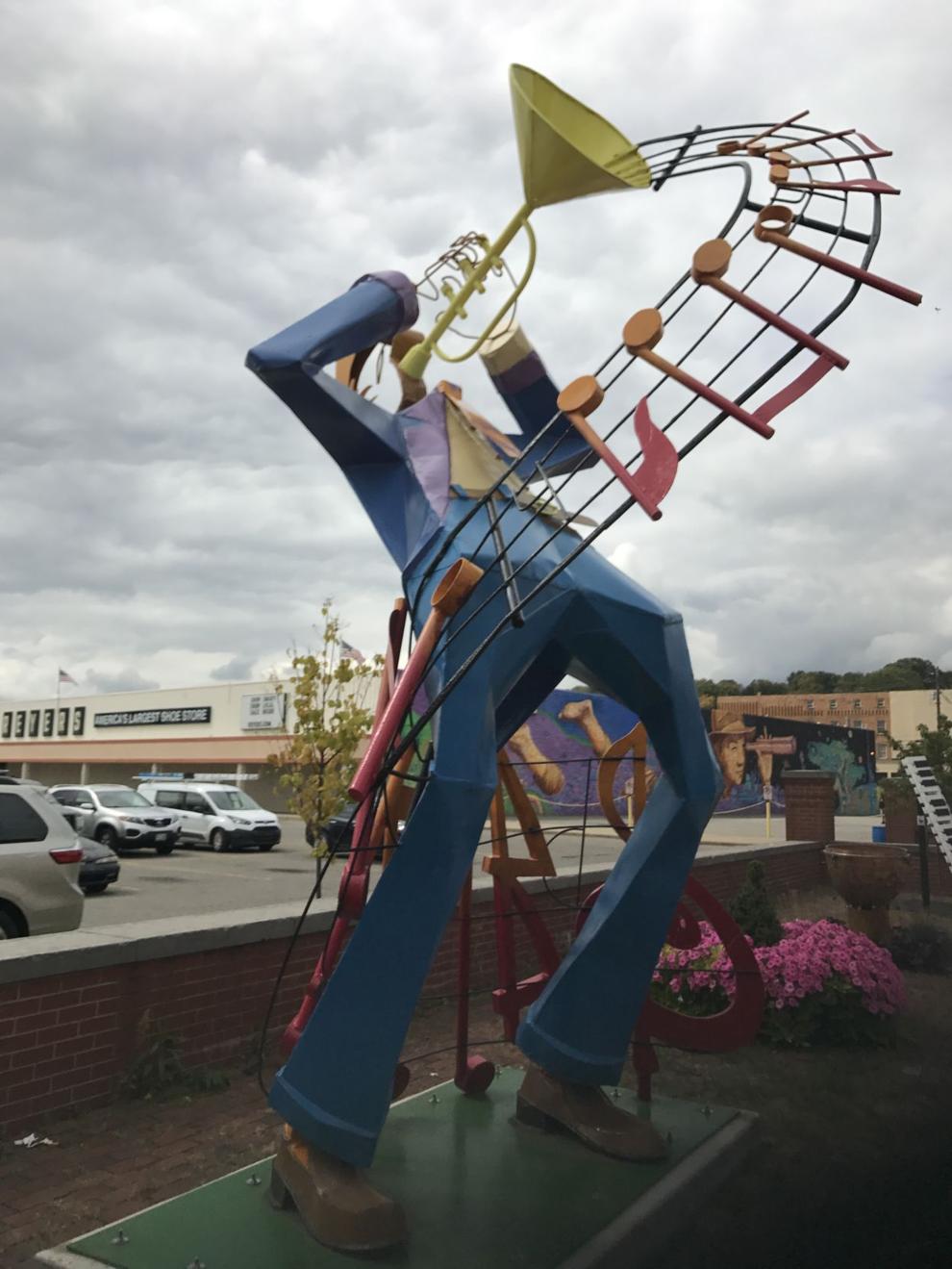 Sanders was on a committee involved in revitalizing downtown Grove City. One of the goals was to identify parking areas. Inspired by a another city's project that used sculptures as bike racks, Sanders pitched the idea of having George Junior Republic's students create metal sculptures to mark public parking areas.
The sculptures have become so popular that outside communities have requested them to designate rail trails and honor community members.
Some of the sculptures are designed by George Junior Republic students who work on the projects in Sanders' after-school enrichment program.
"I may have kids that are from different gang rivals that come together, or different sexual orientations that come together," Sanders says. "It's really weird, because when they're in my classroom they all work together. Somehow, art bridges all of that and it doesn't seem like it's a big deal."
In other cases, members of the community requesting the statue will create a design.
"Part of the challenge with going into other communities is ownership of that," Sanders says. "We don't want to just drop a sculpture in and say, 'Here's a sculpture because you wanted a sculpture.' It's an important part for them to play a role in it."
Funding for the sculptures comes from the communities, which seek donations from corporate sponsors, small businesses and individual donors. Donations of materials are accepted as well. Communities are asked to plan to spend $15,000 on a sculpture, but Sanders says all of them have come in under that figure.
An even dozen
Since Pointing the Way began 10 years ago, the students of George Junior Republic have completed 12 sculptures. The students currently have six sculptures in the works.
When Sanders' art students design a statue, they'll first create a small, cardboard version, learning math through the construction of a scale model.
Once the design is completed, it's taken to welding instructor Mike Jenkins, who works on creating the statue with his students.
Jenkins' welding class is one of several vocational programs at the school. Students have the opportunity to apply for professional certifications at the end of the year. Many pass the test, giving them the opportunity to join the workforce upon graduating.
'Like a boss'
"I don't teach them like a teacher," Jenkins says. "I teach them like a boss."
Jenkins tries to get all of the students involved in a sculpture. The students practice welding skills that they will use in practical applications after graduating.
"Glen calls it art," Jenkins says. "I call it structural steel welding."
After Jenkins and his students complete a sculpture — which takes about two to three months  —it is taken down the hall to the auto body shop. There, a different group of students is learning how to repair and paint cars.
Because the sculptures live outside, the students use an industrial-grade paint that can withstand the elements. It's taken into a paint booth, as if it were a car.
By the time a statue is placed and unveiled, students who worked on the project may already have graduated and moved away. Students who worked on the sculpture and are still at George Junior Republic are invited to attend an unveiling ceremony.
An emotional moment
Rick Losasso, the school's CEO, says he remembers one particularly emotional moment with a student from California. The night before graduation, the student took his mother to see the sculpture he had worked on.
"His mother just started to cry," Losasso says. "To know where her son was just a year prior to coming here to where he ends up with a high school diploma and being part of something so significant that he was proud of, that he had his thumbprint on, she was overcome with emotion."
The sense of ownership of something positive is at the heart of Pointing the Way, Sanders and Anderson say.
"They get to practice all of those skills that they're being taught on something that's giant and is going out in the public. … They own that," Sanders says. "They'll say, I did this weld right here."
Something as small as a single weld can be a big deal for a student who has had a difficult life.
"I think it gives them something proud that they say they had a hand in, and for a lot of them, that's the first time that's ever happened," Anderson says.