Maria Corley thought her 3-year-old son's drawings were familiar, but she couldn't quite place them.
She realized her son Malcolm's drawings weren't just the freeform scribbling of most children his age. Malcolm was actually recreating the illustrated clues on the television show "Blues Clues." Shortly after, he started to recreate characters from Dr. Seuss books from memory.
Around the same time his artistic talents were starting to bloom, Malcolm was diagnosed with PDD-NOS, or pervasive developmental disorder not otherwise specified, which is a developmental disorder on the autism spectrum.
The diagnosis has been far from restrictive in regards to Malcolm's spirit. Now 18, the hardworking senior at Hempfield High School crafts detailed sketches and large oil paintings in his Advanced Placement art class.
And, in addition to having a successful business selling his hand-painted tiles, Malcolm is about to celebrate his second art show dedicated entirely to his work.
Malcolm's art is on display now at the Emerald Foundation, a nonprofit incubator dedicated to supporting nonprofits that help youth, education and health care. The show is part of the Emerald Foundation's "Emerging Artist" series, which showcases up-and-coming artists. There will be a reception celebrating the show Sunday afternoon.
Malcolm has difficulty with expressive language but has a strong receptive vocabulary and is a fluent reader. He often recites conversations or passages from videos to himself and shows his excitement with high-pitched squeals.
One of his strongest methods of communication, of course, is his art.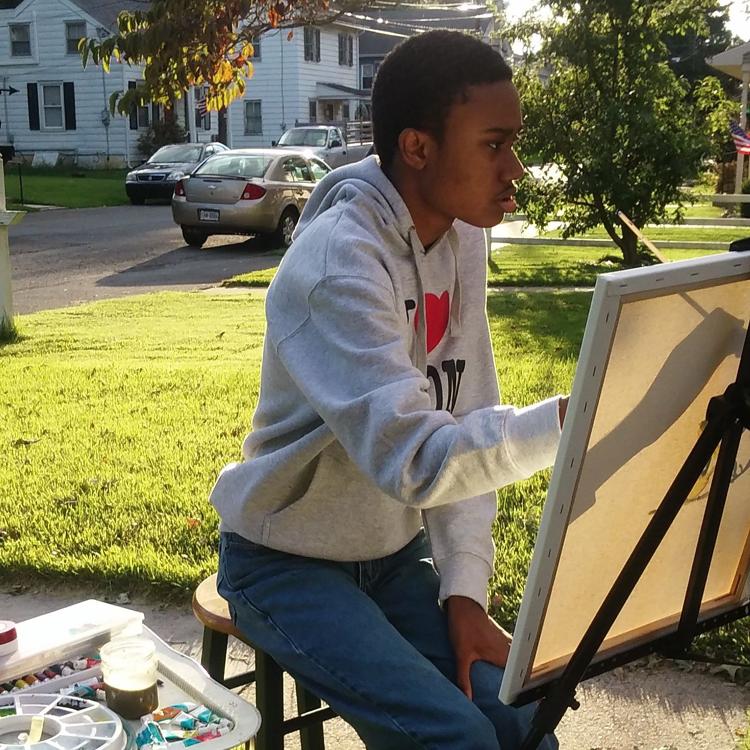 Malcolm's elementary school teachers recognized his artistic abilities. In fourth grade, one of Malcolm's pieces was chosen to be displayed in the Hempfield administration building. Later, his first large oil painting — a bright, alluring portrait of his sister Kiana — won a gold medal at Hempfield's art show.
The Lancaster teenager has a lot of creative interests. After seeing his sister's theatrical performances, he was inspired to try himself. So, his mom looked into the Millersville University summer youth program at The Ware Center.
"I had heard that there were some kids with special needs or autism involved," says Maria Corley.
Millersville's Winter Center often showcases the work of student artists from local schools. When there was an opening in October, Barry Kornhauser, assistant director of campus and community engagement in MU's Office of Visual and Performing Arts, suggested Malcolm do a solo show. Malcolm's teachers helped curate it.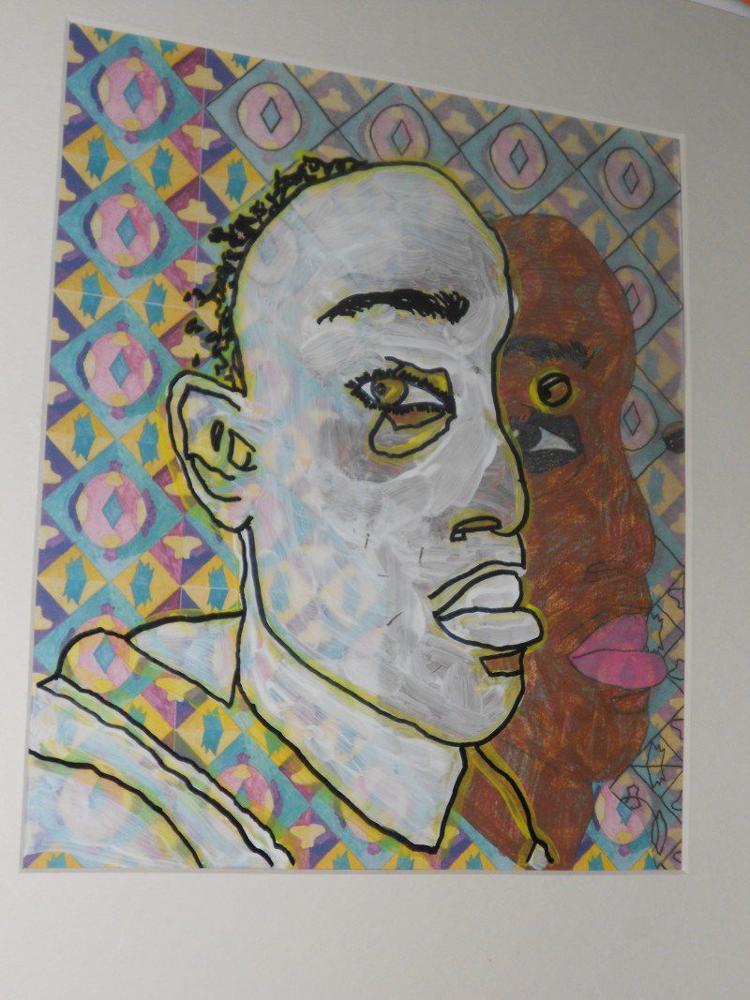 When Laurie Cubell of the Emerald Foundation connected with Kornhauser, she asked for recommendations for the nonprofit's "Emerging Artist" series. He recommended Malcolm.
"When I heard about Malcolm, and when I saw his artwork, I fell in love with it," Cubell says. "I have a brother who is autistic, and Malcolm reminds me so much of my brother."
She hopes the show will connect Malcolm to a possible artistic mentor.
"I think he has a special talent, and I want to do everything we can to get his artwork exposed," Cubell says.
At 18, he's already checked off a few major goals. After seeing a video online, Malcolm became obsessed with the Dutch amusement park Juliana Toren. He was able to make his dream of visiting the park a reality by selling his hand-painted tiles at places like the Lancaster-Lebanon Intermediate Unit 13 and the Penn State National Autism Conference.
His favorite part of the trip? Hugging the park's mascot mouse, Malcolm says.
As for the future, Maria Corley hopes her son will always have the passion and fire for his artwork. As a creative person herself — she's a musician — she knows how delicate the balance is of making a living and remaining creatively satisfied.
"I hope that he has enough art and people are interested enough in his art that he's able to continue to have reason to create and get up in the morning with an exciting project," she says. "Every day, he wants to know what he's doing."
Considering all Malcolm has accomplished so far, his mom sees no end in sight for his achievements.
"Why wouldn't you see what your kid can do? … Find out what the limits are by pushing the limits," Maria Corley says. "Don't assume the limits before you at least try to see what's possible."