Early in "Red," which officially opened Thursday night in the Fulton's Tell Studio, the artist Mark Rothko (Bill Van Horn) tells his assistant Ken (Logan James Hall) "the child must banish the father."
Rothko is talking about his own youth, when he and other artists known as abstract expressionists crushed the cubist movement.
Ken, an artist himself, is thinking about the pop art movement that will saturate the 1960s art movement.
And for the next 90 minutes, Rothko and Ken will discuss, debate, argue and  listen to each other as they work in Rothko's studio. It is exhilarating to watch two fine actors dig into this brilliant play by John Logan.
It is 1958 and Rothko has received the biggest commission of his life. He has created a series of murals for the Four Seasons restaurant in New York's Seagrams building.
A control freak who takes his work very seriously, Rothko believes he is creating a masterpiece. Ken thinks he's selling out and putting his paintings in a restaurant where rich people eat.
When we first meet Ken, who serves as a composite of the many assistants Rothko actually had, he is enthralled to be in the presence of the great Rothko.
While Rothko has a healthy ego, to say the least, he is not interested in being fawned over. He thrives on debate and is bullyish toward Ken.
The sparks fly immediately in "Red" and both Hall and Van Horn are up for the challenge.
"What do you see?" Rothko asks Ken at the very beginning of the play when the young man is looking around his studio, with a large work dominating one end of it.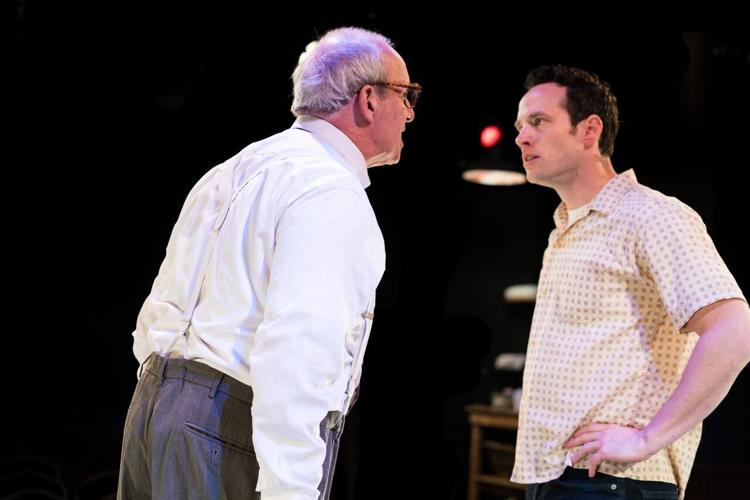 "Red," a nervous and naive Ken says. This will open a conversation that flows throughout the play about what the colors red and black mean in the larger context of life, intellect and emotion.
 Over the course of two years, Ken begins to gain confidence and knowledge while Rothko begins to doubt his own strengths and ideas, especially about the Four Seasons murals. The child is banishing the father.
Van Horn's Rothko talks incessantly, constantly making declarations about art and his fellow artists. He is often unkind and often quite funny. I have no idea what the real Rothko was like, but Van Horn makes me feel he's captured the artist. And while his words are sometimes out there in an intellectual cloud,  I hung on every word.
Ken is more reactive, though he has several key moments where he lets Rothko have it.
Like Van Horn, Hall must navigate his way through some pretty heavy ideas. I liked the way he evolved from a naive young man who's never read Nietzsche or Wordsworth to a confident young man who is making his own statement.
William James Mohney has designed a solid set. Rothko's studio is filled with frames and messy paint brushes, a primitive type sink and a record player on the floor in the corner. Rothko plays classical music to inspire him. Ken prefers jazz, of course. Matthew Moran's sound design is seamless.
The audience is on either side of the studio and I like how director Trey Compton has his actors move. He also does a great job with his actors, helping them meld into the material and bringing out the rich humor and ideas of the play. 
It might be a good idea to read up on Rothko, since the play assumes the audience knows something about the artist. A little Wikipedia is all you need, the play provides the rest.