As he created the grounds and conservatory of his Longwood Gardens estate in Kennett Square, Pierre S. du Pont was inspired by the French gardens he toured during his many European trips.
The theme of this year's Christmas at Longwood celebration of plants, trees and holiday lights pays tribute to these influences on the business titan's design aesthetic.
"This year is a French-inspired Christmas," says Jim Sutton, Longwood's display designer.
"You'll see that we've used iconic symbols of France throughout the display," Sutton says, including numerous fleurs-de-lis — a symbol of French royalty — in tree ornaments and floral creations.
The central fern floor space has been transformed into a gasp-worthy French-style indoor garden.
"Parterre gardens were designed so that you get up above them and look down on them, and you see the pattern," Sutton says. "It's very iconic to the French."
The swirling patterns in Longwood's parterre are created in red, green and gold from 670,000 cranberries and 8,000 Granny Smith apples floating in water.
These edible elements, which will be fed to area livestock after the holidays, Sutton says, are embellished with 3,000 gold-gilded walnuts.
A French twist
French blue is an element of the color palette for the display in Longwood's 4-acre conservatory, Sutton adds.
Entering the expansive East Conservatory space, visitors will quickly spot the tallest of the indoor Christmas trees.
Slideshow: Christmas at Longwood Gardens
Longwood Gardens in Kennett Square is decorated for the holidays, both indoors and outdoors, by day and by night.
It's a bluish, 23-foot Abies concolor fir, decked out in French-blue beads, copper spirals and gold glass ornaments.
The Music Room, a visitor favorite at Longwood, is decorated like a dining space in the palace of Versailles.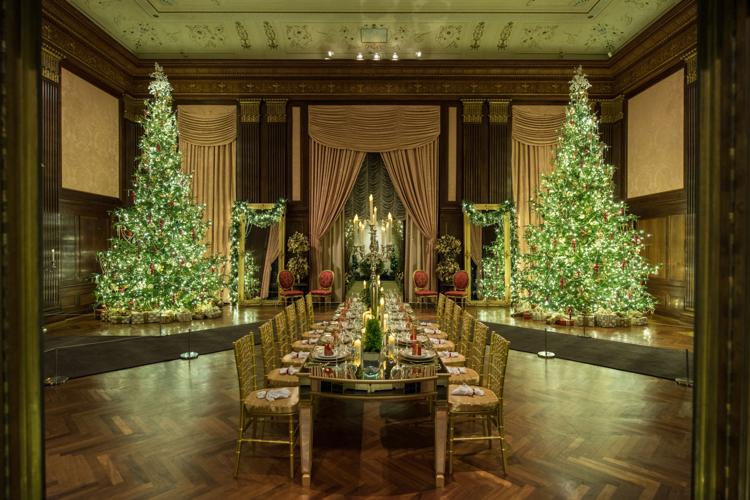 "This year, we wanted it to feel palatial," Sutton says. "We want you to feel small in a big space."
The illusion is enhanced by 9-foot-tall mirrors and a long mirrored table — set for a dinner for 12 — created by Longwood's staff.
Visitors can spend time staring at the room's two spectacular 18-foot-tall lighted Christmas trees, with their silvery garlands and gold, red and silver ornaments.
The French theme is also expressed in Longwood's Mediterranean Garden, Sutton says.
"We brought in a living olive tree (and) we created all these tile ornaments for it, and all the little glass beads on the tree have French writing on them.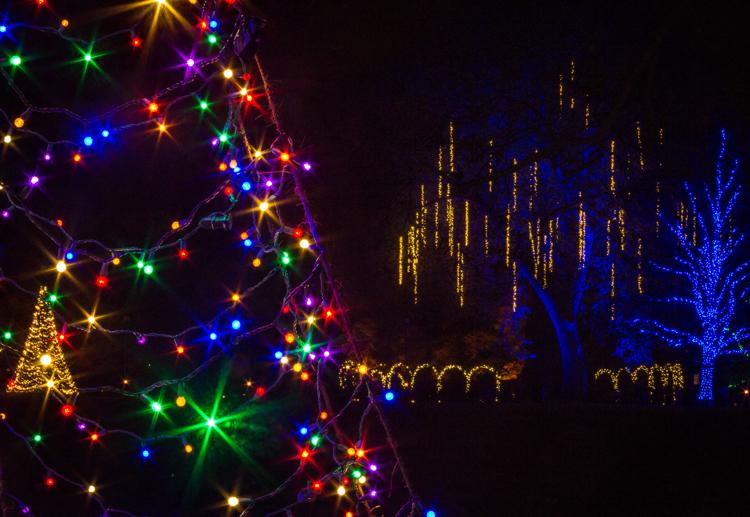 "And, of course," Sutton adds, "it's in a sea of lavender."
A yellow kalanchoe fleur-de-lis glows in the heart of a green living wreath hanging in the North Passage.
Signs of the season
Longwood's conservatory is a poinsettia paradise for visitors.
Sutton notes the design staff experiments with a range of poinsettia varieties each Christmas — from Green Envy to an orange Gold Rush.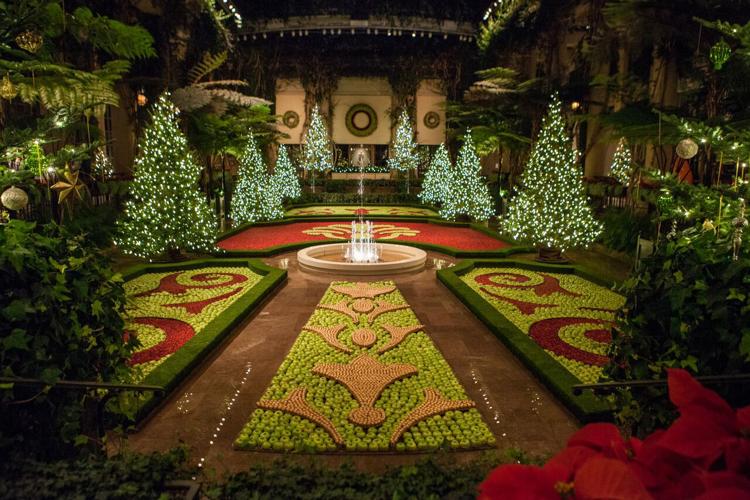 This year, large clusters of bright Santa Claus Red poinsettias set off the manicured green lawns of the Orangery.
More poinsettias climb two 14-foot floral Christmas trees, outfitted with irrigation systems that feed the pots of bright, red blooms.
During the day, sunlight streams through the conservatory's greenhouse-like windows onto more decorated trees, floral displays and fountains.
There's a stunning, living Christmas tree made of 300 pink and white Phalaenopsis orchids in the Palm House, and, amid the cactii of the Silver Garden, 12-foot trees made from succulent plants loom large.
Hundreds of Longwood's brilliant orchids bloom in the winter, and are now dazzling visitors in the Orchid House.
The Acacia Passage features huge lighted, hanging grapevine balls with red amaranth fringe.
The younger members of the family will want to check out Longwood's several children's trees, featuring decorations from cats to mushrooms to an octopus made by area school students.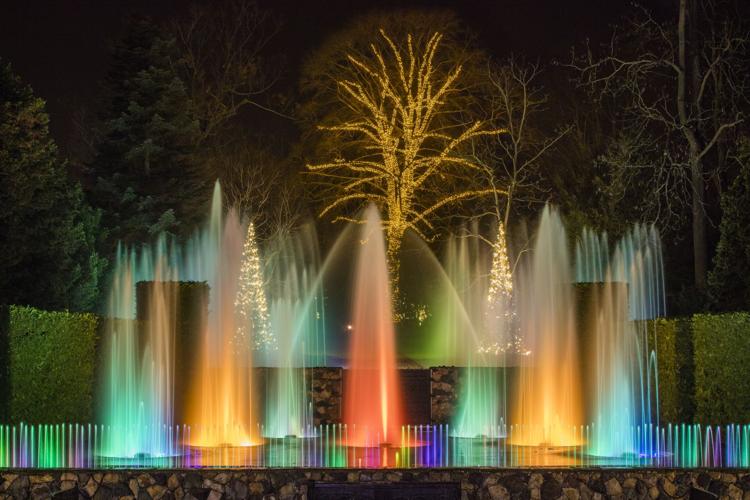 Illuminated wonderland
When the sun goes down, Longwood Gardens comes to illuminated life for the holidays.
Red, green, gold and white Christmas lights swirl around trunks and branches of dozens of trees — both evergreen and deciduous — lining the walkways of Longwood's thousand-acre grounds.
"I like to think of Christmas (at Longwood) as half inside and half outside," Sutton says. "Outside, there's lots of walking to be done. ... There's a half-million lights to see."
There are lighted arches to walk through, a miniature railroad to watch and various illuminated gardens to stroll among.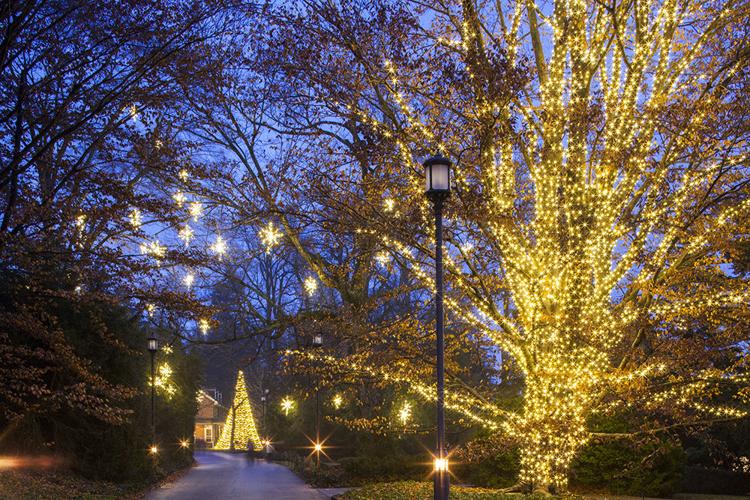 A fountain show springs to life in the Open Air Theatre every five minutes or so after 3:30 p.m. During the day, it happens hourly.
Visitors can sit on benches or stand at a railing to watch multicolored, cone-shaped waters dance to instrumental Christmas tunes.
The conservatory has a different kind of festive ambience, too, when illuminated by decorated trees and white lights instead of the sun.
"The whole display looks very different, day versus night," says Sutton, who, incidentally, will soon transition from holidays at Longwood to helping judge the Tournament of Roses Parade floats in California.