What is the largest fine arts venue in Lancaster?
What collection includes a Conestoga wagon, midcentury Abstract expressionists, West African sculptures, Fraktur and a large collection of Japanese woodblock prints?
And what venue has numerous art exhibits going on at any given time?
The answer to all three is The Phillips Museum of Art on the campus of Franklin & Marshall College.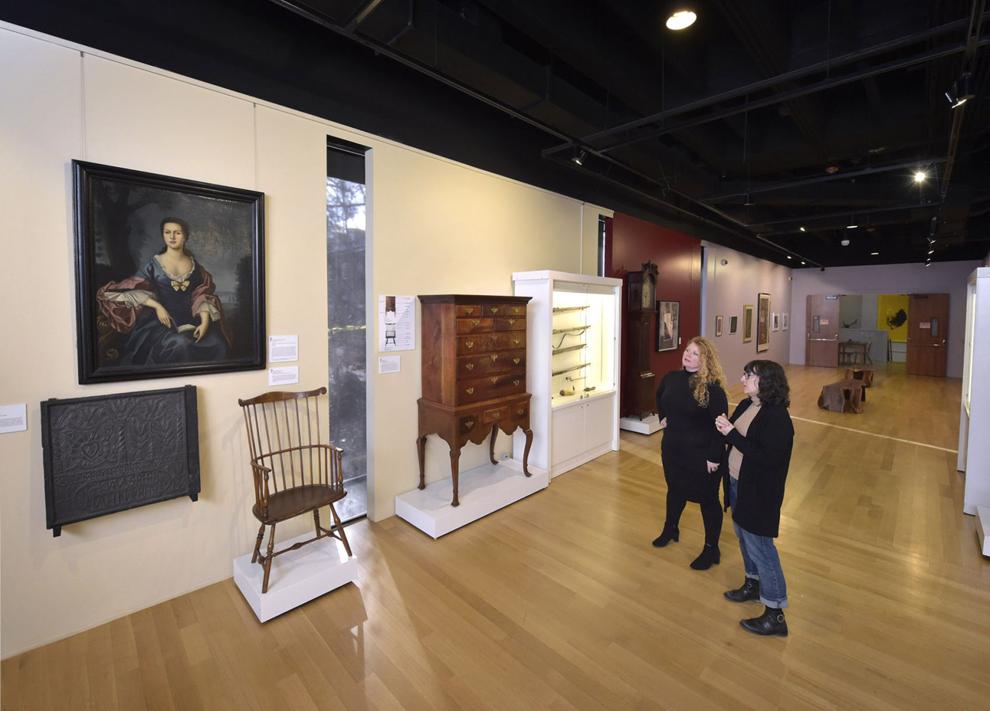 Unless you are a student or employee at the college, it might be easy to overlook the museum, which is located in the Steinman College Center.
But the new director of the museum, Amy Moorefield, who started in November, wants to change that.
"We want the community to visit," Moorefield says. "I'd like to see us branch out and bring in more students, K through 12. We consider ourselves a teaching museum, and it would be a wonderful opportunity for younger students."
"That is definitely something we are aiming for," says Julia Marsh, curator of exhibitions and academic affairs, who has been at the museum for about a year and a half.
Museum history
The Phillips opened in 2000 to house the college's ever-growing art collection.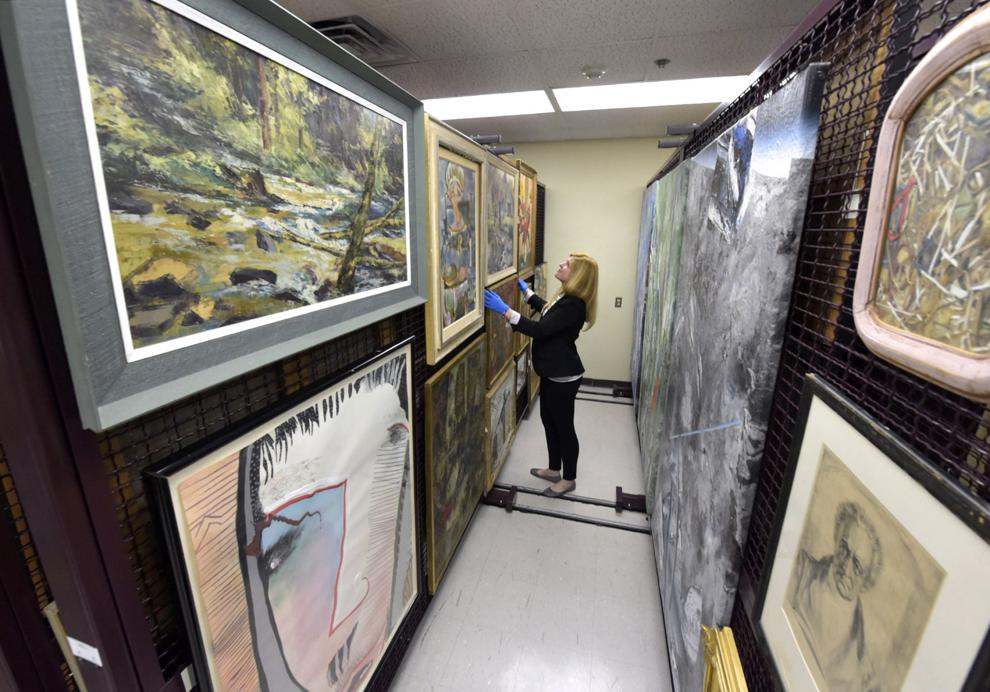 In 2011, the college renovated and expanded the museum. It now features four galleries, a vault and a classroom on its three floors, along with a sculpture garden.
That expansion was necessary. The collection now numbers approximately 8,000 pieces, with many bequests and gifts to the college from alumni.
Walking into the museum's entrance, one gets a sample of the collection and sees just how eclectic it is.
Antique rifles hang on the wall near tiny 18th-century shoes, modern paintings, Samurai armor, a bust and silhouette of the college's namesakes and a Kandinsky print.
"We look at it all as a pie," says Moorefield, who came to F&M from the Taubman Museum of Art in Roanoke, Virginia, which features 11 galleries and offers between 15 and 20 exhibits each year.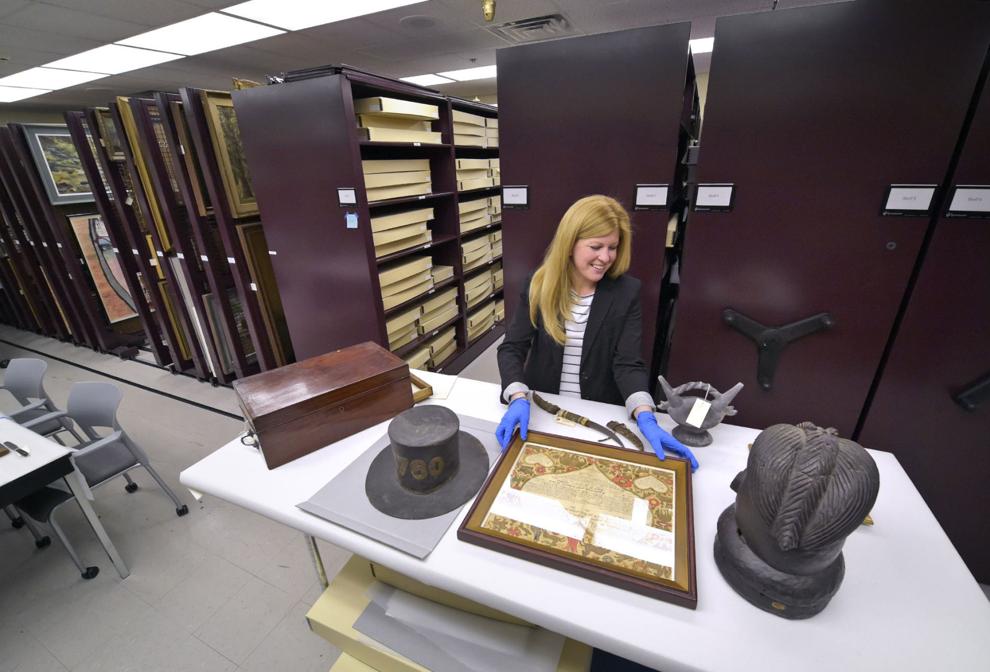 The Phillips is not too far behind those numbers.
"We had three shows last semester, and this semester, we'll have eight," Marsh says.
New Exhibits
Three exhibits recently opened at the Phillips with the beginning of the new semester.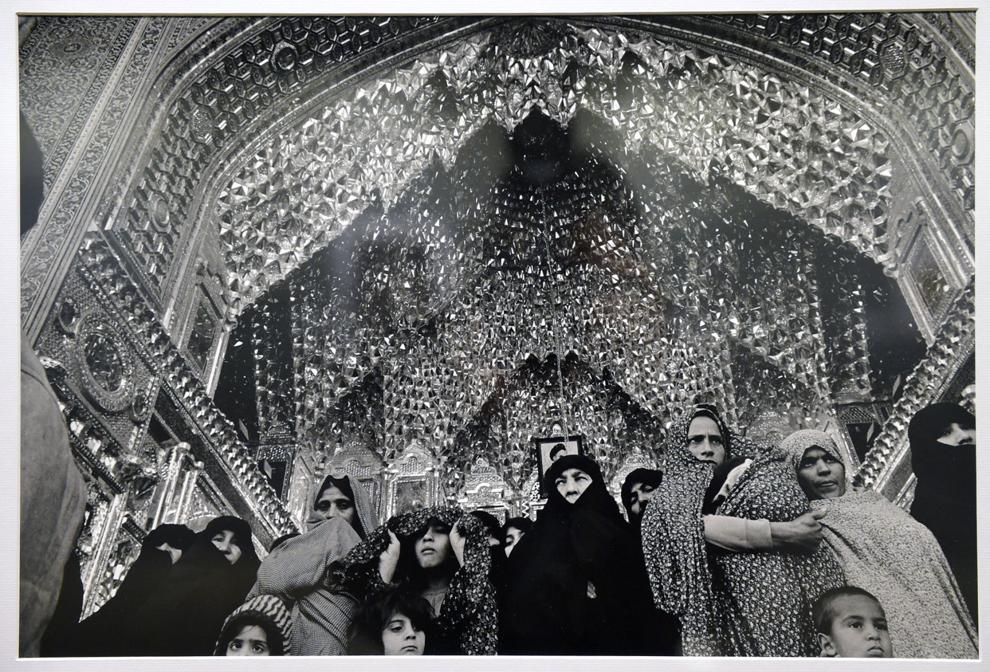 One, "Anonymous Was a Woman: Individuals and Identities," comes from the collection.
"We have so many pieces of photography we know nothing about," Marsh says.
And so many of them were photographs of women.
"There's so much about women's lives we don't know," Marsh says.
The exhibit features 17 pieces, going all the way back to the earliest types of photography.
"The exhibit traces the history of photography," Marsh says.
The old and the new
One of the oldest photographs is an ambrotype, a popular photography method in the 1850s, a decade or so after daguerreotypes opened up the photography world. It was replaced by the tintype.
There is also an example of carte-de-visite, a popular French calling card, which included a photograph.
There are also more contemporary photographs.
"We did some work trying to identify the photography," Marsh says, noting that too often, they came up blank.
"We've set up an iPad where people can write their own narrative for the photographs," she says. "There are so many mysteries here. We're eager to see how people respond."
The show is being held in the Gibson Gallery.
A panel discussion on "Individuals and Identities in Photography" will be held at 5 p.m. Feb. 8.
A film, 1978's "Anonymous Was a Woman," will be screened at 6 p.m. on Feb. 22. And Alicia Eler, author of "The Selfie Generation," will give a lecture at 6 p.m. March 7.
All these events will be held in the Gibson Gallery.
Other exhibits
In the nearby Rothman Gallery, "Currents: All Student Juried Show" is open.
"We have 144 entries," Moorefield says. "About 65 to 80 will be included in the show."
Frederick Wright Jones, a sculpture professor at Muhlenberg College, juried the show. "It's a wonderfully eclectic show that was open to all students, not just art majors."
Featured in the Dana Gallery are 12 contemporary artists from New York, Baltimore, Washington, D.C., and Canada.
Magnolia Laurie, an assistant professor in the art/art history department who teaches drawing, is the curator of the show.
"We're focusing on what drawing is, seeing the physicality of the work," Laurie says. "It's pushing on the borders of sculpture."
Laurie will oversee "Artists in Conversation" at 5 p.m. Wednesday and a panel discussion will be held at 3 p.m. Feb. 16 .
Both will be held in the Dana Gallery .
"We have such a range," Moorefield says. "And we want people to know what's here."