It was a mistake that led New York artist and self-described perfectionist, C. Mari' Pack, to discover her artistic niche.
While rekindling her passion for art in her basement studio several years ago, the young mother had begun trying different abstract art techniques.
"One day I absolutely hated what I did, and I started squirting paints on it and pouring water and I started to like it,'' explains Pack, whose exhibit, "Tectonic,'' is on display through May at LSJ Studios on West King Street. "So I moved it around, and I began loving the process.''
The process has evolved into an art form in and of itself, culminating in often large and always vibrant works of churning, swirling, dancing color.
"It's almost like a giant inkblot,'' Pack says of her work, referring to the way different people see very different things in each painting.
"I work on the ground, pouring the paints,'' she says, which limits her visual perspective. "When the piece is finished I hang it on the wall and I'm so anxious to hear what people see."
Through trial and error, she has learned how different types of the acrylic paints she uses will react when poured on canvas, allowing her to be more deliberate in her design.
"Metallic paints are more dense, for example,'' she says. "I know instinctively now how the different paints will move. That's what has taken time for the process to evolve.''
She has also learned when to move the paint around on the canvas and when to let it be.
"It's just as important to know when to stop as how to start,'' she says. "You can overwork it and it just looks muddy.''
The process of pouring paint, adding water or alcohol and moving the canvas can be tedious.
"It all has to be done in one sitting. That's the good and bad thing about acrylics,'' she says.
"Bigger pieces can take up to an hour and a half to pour. Then I sit there for hours watching the pools form.
"Its a very organic process but I do manipulate it. I can sit there for six hours watching paint dry."
But while it has its tedious aspects, Pack's time in the studio is the time she feels most relaxed.
"I came from a family with very high expectations,'' says the Albuquerque, New Mexico, native. Her parents were fine with her pursuing art - but only after she got a sensible degree. After a couple false starts, she ended up majoring in accounting, and worked in the field for five years.
And while she describes herself as very methodical and a control freak, she says "the studio is the one time I let myself just break rules.''
"When I get in the studio, I'm free,'' she continues. "Free from anybody needing me, free from staying in the lines.''
While Pack's work is decidedly abstract, the artist is fascinated with how people respond to both the movement and the colors in her works.
"Our brains can pick up imagery in color and movement and shape,'' she says, adding that there's a whole science behind the effects of color on the human brain.
Unless she is going into the studio with a specific concept in mind, she allows the piece itself to suggest a name to her.
"I'll finish a piece; I'll tip it one way, rotate, sit and stare and sit and stare,'' she says, until a name reveals itself.
In her current exhibit, "Tectonic,'' in Loryn Spangler Jones' new studio/gallery at 110 W. King St., she entered the studio with a concept in mind.
She researched the geology behind the tectonic plate theory - which basically explains the movement of the earth's surface over billions of years.
"This exhibit was almost metaphorical to life,'' she says.
"One piece, "Forces of Nature," reminds me of weather patterns,'' she says. It brought to mind how things that bring destruction often bring freedom, too.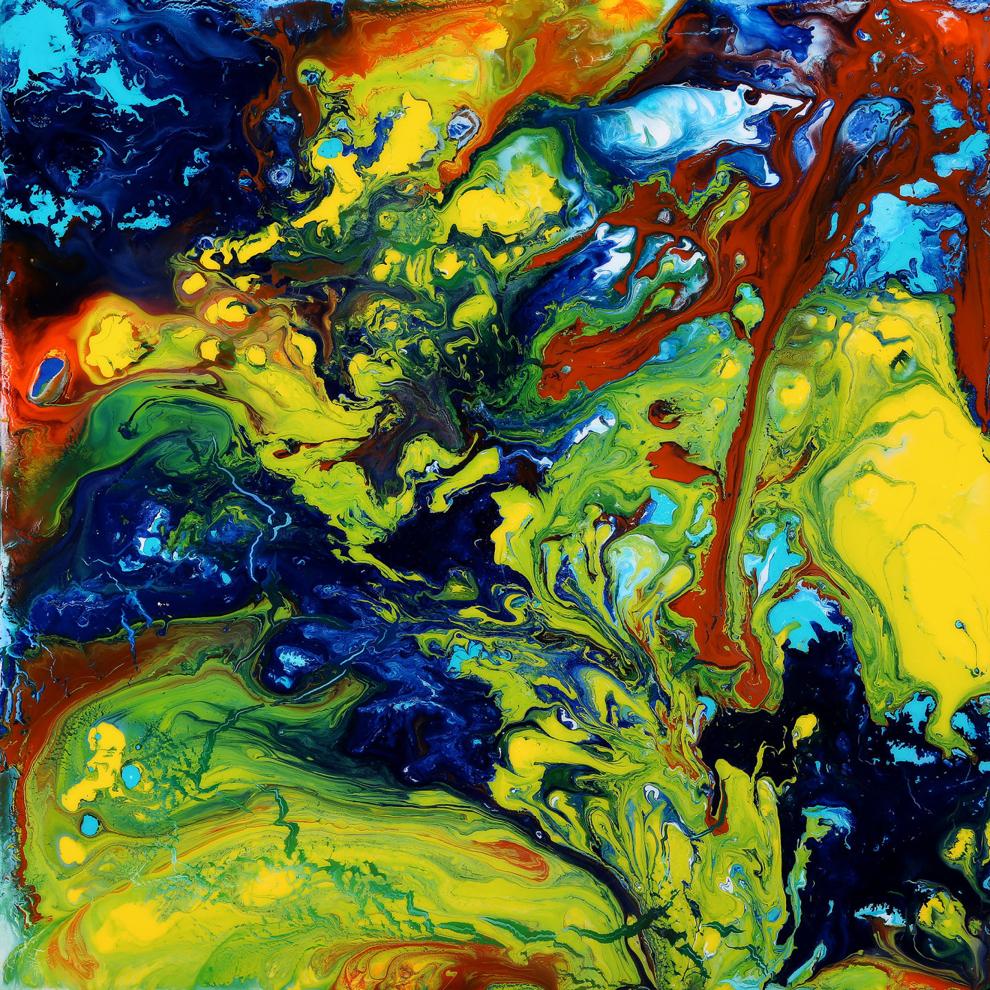 She has accompanied each piece in "Tectonic'' with an artist statement.
But to Pack, it's more important to take away your own personal interpretation of her works.
If nothing else, to let yourself experience the beauty of their movement and color.
"I try to find beauty in everything,'' she says. "I think there's enough ugly in the world.''
If you go:
"Tectonic'' exhibit by C. Mari' Pack
Continues through May
Tues.-Thurs. 10 a.m.-5 p.m.
Fri. and Sat. 10 a.m.-6 p.m. Free.
LSJ Studios, 110 W. King St.
Suite 101
381-5032. lsjstudios.com