You might say Gale Jamieson is materialistic — in a good way.
The York-area artist works with a variety of found materials, whether they be a jar filled with her mother's button collection, a cardboard box of vintage ladies silk stockings or stacks of old National Geographic magazines. Many are recycled materials, while others are newer materials put to an unexpected use.
Jamieson's imaginative works will be on display at the gallery at the Pennsylvania College of Art & Design for an exhibit opening Monday.
"Gale's work is like poetry. It tells a story. It shares emotion. And it's all done with bits and pieces of all sorts of materials," says PCA&D gallery director Marnie Benney. "I think this will be an exhibit that our students will benefit from, a chance to see a sculptural show from a nationally recognized artist."
Jamieson's sculpture "My Mom's Dress Form" is in the permanent collection of the Smithsonian Museum of American Art's Renwick Gallery. It depicts a dressmaker's form with an ornate golden gown made from straight pins, cardboard and melted beeswax.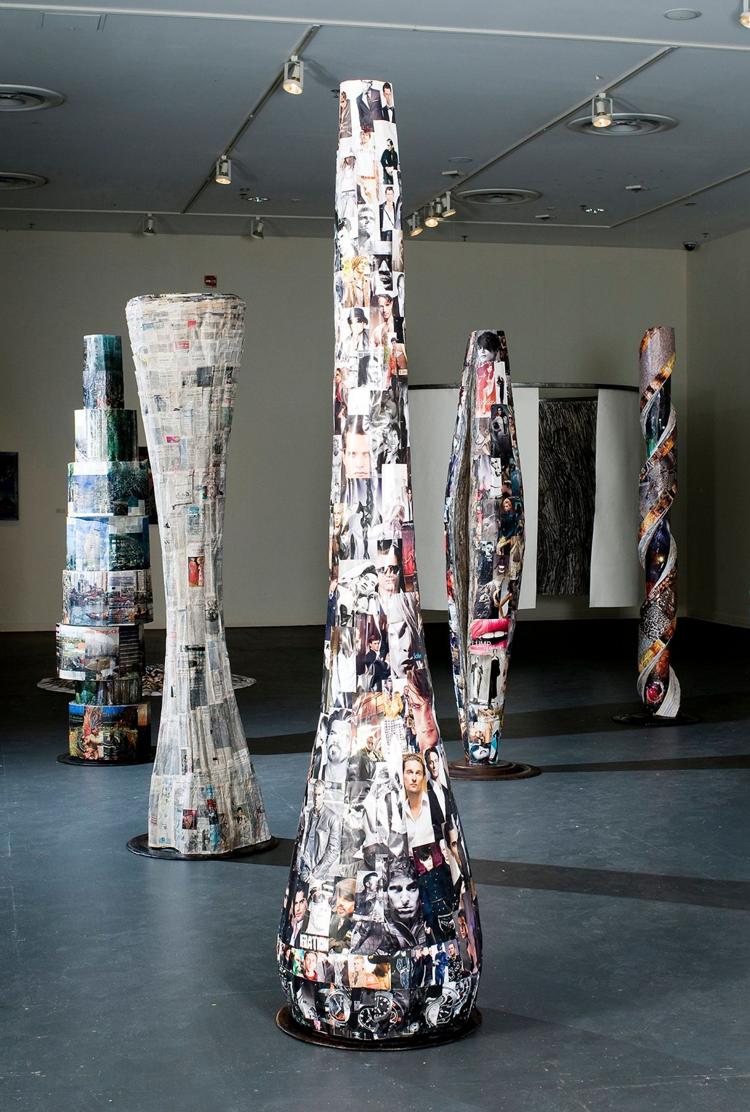 Her work is exhibited extensively in the mid-Atlantic region, and she has participated in residencies in New York, Florida, Virginia, France and Ireland. Her sculpture "Dientes de Leon" is a stunning, light-catching installation in Cherry Lane City Park in York.
These are sculptures that are bold and colorful, such as a towering "Witness" figure composed of woven men's ties or "Dream Weaver," made with woven ties, wire and carved wood. "Honeycomb" is made from rolled magazine paper and glue, so you can almost imagine honey bees buzzing from within it. "Mother of Pearl" is a gossamer dress on a dress form with a bodice sewn from all those buttons her mother once collected in a glass jar, along with other buttons from friends.
"I think every woman has a collection of buttons that they are saving for some reason. My mother had one and so do I," Jamieson says.
The difference is that she has found a powerful way to use all those buttons.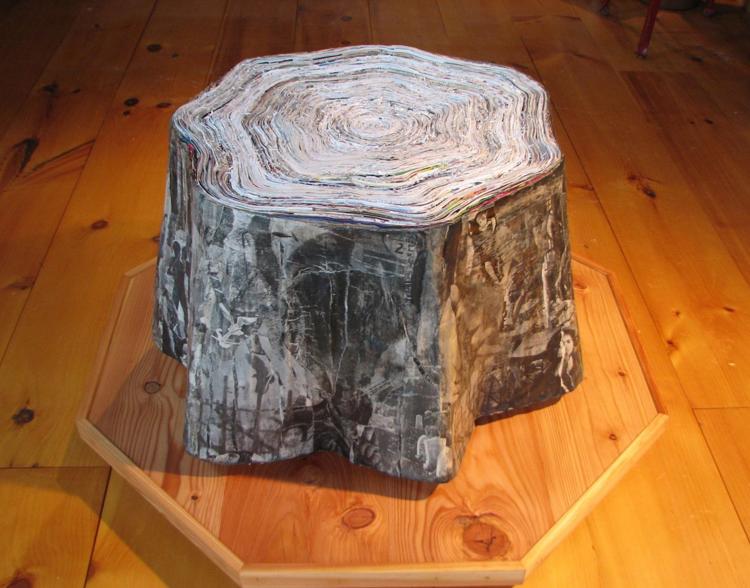 Jamieson is originally from Baltimore and now lives in a pretty country hollow outside York with a barn studio where she can really stretch out and work her materialistic magic. She received a bachelor of arts degree from Towson University and later apprenticed in custom architectural millwork, woodcarving and reproductive antiques.
Her work took a turn when she found a big box on her wooded property that was filled with old stockings. Not pantyhose, but those silky stockings that required a garter from back in the 1950s and 60s. There were used stockings in all different sizes and colors, so she knew they had once belonged to different women. She did what any curious collector would do. She dragged the box back to her studio. After a good washing, those mismatched stockings had found their match.
Jamieson created a wall hanging of twisted stockings with red thread tied to bamboo skewers. Of course!
That was just a start. In "Pangea," National Geographic maps are transformed into a woven kimono in shades of gold and blue. Embroidered balls of red rags become a massive scarlet kimono draped on a bamboo rod. In "Requiem..The Wild Rose," based on a poem by Margaret O'Reilly, she uses tea-stained paper on top of delicate cups and saucers, some broken.
In "Nine Months," folded magazine covers are shaped into a woven circular pattern. Magazines are used for "Grove/Yang" and "Grove/Stack" to reimagine the paper into tree-like shapes, thus bringing the work full circle to its origins.
Her experience in Ireland during an artistic residency was marred by a series of three bombings in Northern Ireland that killed more than 220 people. The trauma was recorded in newspapers at the time, and eventually Jamieson was able to express her sorrow through a woven Irish coracle boat made with those newspapers.
"The materials find me. They call to me," Jamieson says. "By changing the context in which an ordinary object is experienced, there is a shift in perception. The materials become something else entirely."¶