A few years ago, Brent Rambler couldn't escape his anxious thoughts.
The stress kept building for the August Burns Red guitarist, and he struggled to find relief until he found an outlet in bike riding.
"It was a couple hours of time when the only thing I was thinking of was a physical activity, like trying to get through this challenge," Rambler says. "So, it kind of cleared my mind, and that just put me on a different path."
Rambler wrote about his experience in "The Frost," the second single from August Burns Red's seventh album, "Phantom Anthem," released Oct. 6.
"Alone with the wind is where I hide/ As I find my place among the stars/ This moment makes me feel alive/ It's what I need to survive," vocalist Jake Luhrs screams in "The Frost."
"Phantom Anthem" is a continuation of what the metalcore band, which got its start in Manheim, has excelled at during its 14-year lifespan: positive, thoughtful lyrics paired with instrumentation featuring unusual time signatures, intricate guitar work and powerhouse drumming. The band's maturity is reflected in "Phantom Anthem." Lyrics are clearer and more poignant, and the musicianship is elevated to another level.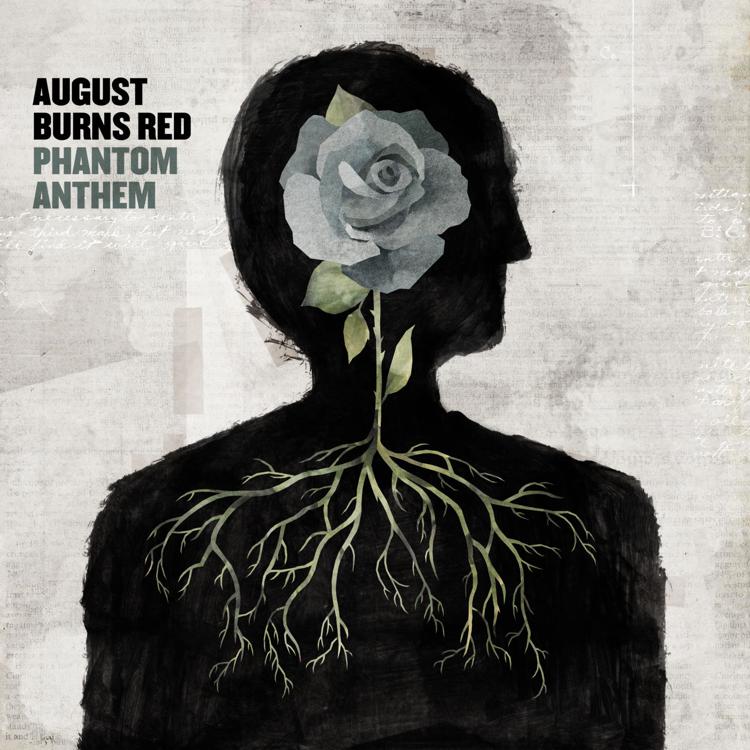 Grammy nomination
The band was nominated for a Grammy in 2016 for its song "Identity" from its album "Found in Far Away Places." While working on "Phantom Anthem," Rambler says the band didn't focus on creating music with the Grammys in mind but did want to release new music in time to be eligible for nomination in 2018.
"I don't really know that lightning would strike again. … There was definitely a little bit of, 'Hey, we should get this done before this time frame.' There was definitely a little bit of pressure there," Rambler says.
August Burns Red began in 2003 when guitarist JB Brubaker was a freshman at Elizabethtown College. Rambler and drummer Matt Greiner were seniors at Manheim Central High School. Luhrs and bassist Dustin Davidson were added in 2006. All of the band members live in Lancaster County, except for Davidson, who resides in Maryland.
Rambler is the group's primary lyricist. He wrote the lyrics to all but two songs on "Phantom Anthem"; "Coordinates" and "Dangerous" were written by Greiner.
"I think a lot of people write off metal music as, 'Oh, they're just singing about stupid stuff like violence or devil worship or dragons and things like that,' " Rambler says. "I think that people can write it off. So we've always just tried to have more intelligent lyrics."
Political song
Rambler shared the answer to alleviating his stress in "The Frost." On "Invisible Enemy," he writes about the fear of death. In "Hero of the Half Truth," Rambler indulges his urge to write politically.
"You vulture/ Choking on your lies/ You vulture/ We see through your disguise," Luhrs sings on "Hero of the Half Truth."
"I always tried to stay out of politics," Rambler says. "The band as a whole, it's just not something that we feel we have the knowledge to speak about."
But during the writing process of "Phantom Anthem," he felt he had reached his boiling point.
"I was like, that's it. … I'm doing it," Rambler says. "I'm writing it. I can't help it anymore. And it just flowed like water.
"You can say it's just about Donald Trump, or whoever or whatever politician you don't like, but in general, the whole system, it's kind of like, at this point, give me a break," Rambler continues. "You guys aren't doing anything, and it's literally both sides."
"Phantom Anthem's" thought-provoking lyrics are complemented by elevated musicianship. Every instrument boasts more complexities on this album.
"There was never really a focus on making things super hard to play, but I think that as we grow as musicians … that will come naturally," Rambler says.
Recorded in Lancaster
"Phantom Anthem" was recorded and produced by Atrium Audio in Lancaster city. Co-owners Carson Slovak and Grant McFarland have a history with the band. Slovak recorded the band's first demos, and the band has returned to Atrium for every album since 2012's "Sleddin' Hill."
 As Brubaker writes the musical structure of the songs, he shares them with McFarland. McFarland says he thinks the songs on "Phantom Anthem" are the best August Burns Red material to date.
"I think JB does a great job with still making it feel and sound like August Burns Red but kind of pushing in a new direction," McFarland says. "I think this album is ultimately a bit darker. I think it's more technical and heavier than their previous material, while still having the various intricate interlude sections with different instrumentation that is kind of a staple of what they do."
McFarland says a generous amount of recording time, plus their already-established relationship, allowed creativity to flourish.
"I think we spent a lot more time on even just small things, like creating a unique sound for each section on the guitar. … We had the opportunity to experiment and try new things, which was great," McFarland says.
Since the songs are so complex, Rambler says, he and his bandmates have already begun practicing for their Phantom Anthem Tour, which kicks off Jan. 5 in Montreal.
"It will definitely be an August Burns Red show," Rambler says. "It will be intense and energetic."