New-to-Lancaster artist Kyle Whary has never felt comfortable holding a paintbrush.
That's why he creates his lustrous, saturated cityscapes and sparkling wine and spirits still lifes largely without one.
Whary, whose works are currently on display for the first time in Lancaster at the Artist Studio and Gallery at Annex 24, prefers the tactile nature of painting with his fingers. He reserves the use of the brush for fine details.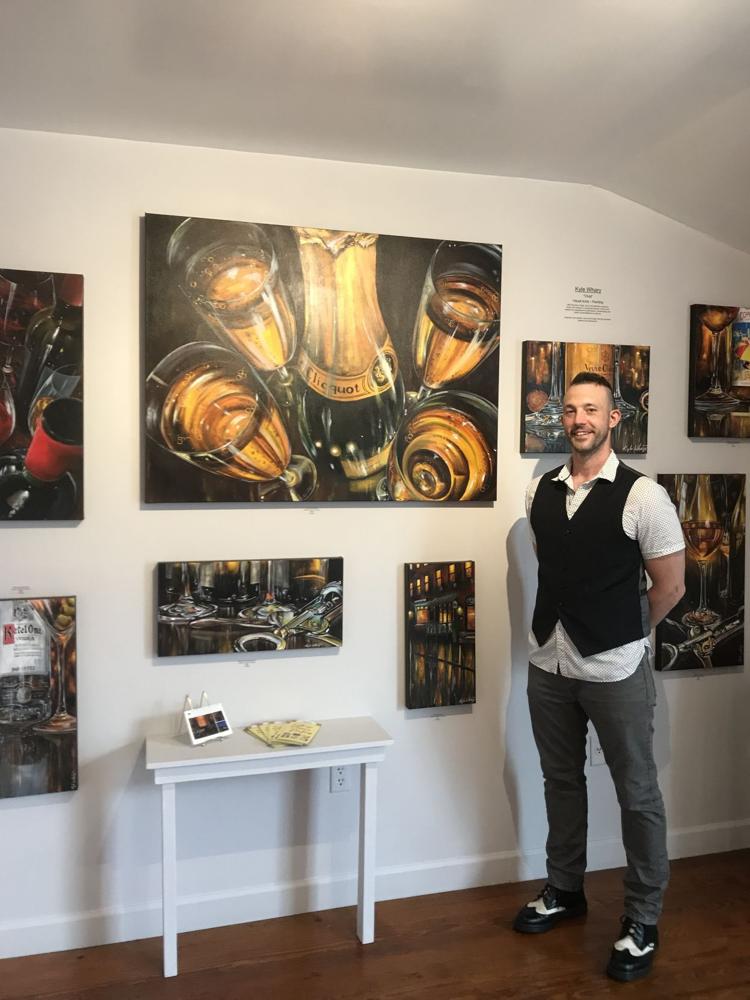 Drawing capably since he was just a little guy, Whary first recognized his aversion to the paintbrush — and painting in general — during an eighth- grade art class. "We had to focus on one area of an automobile, try to get the colors just right, and I hated it," Whary remembers. "I could draw really well, but using a brush just didn't work out for me."
That experience was echoed in college at West Chester University, where after a few false starts, Whary had decided on art education as a major. ("It took about as long as most people take to become a doctor to become an art education major," he quips.)
One painting class he took required students to choose a single object and paint it all semester. Whary chose a seashell. "That turned me off again to painting," he says.
But while at college, Whary was introduced to screen printing and became more familiar with the works of pop artist Andy Warhol, who used the medium. A lover of old movies, Whary was instantly attracted to Warhol's vibrant portraits of Hollywood stars.
"So I just started hand painting in that pop-art style," he says. Most of his pop art work (which is not in the current show at Annex) depicts personalities from classic Hollywood.
That temptation to recreate Old Hollywood — pop-art style — began Whary's reluctant love affair with paint.
After college, while working as a substitute teacher, he picked up a second job at a local winery.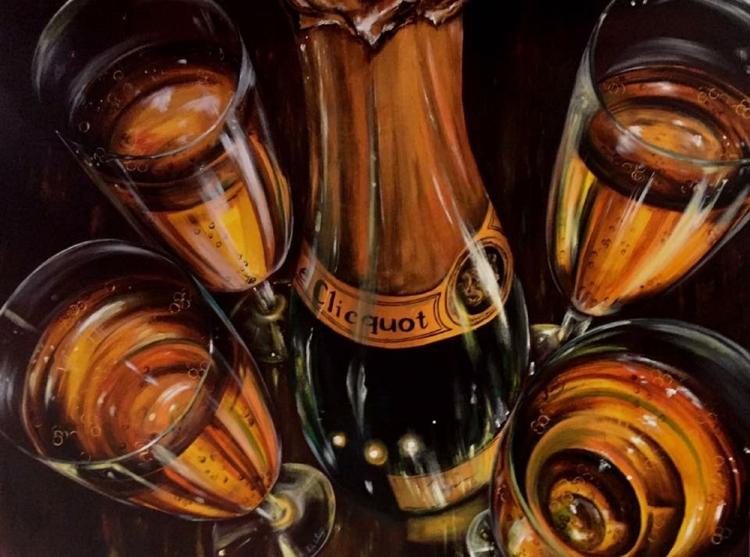 It was there he first noticed the depth of color in wine, particularly as it interplayed with light.
"When I started working at the winery, it had these big windows and I saw the light coming through the bottles," he says. It fascinated him so much, he began recreating the scene on canvas, focusing on the relationship between the light and the liquid.
"It's kind of an exploration of the kind of detail you might overlook," he says.
Whary, who works in acrylics, has since painted several series of wine and spirits still lifes, which seamlessly blend both realism and abstraction.
"My work is an exploration of the way light hits things and creates different colors," Whary says. "The biggest thing through it all is color. With the pop art you don't really get the light, but you get the burst of color. From pop art it turned into the light reflection and the color."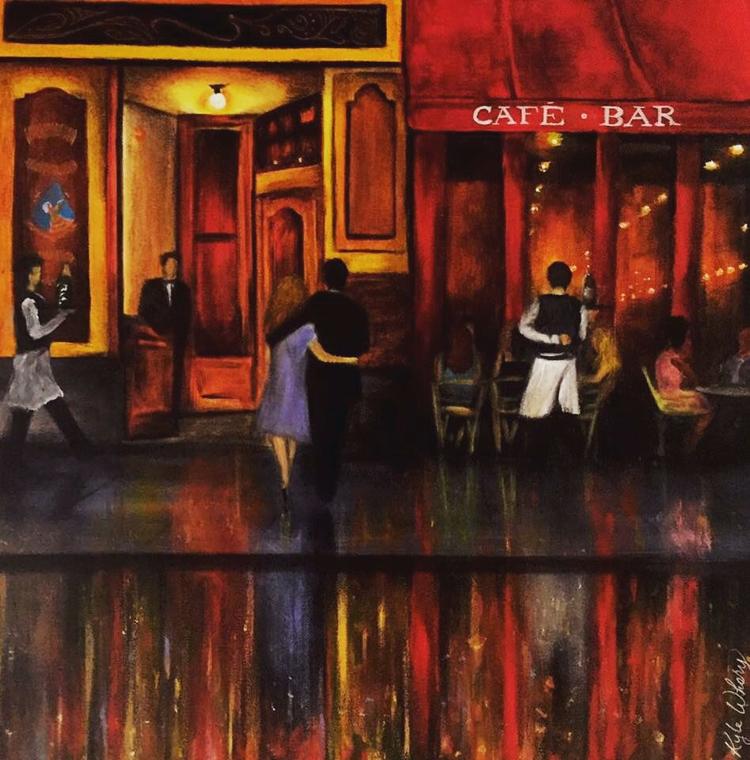 Whary uses light to add dimension and depth to his works.
"When I paint the wine or spirit, within each glass there's a little abstract painting, because of the way the light is moving inside the glass," he says.
His fascination with light stayed with him when he began painting cityscapes some time later.
Whary had always loved cities and had taken many photographs of those he visited. But he never wanted to simply paint a photograph. He looked for a way to make it his own.
Once he did, cityscapes became a regular addition to his painting repertoire. Not surpisingly, he turned to liquid and light.
"I add reflections to make it look like it just rained," he says. "I had to be creative and get my mind to expand from what I was actually looking at."
His cityscapes are hopelessy romantic, glistening with promise and possibility. And that's appropriate for the artist.
"I want my paintings to evoke a romantic feeling," he says. "Even with my alcohol paintings. They're not just supposed to be about alcohol, not in the party sense. They represent celebration, a meaningful moment."
While the subjects of Whary's paintings have expanded, he still uses his fingers for 60 to 75 percent of his work, he says. He uses that technique as an art teacher for Octorara School District.
His unconventional methods and his aversion to a brush have helped him in the classroom to understand students who might see things in a different way.
"I found a different tool," he says. "I teach kids that, too. I tell them they can use their fingers, it changes their outlook. For some reason the brush is so intimidating for some people and it can confine you.''¶