"A Chorus Line" was one of those once-in-a-generation phenomenons, the "Hamilton" of its day.
Critically acclaimed and highly successful — for a time, it was the longest-running Broadway musical in history — its influence was huge.
It certainly was an iconic show for Jim Johnson, the artistic director of Susquehanna Stage Co.
"It was the show that cemented my desire to be in the theater," Johnson says. "It's one of those game-changer musicals."
The show opens Friday at Susquehanna Stage Co. in Marietta. Johnson is directing.
Like the rest of the shows in Susquehanna Stage Co.'s current season, "A Chorus Line" won the Pulitzer Prize (in 1976).
"We are approaching the show as Michael Bennett ('A Chorus Line' director and choreographer) originally perceived it and did it," Johnson says. "We rented costumes — we usually build our own or borrow from other theaters. And we have the one-side-black, one-side-mirror set. I wanted to bring the original production to a new audience. I'm making no bones about it."
Johnson performed in a production of the show some 25 years ago in Allentown.
"Our director, who was from Broadway, brought all this Michael Bennett choreography to Allentown. It was the most incredible thing to be dancing this choreography. Another moment in my life when I thought, 'It's not going to get much better than this.' "
"A Chorus Line" tells the story of Broadway gypsies, the dancers in the ensembles of musicals who work to fit in, not stand out.
They are the anonymous talent who will never be famous.
But in this show, as they talk to Zach, the director, about themselves in the audition process, we get to know them; their hopes, their fears and why they are there.
The gypsies talk and sing about their childhoods, their competitive spirit, about their looks, rejection and how much they want this job. Nineteen dancers are up for eight jobs.
The stories came from real dancers who spent hours talking with Bennett and others about their lives.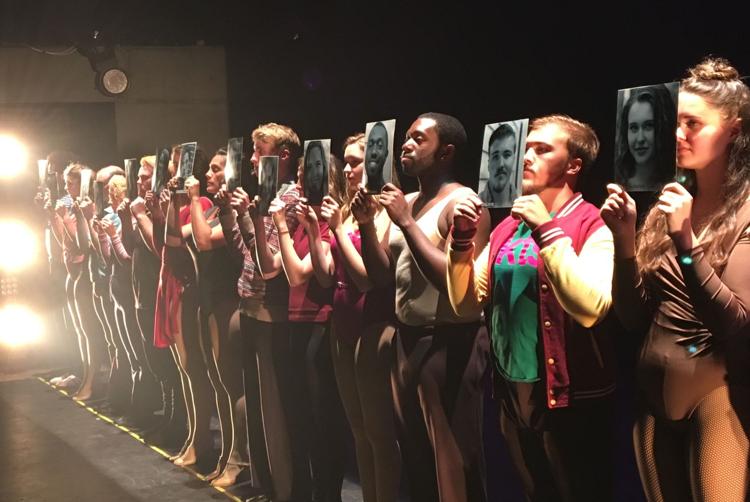 "I think it was the passion that I liked so much," Johnson says. "Everybody wanted the job so desperately. They were these anonymous dancers, but they all had personalities; they were real people. Listening to their stories grabbed me."
Johnson was especially taken by the song "At the Ballet."
"That song just really speaks to my soul," he says. "These three dancers found their life beauty and self-worth at classes at the ballet. No matter what was going on at home, everything was beautiful at the ballet."
Johnson appreciates the honesty of the stories.
"Everyone has a story; every story is valid. These dancers put themselves on the line. They express themselves," he says. "People in general need to do that. We are all fascinating and special. We can get thwarted by our work, our jobs and what society tells us to do."
Director Zach is rather imperious, and he draws out some painful experiences from the people auditioning.
He forces Paul to come to terms with being gay and dealing with his parents. He berates Cassie, his former lover who had a shot at being a solo dancer, for auditioning for a job in the chorus. She has so much individuality that she can't fit in.
Ultimately, the dancers who get the job will put their personalities away, change into the same costumes and dance the exact same moves in the final number of the show, "One."
You can't tell them apart. They have become one unit, or as the song from "A Chorus Line" goes, "one singular sensation."¶