Anna DeCosmo hopes that, after spending Saturday at the annual local VegFest, vegans, vegetarians and omnivores alike will continue their vegan feasting during the city's first Vegan Restaurant Week.
DeCosmo, an interior designer from York, is the organizer of the local eight-day event, in which local eateries are offering some special vegan menu items.
It's also a fundraiser for Lancaster Farm Sanctuary, a farm animal rescue nonprofit
DeCosmo wants "to invite all the people traveling into the area for Lancaster VegFest to stick around in the days following to explore Lancaster in a way they possibly haven't thought to before," DeCosmo says. "It gives them a vegan foodie itinerary.
"It's not a vegans-only thing," she adds.
"Lancaster is already kind of a destination for, I think, all vegans in this region, simply because they have had Root, the vegan bar (and restaurant on West Walnut Street), and some other places that are vegan-friendly," she says.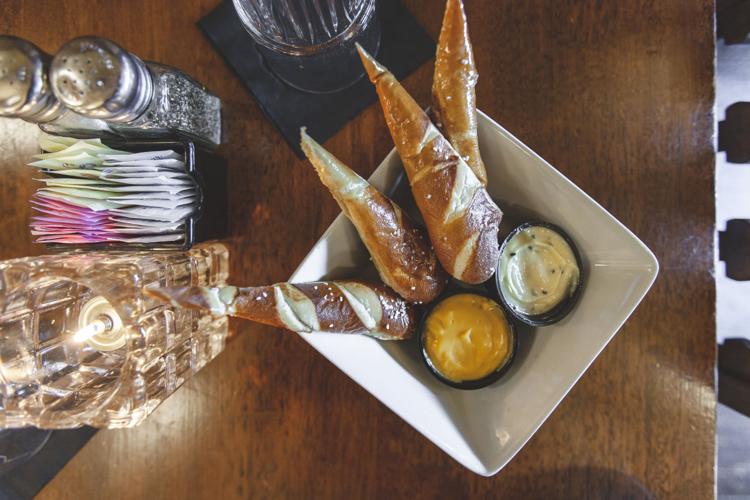 DeCosmo says she has commitments from eight Lancaster-area restaurants, and is in talks with three others, to develop vegan menus for the event.
"I wouldn't be surprised if there are some last-minute surprise (sign-ups) from other restaurateurs, " she says.
DeCosmo is asking that each restaurant participating in Vegan Restaurant Week offer at least a vegan appetizer, main dish and dessert, and also agree to donate 10%, 15% or 20% of their Vegan Week item sales to Lancaster Farm Sanctuary.
"It's different from other restaurant weeks, where they create a three-course or four-course dinner," says Courtney Kokus, the organizer of Saturday's Lancaster VegFest, who is working with DeCosmo on the restaurant week. "We're just asking the restaurants to come up with (vegan) specials.
"It's a little bit more flexible and affordable for people," Kokus says. "If they just want to try a (vegan) appetizer, they can do that. We want to make this as open to everyone as possible. We thought that was easier on the restaurants and easier on the patrons."
"Normal serving days and hours will apply," DeCosmo says. "We're not asking anyone to be open on a day when they're not usually."
York organizer
This isn't DeCosmo's first vegan rodeo.
A vegan for 16 years, DeCosmo organized last year's York Vegan Restaurant Week, in conjunction with the city's Harvest VegFest in September.
"What kind of inspired us to do (a vegan week in) York was seeing the great success Baltimore has had with their vegan restaurant week," DeCosmo says.
She also puts together Southcentral PA Vegan Drinks, monthly social events that alternate among bars and restaurants in York, Lancaster and Harrisburg.
She says she and Kokus decided to collaborate when the two met at an information table at the York festival last fall.
DeCosmo says she pleased that The Imperial restaurant has agreed to develop a special vegan brunch menu for the week's kickoff event Sunday.
Progression
"I think the change (toward more vegan options) has been accelerating in recent years," DeCosmo says. "Every year it gets a little faster. I definitely have seen progression since the year I went vegan when I was 21."
She initially gave up animal products, she says, for health reasons, having read it might help ease the symptoms of her rheumatoid arthritis — which, she says, it did.
She now is also a vegan in order to lower her carbon footprint and help battle climate change, and to show compassion for animals.
"Basically, I think the end goal is to eventually make every week Vegan Restaurant Week in the cities that we target," DeCosmo says. "There already are vegan-friendly establishments (in the region), but we would like to see it go the way of Philly and Baltimore," where there are large numbers of vegan-friendly restaurants.
DeCosmo hopes both the Lancaster event and the one she'll again organize in York in the fall will demonstrate to area restaurants there's a demand for vegan options on the menu.
"We're always looking for new restaurants (to participate)," she says, "maybe restaurants that aren't so vegan-friendly, but we like them, and we'd like to see them become more vegan-friendly."