Andre and Donna Pham hope their customers will start asking them about the name of their new stand at Lancaster Central Market.
It's called Dozo, a Japanese word that translates to "here you go," Donna Pham says — something you might say when handing food to someone.
"I feel like it embodies the feel of Central Market," she says. "Everyone is so welcoming."
The Phams run the Issei Noodle restaurant at 44 N. Queen St., where the menu includes noodle and rice bowls and other dishes featuring flavors that represent their family's Vietnamese, Japanese and Filipino heritage.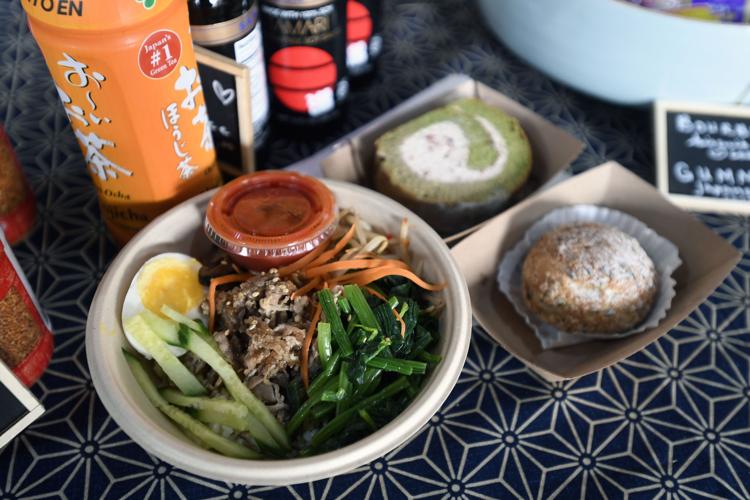 But they say they have wanted to run a stand at Central Market since before they opened the restaurant — first as a takeout window in 2013 and then as a sit-down restaurant in 2014.
The new Dozo by Issei Noodle stand is in the space once filled by Naria Exotic Thai Cuisine, which closed so the owners could concentrate on their new Lemongrass Restaurant on North Prince Street.
The menu at Dozo will feature versions of Issei's signature dishes.
"Andre is trying to feature some of the similar flavors that we feature at the restaurant," Donna Pham says, "but execute it in more grab-and-go, and fresh and healthy, versions."
The stand will feature a rotating menu of chicken, beef, vegetarian and gluten-free options, the Phams say.
Tuesday they were featuring some Korean items. They hope to feature warm bone-broth bowls and ramen in the fall and winter.
At the stand, the Phams sells Japanese pastries made by a family friend who bakes for other area shops.
Dozo also carries packaged Asian ingredients, such as hard-to-find condiments and soy sauces.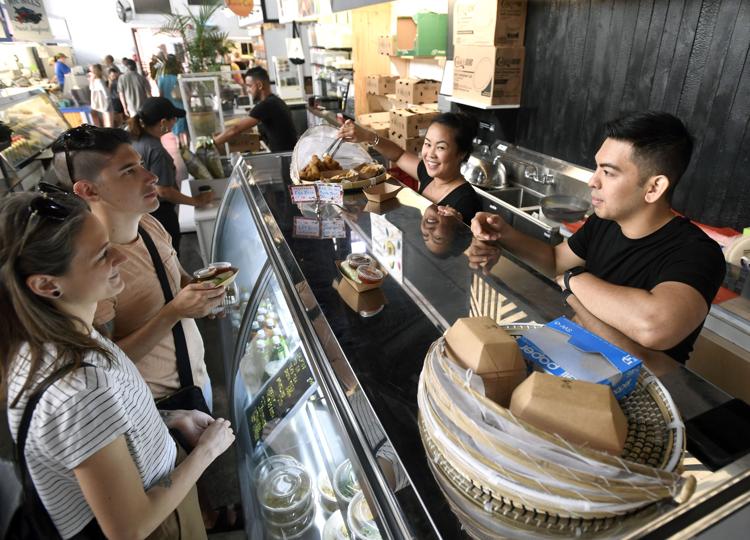 More changes
In addition to Dozo, here are some other recent additions and moves within Lancaster Central Market.
• Having formerly shared a market stand once a week, Horse Shoe Ranch has moved to a permanent stand in the market. Bryan and Brittany Donovan, who farm in Wrightsville, raise and sell chemical-free produce, their own branded condiments, such as ketchup and salsa, and eggs from pasture-raised chickens.
• The former Tulip Tree Farm stand has been taken over by Fox & Wolfe Farm. Connor Smith, a Lancaster native who has worked at restaurants in Philadelphia and Washington — most recently as a manager at the D.C. pingpong venue and eatery called Spin — runs the stand and sells salad mix, herbs, microgreens and eggs from his family's farm in Schuylkill County. The farm was run in the early 1900s by his great-grandparents, Harriet Fox and Elmer Wolfe.
• Guacamole Specialists has moved to a larger stand next to Dozo. At his stand, Raidel Marquez sells guacamole from a friend's grandmother's Cuban recipe, along with tomatillo, pineapple and tomato salsas. Marquez has stands at Root's and Green Dragon, as well as in markets in Carlisle and York. The space Guacamole Specialists formerly occupied in Central Market has become expansion space for Oola Bowls.
• The expanded Oola Bowls, which serves frozen acai bowls topped with fruit, granola and other ingredients, also has a food truck and a stand at Lancaster Marketplace in Hawthorne Centre on Fruitville Pike and will have a stand in the soon-to-open Market at the Wilbur, on the site of the former Wilbur Chocolate plant in Lititz.
• JB Kelly Seafood Connection has moved to a larger stand near the Central Market information stand. The seafood company, which sells a variety of seafood brought directly from Maine, also has a stand at Lititz Farmers Market and Broad Street Market in Harrisburg. Its former stand was across from the S. Clyde Weaver stand.
• After decades of flower selling at Central Market, the two Rohrer Family Farm Flowers stands have been taken over by Central Market Flowers by Perfect Pots. Laura Lapp's Perfect Pots has locations in Strasburg and Kitchen Kettle Village, Intercourse. Perfect Pots also has a new floral design shop next door to the market, at 5 W. King St.