"See a penny, pick it up. All day long you'll have good luck," the saying goes.
That would be hard to do in our powder room. The roughly 5X3-foot floor is tiled with some 4,700 pennies.
My wife, Kathleen, came across the idea after we bought a funky mirror that serves as the room's focal piece and needed a floor to complement it.
She happened upon the idea of pennies on the Internet.
The projects looked great and, to read the accounts, simple.
If we may humbly submit, our project looks great. But it wasn't exactly simple.
Getting the pennies was easy. For the past 20 or so years, I've been collecting them in a plastic five-gallon water jug. Who knows if I'll ever fill it.
Some people clean their pennies first. I'd recommend against that. Pennies over the years have undergone changes in metal formulas and you won't get a uniform look.
I tried to shine some up using a range of various recipes: vinegar and baking soda, lemon juice, tarnish removers. I didn't like the results. Some came out very orangish and fake looking.
We did exclude corroded pennies.
We decided the color variation would make for a more organic, random pattern. Some people use different hues to make patterns, but that was more work than we wanted. Other projects we've seen arrange pennies in heads-up and tails-up patterns. We didn't need to do that, either.
Our one "Where's Waldo?" treat is a wheat back that found its way past our eyes: In my penny collecting, I try to segregate them out.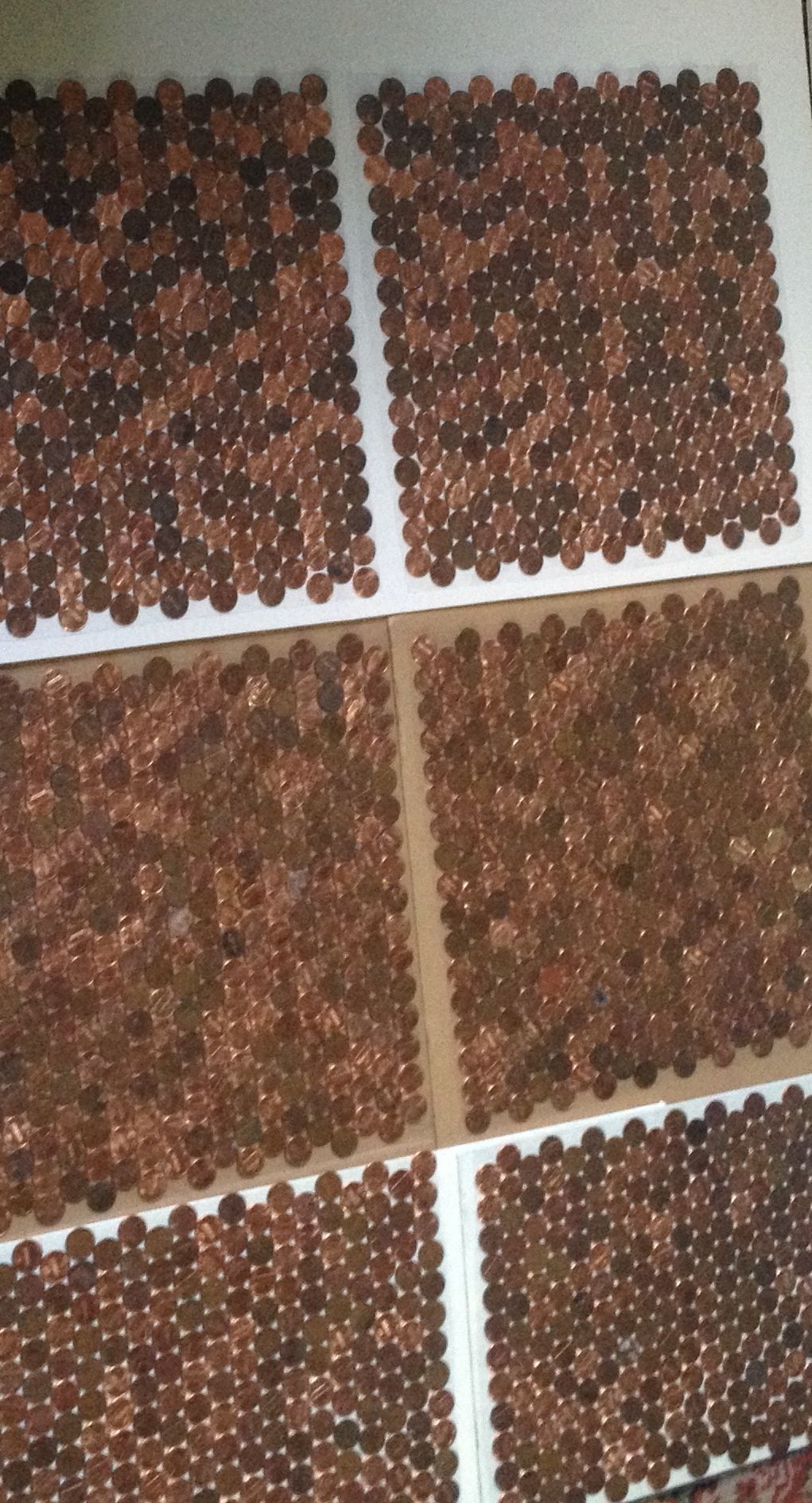 Kathleen started by making "tiles" of sorts. She put pennies on a picture frame that was placed face-up, then put contact paper on them to secure them. Then, she flipped the frame onto a piece of cardboard, which she could then flip onto the adhesive-coated floor.
The idea was the pennies would adhere to whatever bonding agent was used on the floor.
She created roughly 12x12-inch tiles using this method, but she'd recommend maybe doing 8X8 for easier handling.
We read of people using vinyl flooring adhesive. This didn't work for us: Once she flipped the pennies from the contact paper, the adhesive would not allow for slight repositioning.
Uh-oh. Time for Plan B.
So what did work? Elmer's Glue-All.
Kathleen put a thin application of the glue on our subfloor and flipped the pennies onto it. The glue allowed for slight sliding that was necessary. The glue had more grab than the contact paper, so she simply peeled that off.
Around the toilet drain to the back of the wall, she applied the pennies one by one onto the glued surface.
(We used cement backer board, since we had to do some floor leveling and flattening: You want a flat surface. But we have seen projects where people have put pennies on existing floors or over plywood subflooring.)
An important tip that we did not do: Measure a center point on the floor from front to back and side to side and work off a chalk line. We worked from the front wall to back wall, but the room isn't truly square, so there was some slight penny "creep." It's virtually invisible.
There are other methods, too.
We've read about gluing pennies first to screening or mesh, then putting that on the floor. Gluing the pennies directly onto the floor is simple enough: Just our two cents.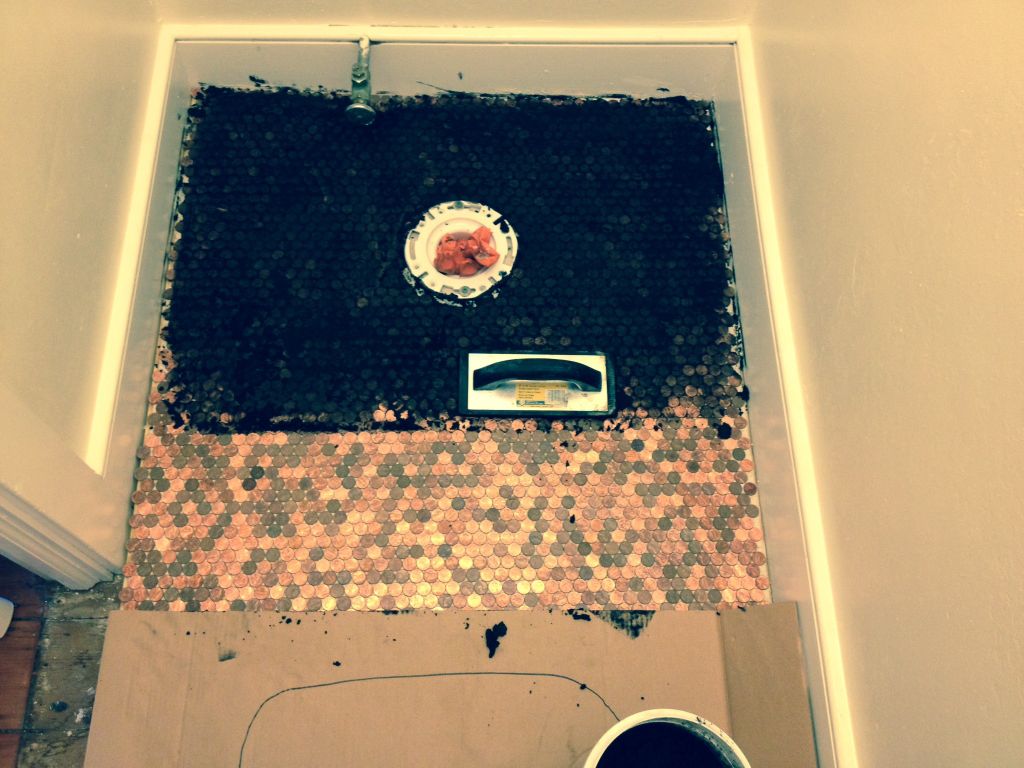 After letting the glue dry adequately, it was grout time. Grout would further secure the pennies and fill in gaps. I used a black grout that I mixed from powder then mushed away into the pennies, as you would with a regular tile job.
A couple pennies came up along the wall edges, but we just put them back in as best we could. Shoe molding partially covered them anyway.
After squeegeeing off the grout and the seemingly endless task of rinsing and buffing the excess grout, we waited for the grout to cure before applying the sealer.
Some people sealed their penny floors and projects (check out this cool desk!) with epoxy resin or heavy-duty acrylic sealers. They can be difficult to work with, so we opted for several coats of a water-based polyurethane matte finished.
About a month in, the floor looks like a million bucks.