There is an Eastlake west of Reservoir Street on the north side of East King Street facing south — and it has nothing to do with water or the points on a compass.
Eastlake is a style of architecture named after British architect, writer and furniture designer Charles L. Eastlake, who lived from 1833 to 1906.
It's a subset under the broader umbrella of Victorian architecture, which also encompasses Queen Anne, Stick Style, Second Empire, Richardsonian, Carpenter Gothic and Shingle. The features that make Eastlake Style unique are the exterior details and shapes, which are based on furniture design rather than architectural elements.
Finding an example of Eastlake Style in Lancaster County is rare and certainly noteworthy.
Eastlake's interest in furniture and interiors led him to write and publish six editions of "Hints on Household Taste in Furniture, Upholstery, and Other Details" between 1868 and 1879. He is credited with influencing a design movement where architectural ornamentation mirrored the furniture designs found inside the residence. At a time when Victorian architecture celebrated the use of soft, curvilinear and delicate forms to express an interest and respect for nature, Eastlake advocated the use of strong, massive geometric forms.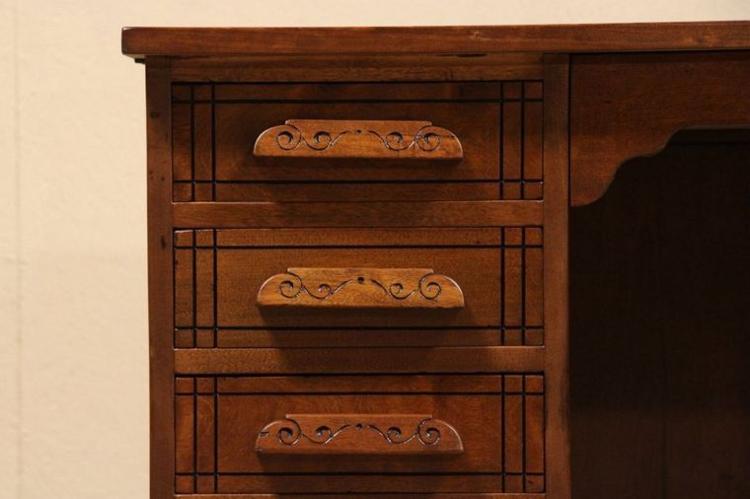 The advent of the wood lathe allowed the manufacture of robust porch posts, balustrades and braces that mimicked heavy-legged furniture. Additionally, the introduction of the mechanical jigsaw led to the signature "perforated" trim boards and scroll-sawn cutouts associated with Eastlake.
Perhaps one of the most identifiable features of Eastlake Style is the low-relief scroll carving with incised lines applied to furniture pulls and door faces. Purportedly, the shallow relief was designed for easy cleaning. Eastlake used this carving technique on the exterior trim elements of his buildings, including window and door surrounds, cornice boards and porch trim.
Although most examples of Eastlake Style are wooden structures, Lancaster city has an example constructed with masonry.
In 1879, Col. William Peiper, cashier for the Lancaster County National Bank, commissioned the construction of his Eastlake Style mansion at 235 E. King St. The three-story, dark red brick building, with massive carved brownstone window and door surrounds, features the classic incised wood and stone scroll designs found on Eastlake Style structures. The patterned slate mansard roof is also a signature of this Victorian Style residence, as is the bracketed cornice detailing. Unfortunately, the brownstone pediments and brackets are deteriorating due to severe weather and their soft composition.
Even Hollywood inadvertently got into the act of promoting Eastlake Style architecture when Michael Jackson's 1983 music video, "Thriller," featured a historic Eastlake Style haunted mansion in Los Angeles's Echo Park as the theatrical backdrop.
Despite Charles Eastlake's direct reference to the marriage of architecture and furniture, he never built any of the pieces he designed and was reportedly quite aghast at the American interpretation of his movement. Take a moment to look for examples of Eastlake in your neighborhood; they're out there.
This column is contributed by Gregory J. Scott, a local architect with 35 years of national experience in innovation and design. Email GScott@rlps.com.