Writing a story about Jordon Ross Weinhold is a challenge.
Do you begin with his acting resume or his work in musical scores, including orchestration, reductions and compositions?
Weinhold's theater career goes back and forth between the two.
In one show, he's making people howl with laughter as Black Stache ("Peter and the Star Catcher" at Ephrata Performing Arts Center) and in another, he is the orchestrator for the show ("Annie" at the Cambridge Operatic Society in England).
Whether he's acting or working on the score, Weinhold, 28, believes he's got one job: "Tell the story."
Weinhold, a Cocalico High School grad who grew up in Denver, got interested in theater when he was a kid. His parents would take him to see shows at the Fulton, and by the time he was 10, he was a toy soldier in a production of "The Nutcracker" ballet.
"I wasn't able to do anything else," Weinhold says with a laugh. "(Theater) demands every hour of your life. There's no clock-in, clock-out. It's always with you. I'm not a 9-to-5er."
Weinhold went to Point Park College in Pittsburgh, where he majored in musical theater. That's where he was introduced to the world of orchestration.
"I directed a student-run production of 'Sweeney Todd,' and we had no budget," he says. "We had a three-piece orchestra written for a minimum of 18.
"I was young and dumb and I thought maybe I could whip something up."
What does an orchestrator do?
"I take the written music by the composer and I add instrumental color to help further tell the story," Weinhold says.
His minimal orchestration turned out to be a hit.
So he plunged in.
"I began teaching myself how to use music software and notation," he says.
Weinhold does not play any instruments. His attempts at piano lessons when he was a kid were failures.
"But I've always had a fascination with music, and as a kid I loved listening to film scores like 'The Lion King,' 'Star Wars' and 'Jaws,' " he says. "And I always sang."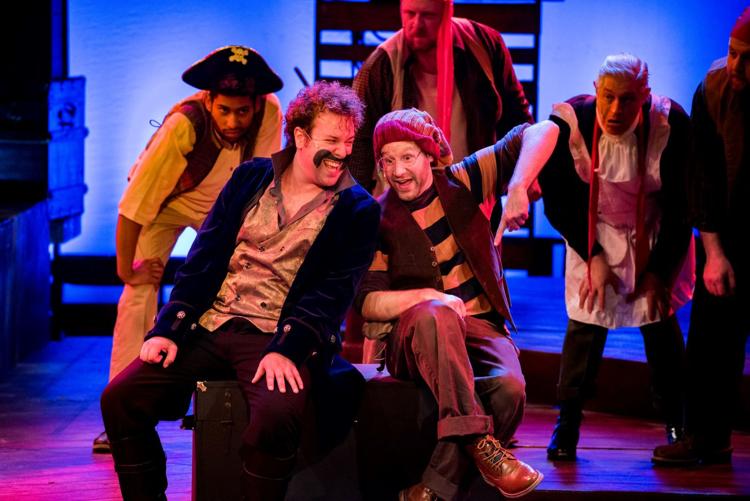 He does all his work on his laptop.
"I don't know how people found out about me, but I rarely have to look for work," he says.
Weinhold estimates he's done more than 50 orchestrations, including locally at the Fulton, EPAC and Servant Stage, nationally and internationally at places like Harvard University, Signature Theatre in Washington, D.C. (where he orchestrated a new musical called "Cloak & Dagger"), Pittsburgh, Glasgow, Scotland, and England.
He also does reductions, where he takes a piece written for a large orchestra and pares it down to fewer instruments, which is what he did with "Sweeney Todd" in college and more recently with EPAC's "West Side Story" and Servant Stage's "My Fair Lady."
"Nobody can afford to do full orchestration anymore, so it keeps me employed," he says. "If nobody notices it, you've done your job."
He recently worked on the "Oklahoma!" episode of a Disney reality show called "Encore!" with Kristin Bell.
And he has been doing more composing. He recently began working on "The Curious Incident of the Dog in the Nighttime" for EPAC.
Weinhold sits in on rehearsals and sees what the director has in mind as he works on the score.
"Every production and every theater deserves its own sound," Weinhold says.
Don't think that just because Weinhold is so busy orchestrating, reducing and composing music that his acting skills aren't first rate.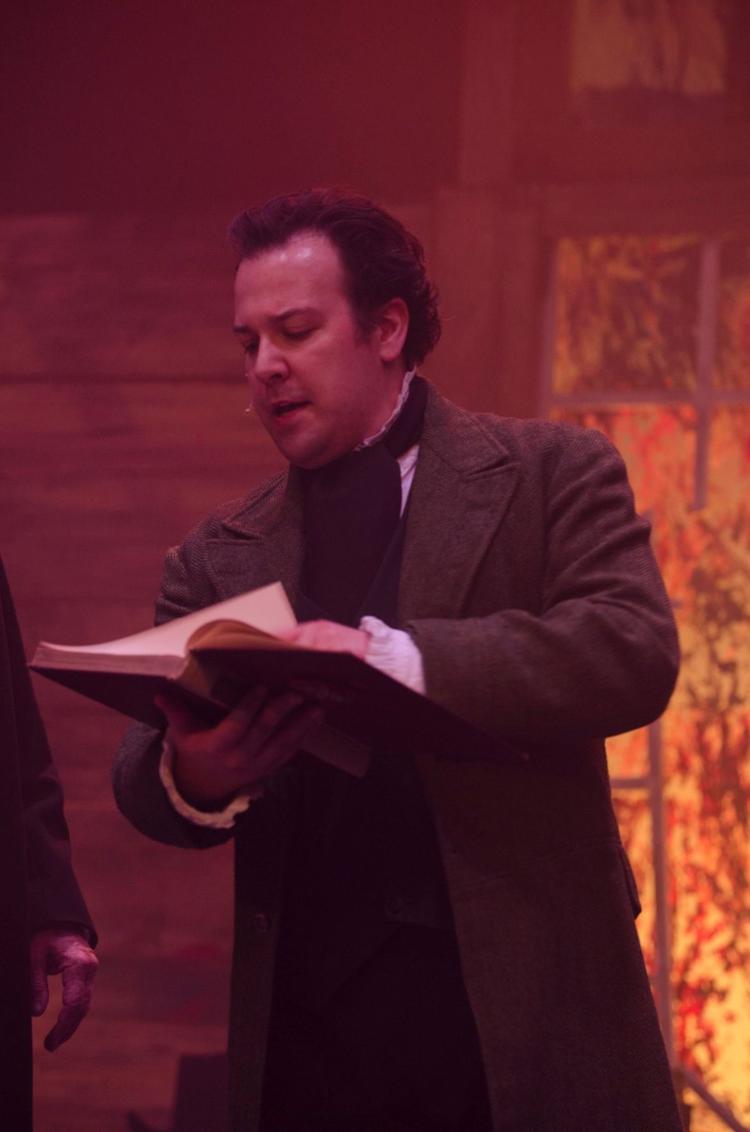 Weinhold just earned two regional Broadway World awards, for playing Emory in a staged reading of "Boys in the Band" and Banjo in "The Man Who Came to Dinner," both at EPAC.
His work as Black Stache in "Peter and the Star Catcher" was strikingly funny, and his Banjo in "The Man Who Came to Dinner" was a whirling dervish of physical comedy.
Not long after that production, he shifted gears and played the Rev. Hale in Susquehanna Stage's excellent production of "The Crucible."
He was a hilarious Corky Collins on EPAC's "Hairspray" and works regularly at theaters in Pittsburgh.
"You do the exact same thing as an actor, from Banjo to Rev. Hale," he says. "You are really there to listen, you can't be selfish in stage."
He comes to a role well-prepared and knowing his lines.
"I value the rehearsal process so much, but I am a nervous wreck because I want to get it right," he says. "You are going to be on full display."
Weinhold is one of those actors who can excel at every role. The word chameleon comes to mind.
He thinks about the roles he auditions for, and while he loves comedy, he doesn't want to be typecast. That's why he took on "The Crucible."
"You've got to know your strengths and your type — know how people see you," Weinhold says.
And never forget that everyone in the productions, from the orchestrator to the actor, has a story to tell.