In the modern political era, Democrats don't often make Lancaster County a stop on their campaign trail.
Sometimes the Vice-Presidential candidate will show up instead, like Tim Kaine did for Hillary Clinton in 2016.
Sometimes candidates' spouses will visit here, like former President Bill Clinton did in 2016, or like Kitty Dukakis did in 1988, on behalf of Michael Dukakis.
But an actual Democratic Party candidate visiting Lancaster County while on the campaign? That's very rare indeed.
In light of former Vice President Joe Biden's visit to Lancaster planned for today, we took a look through the LNP | LancasterOnline archives for past visits by Democrats running for President. 
Turns out that in the modern era - by which we mean since 1960 - there have only been two. And both went on to be President.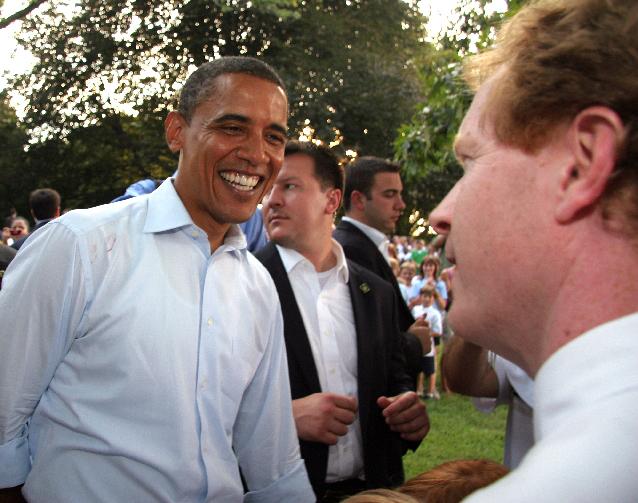 The most recent Democrat to stop here on the road to the White House was then-Sen. Barack Obama, who spoke to a crowd of about 15,000 in Lancaster's Buchanan Park on Sept. 4, 2008.
Obama, standing on a makeshift stage and wearing an open-collared shirt with the sleeves rolled up in the sweltering heat and humidity, hit back at his opponent, John McCain. McCain and his running mate, Sarah Palin, had misrepresented him and his proposals, Obama said.
"What else do you expect them to do?" he asked in his speech. "I've been called worse on the basketball court, and I don't spend a lot of time worrying about it."
Given the proximity of Buchanan Park to the campus of Franklin & Marshall College, a large number of students were there, helping to fuel the narrative that Obama, as an unusually young candidate with a platform built around promises of change, would draw many young people to the polls for the first time.
Prior to Obama's stop here, the last visit to Lancaster County by a Democrat presidential hopeful occurred nearly a half-century earlier.
Another young candidate, John F. Kennedy, spoke in Penn Square on Sept. 16, 1960, delivering a nine-minute speech to a downtown crowd that police estimated at about 10,000 people. Again, it was a sweltering hot September day. Several people in the crowd fainted from the heat.
Kennedy, standing on a flatbed truck parked alongside the Fulton Bank building, spoke of the need to maintain peace in a troubled world, but also warned against the threat of communism spreading through Latin America from Cuba. 
But for some locals, the most memorable thing about Kennedy's visit wasn't his speech - it was something that happened afterward.
As the candidate's chauffeured convertible was pulling away, Helen Fritsch, 64, was knocked over and trampled by the crowd. Kennedy demanded his motorcade stop so he could comfort the woman, who had been pulled to safety inside the Fulton Bank.
While harried Secret Service agents held back the crowd, Kennedy jumped from his car and dashed inside the bank, where he apologized to Fritsch and asked if there was anything he could do to help her. She simply asked that he make sure her sister was notified that she was being taken to Lancaster General Hospital for treatment of an injured knee.
Moments later, Kennedy was back in his car, headed out of town to his next stop - Columbia, where he spoke to a crowd of about 1,600 people in front of the junior high school building.
No injuries were reported at that appearance.