Liza Houck says what a pot of chili really needs in order to become a really good chili is at least a couple of hours.
"From the experience I have with chili, I would say the key to it is time," Houck says. "You have to have the time to dedicate to it, because it's going to take you a couple hours.
"It's not something you can just throw together, necessarily," says Houck, a plant-based nutritionist. "For really good chili, that's going to be a day's process."
Chili, she says, needs a long cooking time to develop deeper flavor.
Next month, Houck will teach a class on how to make vegan chili at Station One Center for the Arts in Lancaster.
Long before that happens, however, about 14 cooks will throw down this Saturday in Lititz, making large batches of a variety of types of chili and competing for both bragging rights and funds for their chosen charities.
At the annual Lititz Fire & Ice Festival Chili Cook-off at Warwick High School, the public will sample a wide variety of different types of chili and vote for their favorites.
About 14 home cooks and restaurant chefs will prepare large batches of chili in advance, and serve them in sample-sized cups to the hundreds of people clamoring for a taste.
People's choice
Amanda Gilbertson, of Lititz, is hoping for a repeat of her family's people's choice award from last year's cook-off.
She and her family will be making enough chili this week to serve up samples to the hundreds of people who attend the Lititz cook-off each year.
She's keeping her family's recipe a secret.
"We call our dish Too Tall Chili," Gilbertson writes. "It's a sweet and spicy pork-based chili, made with lots of local fresh ingredients and love.
"It's a family effort to make enough chili for 1,500 people to sample," she says. "We don't have a big industrial kitchen like most of the competitors. So while I created the recipe, everyone chips in."
Through its entry in the chili competition, the Gilbertson family hopes to raise money for the Tommy Foundation, a nonprofit that provides programs and services to families of those on the autism spectrum.
Gilbertson recommends chili cooks use as many fresh ingredients in the dish as possible.
"Add spice a little at a time," she says, "and taste often. You can always add heat, but can't take it away."
There are always a variety of types of chili to sample, says Lititz police Chief Kerry Nye, one of four people organizing the chili cook-off.
"There's one person who puts wild game in his (chili) all the time," Nye says. "We've had a chocolate chili in the past. They're not all the same, that's for sure."
Gary Fern, executive chef at the Dutch Apple Dinner Theatre, says he will be making applewood-smoked beef brisket chili. He is cooking to raise money for the Friendship Community, Lancaster.
For those without access to a commercial kitchen, just getting the chili made is a challenge.
"It's a lot of work ... to make 15 gallons of chili," Nye says. "That's what we ask them to make."
Those attending the cook-off, part of the 14th annual Fire & Ice Festival that begins Friday and includes ice sculptures, food, a carnival and a vendor fair, will put money in the coffers of a variety of area nonprofits, from local churches to Music for Everyone to Meals on Wheels.
"We used to have celebrity judges," Nye says, "and it got to the point that we had to spend extra money on trophies and things like that.
"So, we figured we're going to let the people decide (on the winning chili) and give more money to the charity of the choice of the chefs," says Nye, a member of the festival's sponsoring organization, the Lititz Lions Club.
Instead of trophies, Nye says, the Lion's Club gives extra money to the charity chosen by the winning cooks.
"Last year, the Lions Club gave out over $3,000 to different charities," Nye says.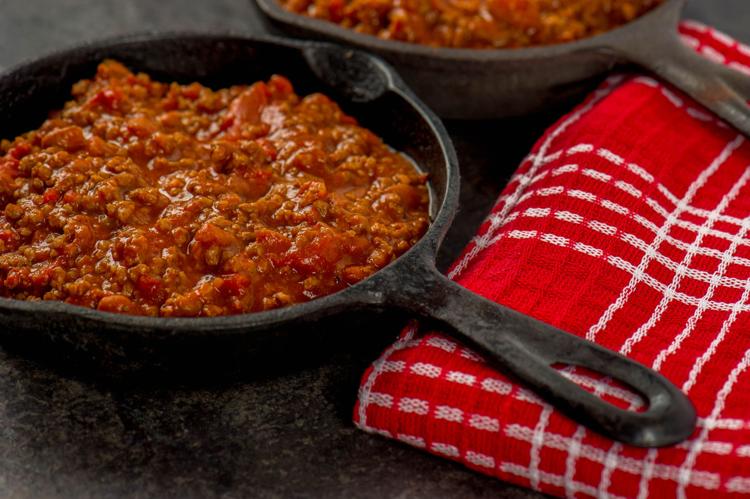 First winner
Lititz insurance agent and Lions Club member Mark Hough, who is a member of the committee running the Lititz Fire & Ice Festival this year, won the people's choice award at the first Fire & Ice chili cook-off in 2006.
Here is his recipe:
CONEJO VALLEY CHILI
Ingredients:
• 2 pounds ground beef or turkey
• 2 packets McCormick hot chili mix
• 1 onion
• 2 cans tomato sauce
• 3 cans Joan of Arc spicy chili beans
• Chili powder, to taste
Directions:
Brown beef or turkey, with 1 cup diced onions mixed in. Drain, and then sprinkle packets over the browned meat (don't follow packet directions) and mix.
Add the meat to a larger pan that contains sauce and chili beans.
Cook for a maximum of 20 to 30 minutes.
Add chili powder to taste, and serve.
Note: This is best garnished with shredded cheddar cheese and raw onion on top.
New competitor
Per Diem, a new restaurant at the Rock Lititz campus, is participating in the chili cook-off for the first time this year, says co-owner Josh Funk.
He says the recipe for the competition chili was a collaboration among three chefs at Rock Lititz: Jim Myers, who provides food services for the studio, Traci Nayduch of Gravie Kitchen + Commons and Anastasio Santos of Per Diem.
Myers will be cooking the chili, which, Funk says, will be "a smoky, sweet, spicy chili. It has flank steak, bacon, andouille sausage and three beans — pinto, black and navy.
"Jim makes his house barbecue sauce that's really good, with a hint of smoky chipotle pepper," Funk adds.
The chili recipe, he says, represents Per Diem's culinary philosophy of putting a twist on a standard recipe, "and make you think different about it. ... The flank steak and the andouille sausage add a really meaty flavor."
Those tasting the chili, which is entered to raise money for the Music for Everyone nonprofit, will get a sweet, smoky and spicy balance of flavors in every bite, Funk adds.
"We're really excited. We think it's a great event, and being just new to the community, we're happy to be included in this ... signature event in Lititz," Funk says. "We hope everybody raises a lot of money for all their charities."
Chili class
Two weeks after all this Lititz chili has been consumed and the ice sculptures in the borough's streets have melted, Houck will be teaching a class as part of Station One Center for the Arts' Vegan in Season series of cooking classes.
The $40 class will be held at 5 p.m. Saturday, March 2, at the center, 411 W. King St.
"What we're going to offer is a single (vegan chili) recipe with two different versions," Houck says. "So people can either make it as mild as they like or as spicy as they like. They can use either tomato paste or chipotle paste, and then they'll have their choice of different peppers to in or not add in, as they see fit."
The recipe will include beans and optional mushrooms, "and we're considering the possibility of letting people use jackfruit if they like," Houck says.
"One of the keys is that we add beer to our (chili)," she says, "which gives it an interesting flavor. You let it simmer down, so it's not like you're going to get tipsy or anything.
"We're also going to show (the class) how to make stovetop cornbread," adds Houck, who runs a healthy lifestyle coaching service called Good Taste (Yum).
Houck says it's relatively easy to create a vegan version of chili.
"Honestly, a lot of vegan food is really simple and really basic, and has (ingredients) we eat already," Houck says. "If you want to make a beef chili, there are so many alternatives you could use. ... You could make your own tofu, you can roast cauliflower or walnuts to use, or you can just go to the grocery store and pick up a bag of Boca or Gardein (meatless beef substitutes), and just toss that in."
Winning recipes
Station One Center for the Arts recently held its own chili cook-off.
One of the winners was Liam Benson, who will teach a cheese-making class at the center Saturday, Feb. 23.
Benson's winning recipe for turkey chili includes hard cider, which, the recipe suggests, can be sipped or served to friends while the chili is being prepared.
LIAM'S HARD CIDER, BACON AND TURKEY CHILI
Ingredients:
• 1 pound ground turkey
• 1/2 pound thick-cut bacon
• 2 red onions
• 1 red pepper
• 1 green pepper
• A few cloves of garlic
• Small bag of frozen corn
• 1 can white beans
• 1 can kidney beans
• 2 cans of diced tomatoes with green chiles
• 2 fresh jalapenos
• 1 small can of chipotle peppers in adobo
• 1 bottle of dry hard apple cider
• 1 tablespoon cumin
• 1 tablespoon adobo
• 1 tablespoon chili powder
• 1 packet Sazon seasoning
Directions:
Fry bacon in the bottom of a Dutch oven. Allow it to fry to a nice crisp, then remove meat and leave grease.
Once all of the bacon is fried and removed, add seasonings to the rendered fat in the pan.
Lightly saute to awaken the flavors.
Add the turkey and saute until it is completely cooked.
Add 1 of the diced red onions, 1 of the diced jalapenos, diced red and green peppers and a few chopped cloves of garlic. Continue to cook.
When veggies are cooked, take a few swigs of the cider and pour the rest in the pot. If you don't drink, you skip the sip and just pour some out for your homies.
After the cider cooks for a few minutes, add the sauce from the can of chipotle peppers in adobo.
If you prefer a hotter chili, dice up some of the peppers and add them.
Next, add canned tomatoes and beans. Add the corn at the end, and allow to simmer for one hour, checking periodically.
If it looks watery, continue to cook without the lid on.
Finely dice fried bacon, remaining onion and jalapeno. Add this mixture just before serving.
The other winner of the Station One cook-off was Androux Herr, whose chili takes a few hours to cook.
RACHEL'S CHILI CON TURKEY
Ingredients:
• 1 to 2 green bell peppers, diced
• 1 1/2 pounds ground turkey
• 1 (28-ounce) can petite diced tomatoes
• 2 (15-ounce) cans kidney beans; do not drain
• 1 (8-ounce) can tomato sauce
• 2 tablespoons chili powder
• 2 teaspoons cumin
• Cayenne pepper, to taste
Directions:
Saute onion and pepper in oil.
Add ground meat, salt and pepper to taste; brown.
While meat cooks, combine canned ingredients and spices in small stock pot (or Dutch oven) and bring to boil.
Reduce to simmer.
Add turkey and vegetables to pot. Simmer 4 to 6 hours.
Even if you miss the Lititz event, you can catch 17 or 18 competitive cooks facing off over pots of chili at the American Legion Riders Post 34 Valentine's Day Chili Cook-off from noon to 5 p.m. Sunday.
Just like in Lititz, those paying to attend will get samples of the chili.
The event raises money for veterans' programs through the Lebanon Veterans Affairs and Victory House.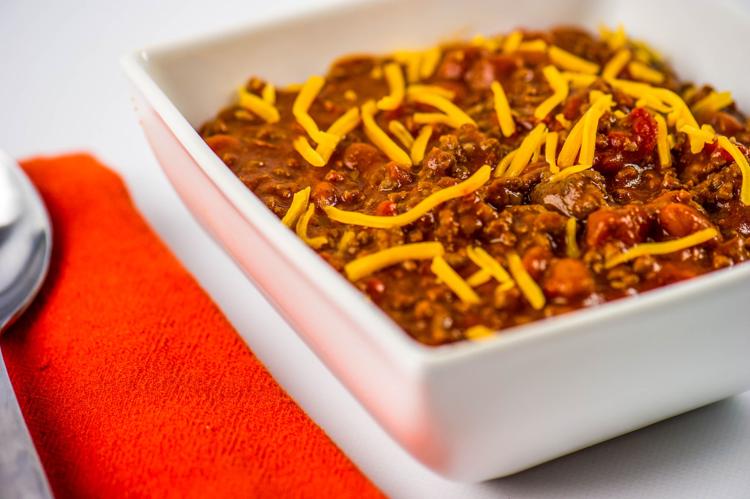 Other recipes
Our current chilly weather makes this the perfect time of year to make a pot of chili.
Here are a few additional recipes you can use in your home kitchen.
First, here's a chicken chili recipe from Ellen Brown, the first food editor for USA Today, whose cookbook is called "One Pot Recipes."
The San Diego Tribune, which recently printed this recipe, notes that tangy, citrusy tomatillos form the base of this salsa verde, in which the chicken and vegetables are cooked.
CHICKEN CHILI WITH TOMATILLOS
Serves 4 to 6.
Ingredients:
• 1 pound tomatillos, husked and rinsed
• 2 or 3 jalapeno or serrano chilies, seeds and ribs removed, diced (see note)
• 1 shallot, sliced
• 1/2 cup firmly packed fresh cilantro leaves
• 2 tablespoons olive oil
• 1 large onion, diced
• 1 red bell pepper, seeds and ribs removed, diced
• 3 garlic cloves, minced
• 1 tablespoon ground cumin
• 1 1/2 pounds boneless, skinless chicken thighs
• 2 large sweet potatoes, cut into 1-inch cubes
• 2 cups chicken stock (store-bought )
• Salt and freshly ground black pepper, to taste
• 2 small yellow summer squash, halved lengthwise and cut into 3/4-inch slices
• 1 (15-ounce) can kidney beans, drained and rinsed
• 1 (15-ounce) can garbanzo beans, drained and rinsed
• 1 diced avocado, for serving
• 1/2 cup sour cream, for serving
• 1/4 cup chopped fresh cilantro, for serving
• 3 scallions, white parts and 4 inches of green tops, sliced, for serving
Directions:
Place the tomatillos in the saucepan and cover them with water. Bring to a boil over high heat, then reduce the heat to low and simmer the tomatillos for 6 to 8 minutes, or until they turn from bright green to olive green.
Drain the tomatillos and dice them when cool enough to handle.
Combine the tomatillos, chilies, shallot and cilantro in a food processor fitted with a steel blade or in a blender. Puree, and scrape the mixture into a bowl.
Heat the oil in the saucepan over medium-high heat. Add the onion and red bell pepper and cook, stirring frequently, for 2 minutes. Add the garlic and cumin and cook for 1 minute, stirring constantly, or until the onion is translucent.
Add the tomatillo puree to the saucepan along with the chicken, sweet potatoes and stock.
Season with salt and pepper and simmer over low heat, covered, for 30 minutes.
Add the summer squash and beans and cook for an additional 10 to 12 minutes, or until the sweet potatoes and squash are tender.
Remove the chicken thighs from the pan with tongs, and shred the meat with two forks.
Return the meat to the pan and adjust the seasoning as needed. Serve in low bowls, passing around dishes containing avocado, sour cream, cilantro, and scallions as garnishes.
• Note: The real heat in chilies is found in the seeds and the ribs, so you can always adjust a dish to your liking by either removing the seeds and ribs or leaving them in.
When you see a recipe calling for more than one chili pepper, it's likely that the seeds are meant to be discarded.
• Make ahead: The dish can be prepared up to 2 days in advance and refrigerated, tightly covered. Reheat it, covered, over low heat.
• Variation: Substitute 1 1/2 pounds peeled and deveined shrimp for the chicken and substitute seafood stock for the chicken stock. Add the shrimp to the dish along with the summer squash and beans.
————
Finally, here is a white chicken chili recipe that comes from the Institute of Agriculture and Natural Resources at the University of Nebraska — Lincoln.
WHITE CHICKEN CHILI
Makes 6 servings.
Ingredients:
• 2 tablespoons olive, canola or vegetable oil
• 2 teaspoons garlic powder
• 1 onion, finely chopped
• 1/2 teaspoon pepper
• 1 (4-ounce) can chopped green chilies, drained
• 2 teaspoons ground cumin
• 2 (15.8-ounce) cans great northern beans
• 1 ½ cup cooked chicken, cubed
• 1 (14.5-ounce) can chicken broth
• 4 ounces Monterey Jack Cheese, shredded
Directions;
In a large saucepan, heat oil. Add onion and cook until tender
Add green chilies, beans (do not drain), chicken broth, garlic powder, pepper, ground cumin and chicken. Bring to a boil.
Reduce heat and simmer for 10 minutes or until desired thickness.
Serve hot, topped with cheese.
•  Nutrition per serving: 300 calories, 14 g total fat; 5 g saturated fat; 45 mg cholesterol; 670 mg sodium; 19 g total carbohydrate; 5 g dietary fiber; 1 g sugars; 23 g protein.