Cheryl Elmo remembers the first drawing she ever made.
"It was Barbie and Ken," she says with a laugh. "My mother gave me pencils and paper and crayons when I was really small and that was it for me."
She's evolved to painting. Watercolors, specifically.
"I've got this passion for painting and I can't stop," she says. "I will get up at 5 a.m. and start painting about 6:30 and will paint most of the day."
Elmo is displaying her work (including two oils) in "A Contemporary Approach to Watercolor" at CityFolk Gallery. It opens Friday.
"I am very interested in figures themselves," Elmo says. "I am very sensitive to expressions on people's faces. I'm listening and observing. Capturing something in a moment in time is very important to my art."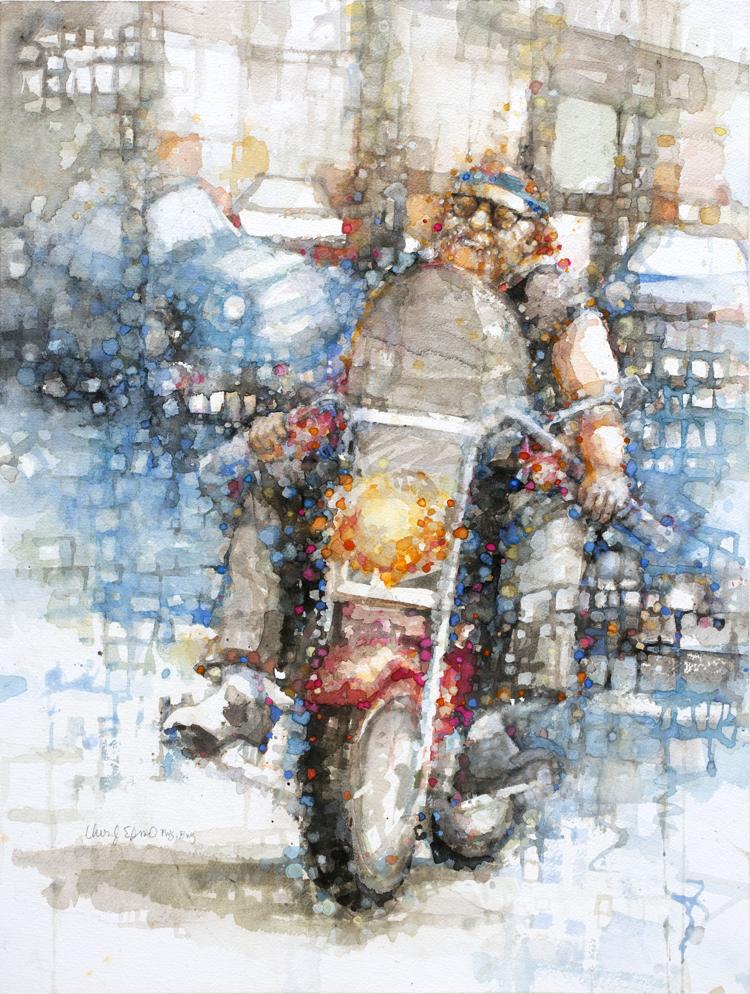 The figures are anonymous, but they become familiar to the viewer, Elmo says.
"I'm trying to create human connections between viewers and actors in the painting."
People sit talking on a bus laughing. Two nuns are eating a fast food lunch. A woman reads a book on a sofa.
Elmo explains her method as puddles of color.
"I don't know if I am aware of anyone who paints in this style using watercolors," she says. "I've developed it through a lifetime of painting and it has grown," she says. "Now, I use strategic placement of these puddles to carry your eye through the painting. That strategically placed area of colors helps take you through the design, using color, texture and layers."
This CityFolk show, she says, is all about going to the next level.
"I'm using these figures to create these moments in time and doing it on a cradled water color board. These watercolors (have) a very modern, contemporary feel."
Elmo takes four to six weeks to complete a painting.
"First, I take a ton of photographs to capture the light, expressions," she says. "Then I will start with a light drawing. Then, layers and layers of color. If an area is too wet, I will work in another area of the painting. Blending and drying, it all comes together."
Watercolor is her medium of choice.
"I've used a number of different mediums throughout my painting career, but I always come back to watercolor. I love the challenge of keeping the flow going, of keeping the color vivid."
That passion Elmo brings to painting applies to all aspects of her life.
"It's all about the positive, looking to see what tomorrow will bring," she says. "I love to be happy, I love to smile."
That positivity was important to her when she was diagnosed with breast cancer — twice.
"The second instance was pretty darn serious," she says. "It makes you appreciate life. Sometimes, if you don't know how long you have, you want to make sure what you do is effective and important."
And, she says, "I've found if you look at the positive side, things will turn around for you. I'm always looking for where the opportunities are.
Elmo, who is 66, went to Millersville University for art education and became an art teacher at McCaskey High School, where she stayed for six years.
"Teaching was a great job, but I knew it wasn't going to be my path,"Elmo says. "I knew I wanted to do more traveling, and painting was more important."
So Elmo got a job at New Holland North America and then Glaxosmithkline.
"I came in contact with lots of different cultures. There were different responses to communication. I concentrated on drawing people, on doing a lot of research."
Elmo is a signature member of the Pennsylvania and Baltimore Watercolor Societies. She has exhibited nationally and internationally.
She's been painting since 1970.
"It's a pleasure and a passion," she says. "I have so much to say, and I need to get it out of me."¶