Can you identify this object? Send your guess, including your full name and hometown, to Jennifer Kopf at jkopf@LNPnews.com, or to the Features department at features@LNPnews.com, with "Antique Toolbox" in the subject line. Or mail to Jennifer Kopf/Antique Toolbox, LNP Media Group, 8 W. King St., P.O. Box 1328, Lancaster, PA 17608-1328.
Tools used in this feature are part of the permanent collection of Landis Valley Village & Farm Museum, administered by the Pennsylvania Historical & Museum Commission.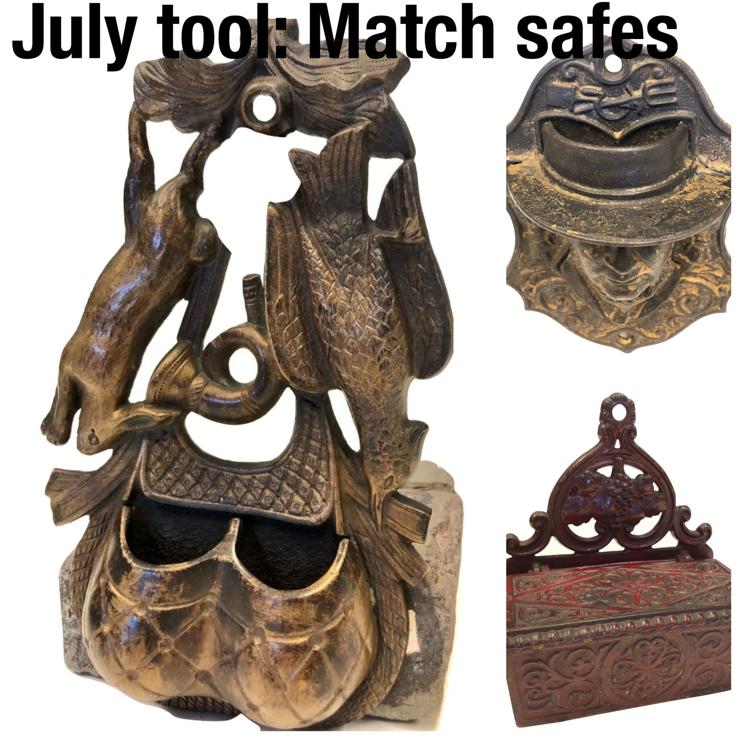 July's answer: Match safes
Jennifer Royer, curator at Landis Valley Village & Farm Museum, says that this is a match holder, or a match safe. It dates to the mid-19th century, when friction matches were first introduced.
Match safes prevented the matches from rubbing together and lighting without warning. Matchbooks and lighters eliminated the need for match holders.
These match holders were mounted on the wall. Women primarily used the matches to light stoves, and men carried match safes in their pockets.
CORRECT ANSWERS
Akron: Brenda K. Leinbach.
Columbia: Nancy Bowers.
Conestoga: Brenda Griffith
Denver: Linda Christy, Shirley Redcay.
Ephrata: Elvin B. Hursh.
East Petersburg: Kent Krause.
Elizabethtown: Jack M. Miller, Allen D. Moyer, Sandra Shaub.
Ephrata: Dolores Leed, Robert Smith.
Gap: Carol Martin.
Gordonville: Rose Styer.
Harrisburg: Mary Jo Zemitis.
Honey Brook: Ruth W. Stoltzfus.
Lancaster: Lewis Bechtold, Lorin Beidler, Susan Byorick, Maureen Corwin, Marie C. Edelen, Cynthia Patzer Egner, Jack Esbenshade, Natalie Fulton, Claire Hill, David Kantner, William C. Landis, Kim Rankin, Russ Skiles, Jane Strassle, James Zink.
Landisville: Mike Weed.
Lebanon: Karen Ketner-Fink.
Leola: James Dum.
Lititz: Kathy Adams, Russell Hughes, Charlotte A. Lefever, Sharon Schaich, Dave Sloat, Marlene Whitehead, Jean Zehr.
Manheim: Pam Heller, Debra Kocevar, Holly Sigman Loercher.
Marietta: Leon Littlehale.
Middletown: Jeffrey Kinley.
Millersville: Philip Gerber, Betty Shenk.
Mount Joy: Penny Hayas, Lois Hess, Barry McKain, Greg Schneider.
Mountville: Jeanne Byerly, George C. Overmeyer.
Nazareth: Pat Houck, Phil Houck.
New Holland: Amos Huyard, Susan Leary, Steve Ravegum.
Parkesburg: Gerry Treadway, John Winnemore.
Pequea: Arlene McGoldrick.
Schoeneck: Lee Powell.
Smoketown: Robert L. Keene.
Strasburg: Eugene Rohrer.
Terre Hill: Marc Benedict.
Washington Boro: Paul Wittensoldner.
Willow Street: Jacklyn Wertz.
BEST GUESSES
"Doo-dad" holders for pens, keys, notes, Lancaster reader; salt boxes, Lancaster reader; door knockers, Quarryville reader; cooler for pipes, Millersville reader; bottle openers, Pequea reader.