It's not uncommon for a particular local store to serve as a nostalgia trigger for a particular generation.
But it's pretty rare for the same store to resonate with kids born nearly a century apart.
Rebman's, the longstanding local retailer of holiday items, novelties and just about anything else you couldn't find anywhere else, was just such a business.
With the site of the South Queen Street Rebman's store now eyed for redevelopment as a mixed-use retail and housing property, we thought we'd revisit the history of the Rebman family business via the LNP | LancasterOnline archives.
---
1919: A business and a baby are born
Earl Rebman started his business in 1909, making candy in his home kitchen for Easter and other occasions. However, the beginning of the Rebman's retail organization dates to 1919, when Rebman sold Christmas merchandise from a wheelbarrow in Penn Square. The story became a legend in the family (and in the community), as this ad from 1952 attests. (Note the photo of the "actual" wheelbarrow.) That year, Robert Rebman, one of Earl Rebman's six sons, was born on Christmas Day.
---
1926: First King Street shop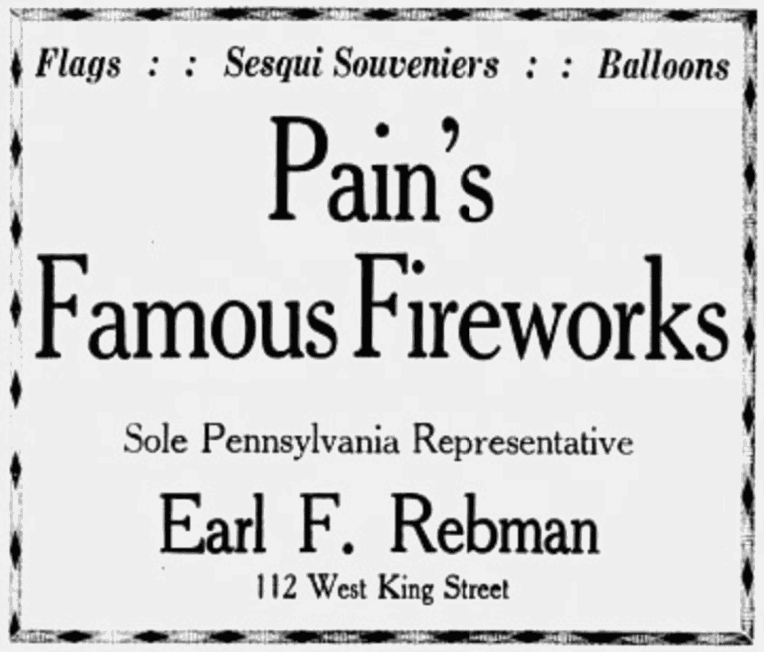 By 1924, Earl Rebman had put away his wheelbarrow and was selling merchandise out of a proper storefront. As this 1926 newspaper ad shows, Rebman's business focused on holidays from the outset - and not just Easter and Christmas. The 112 W. King St. store, located at the corner of King and Water streets where the Stevens House apartment building now stands, would become a community center of sorts over the years, serving as a meeting site for various civic organizations and as a collection point for scrap drives during World War II.
---
1936: Artificial trees
Rebman's shoppers of later decades would enthuse about the store's "moon room" - a darkened room packed with glowing artificial Christmas trees that became a holiday tradition for many Lancaster residents. This 1936 ad shows that Rebman's was an early adopter of the artificial tree.
---
1940: Bunny in a tuxedo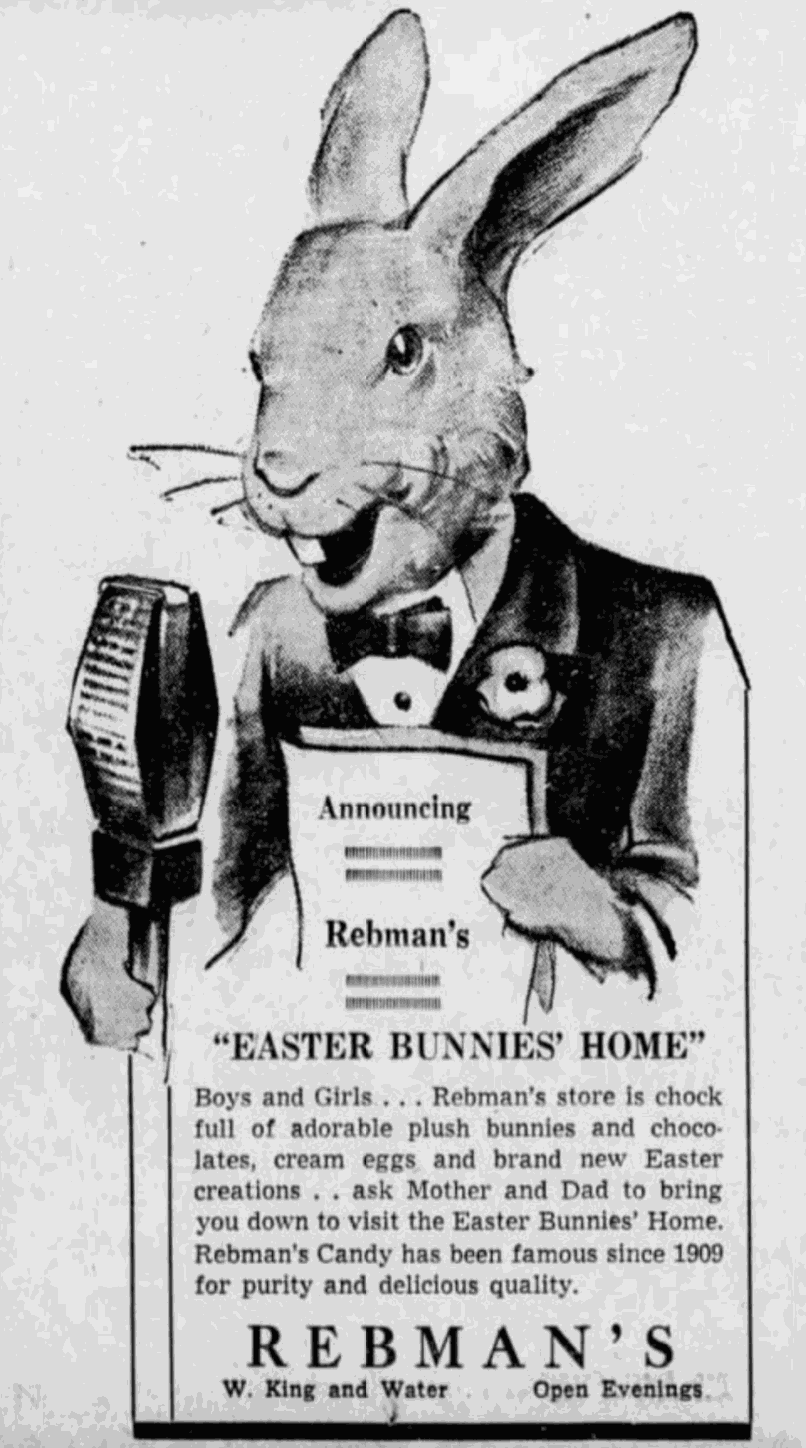 As the years went on and the Rebman's business grew into a quirky mainstay of the downtown shopping scene, the store's newspaper advertising grew larger and quirkier as well. From the 1940s through the 1970s, eye-catching ads for Rebman's were a regular sight in local papers. This Easter bunny - wearing a tuxedo for some reason while speaking at a period-perfect microphone - is an early example.
---
1954: Moving to the other side of King Street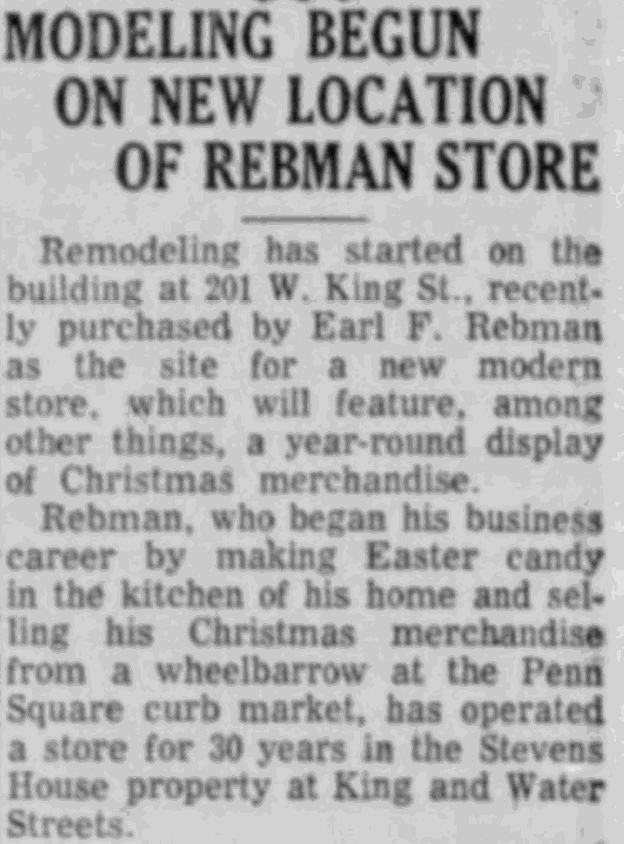 In 1954, Earl Rebman bought a building at 201 W. King St., which he remodeled into a modern, two-story store with a third floor dedicated to office space. Selling holiday merchandise, novelties and gifts, the new store's opening also marked the time when Rebman's began selling Christmas merchandise year-round.
---
1959: Moving to South Queen Street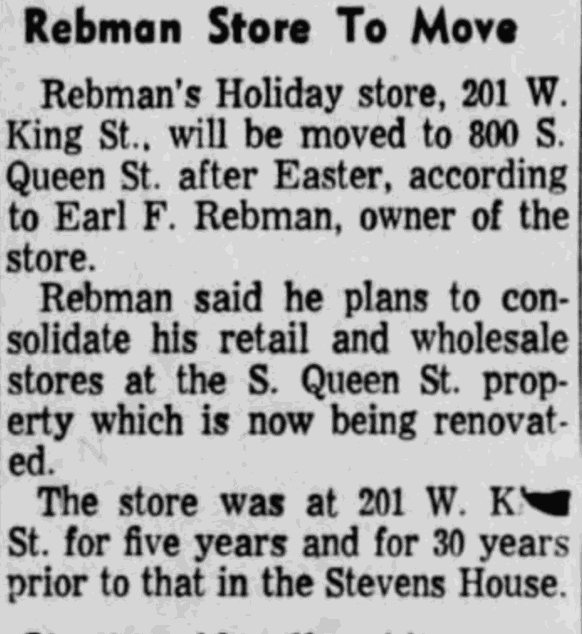 Just five years after moving across King Street and one block west, Rebman's was gearing up to move again. This time, the retail establishment was relocating to the 800 S. Queen St. location that would become the quintessential Rebman's for decades to come. The property had been serving as a warehouse and wholesaling business for Rebman since 1949; the move simply added the retail operation to the building.
---
1970: Rise of the moon room
If you ask any longtime Lancaster County resident to name one thing they remember about Rebman's, there's a pretty good chance they'll stay "the moon room." A single photo of the moon room posted on LNP | LancasterOnline's Facebook page last year drew responses from hundreds of readers, many of whom shared their memories of the darkened room where dozens of artificial Christmas trees glowed and sparkled. The first reference to the moon room in our archives was a small advertisement announcing its debut in 1969, but this large ad from the following year reflects just how successful the concept was.
---
1980: Halloween tradition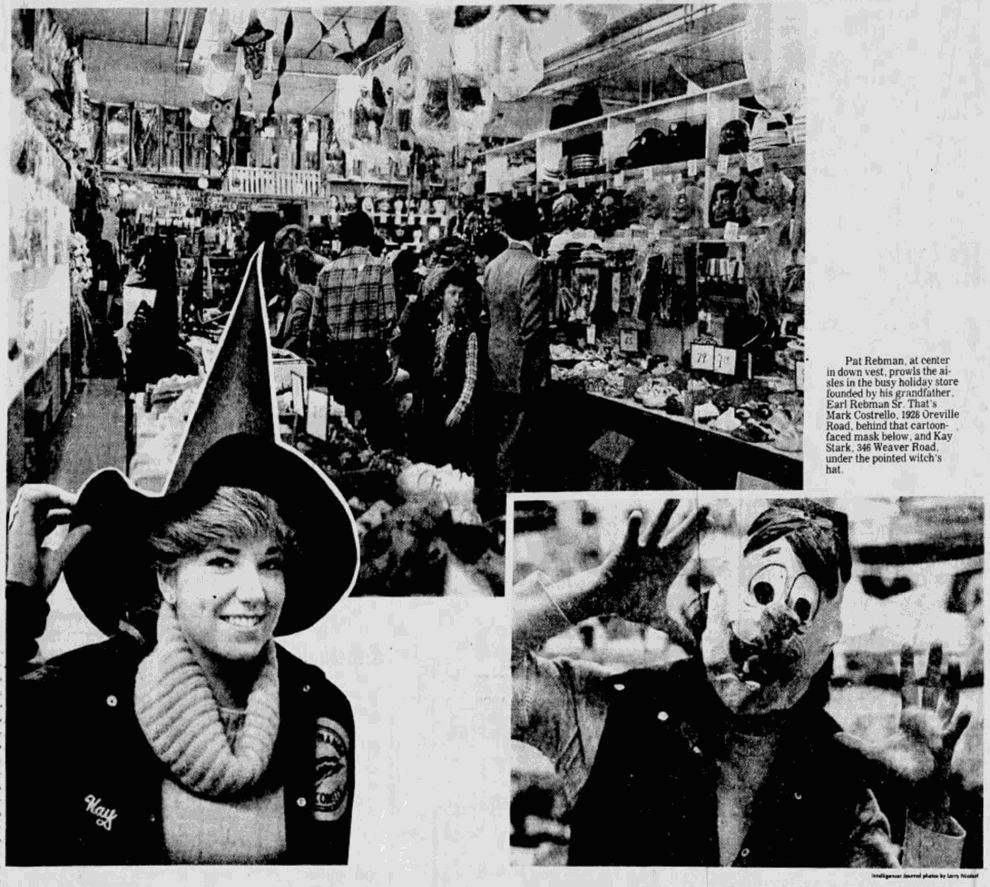 After the moon room, the Rebman's memory most commonly shared by locals might be the store's tremendous selection of Halloween costumes, masks and decorations. Long before pop-up shops selling Halloween merchandise in vacant mall spaces, Rebman's was the one-stop shop for Halloween party and trick-or-treat preparation. This 1980 article focuses on the Halloween side of the business.
---
1984: Devastating fire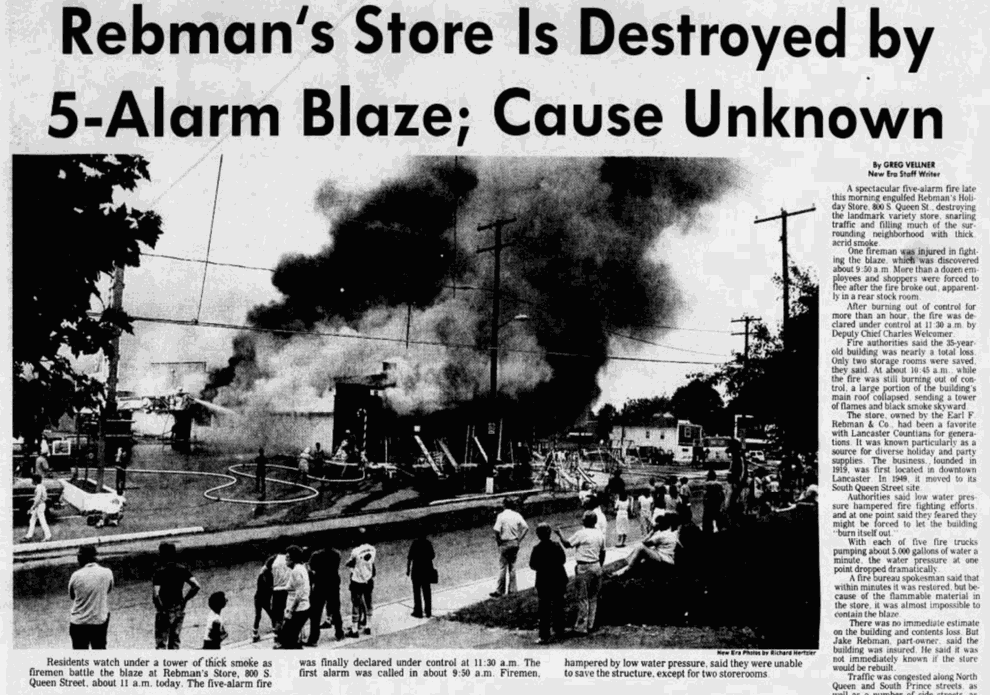 On June 16, 1984, a massive column of smoke towered over the city's south side, as a five-alarm fire ripped through the Rebman's store, doing more than $1 million in damage. The fire was eventually ruled to be accidental, with investigators determining that embers from trash burning blew into the rear of the building. The Rebman family was quick to state that they would reopen as soon as possible.
---
1984: Columbia Avenue store opens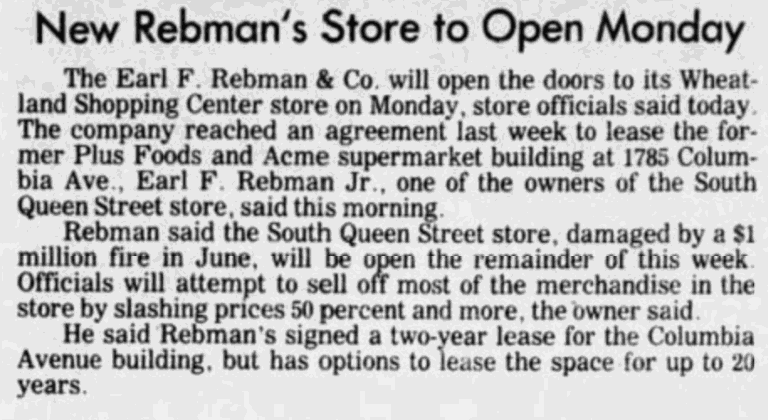 Just three months later, Rebman's reopened, but in a new location. A leased space at 1785 Columbia Ave., in Wheatland Shopping Center, served as the next home for the longtime local business. 
---
1984: Return of the moon room
For Christmas of 1984, Rebman's may have been in a new location outside the city limits, but the Rebman family made sure the ever-popular moon room made its return. It was a bit smaller than its previous incarnation, but still took hundreds of hours to set up, according to Robert Rebman Jr.
---
1985: City store reopens

Sixteen months after that devastating fire, the Queen Street location of Rebman's reopened. Earl Rebman Jr. said in this Lancaster New Era story that his family always knew they would reopen the downtown store, even after they opened the Columbia Avenue location. The reopening marked an era of Rebman's history when the film would run two stores (and two moon rooms) simultaneously.
---
2003: Queen Street store closes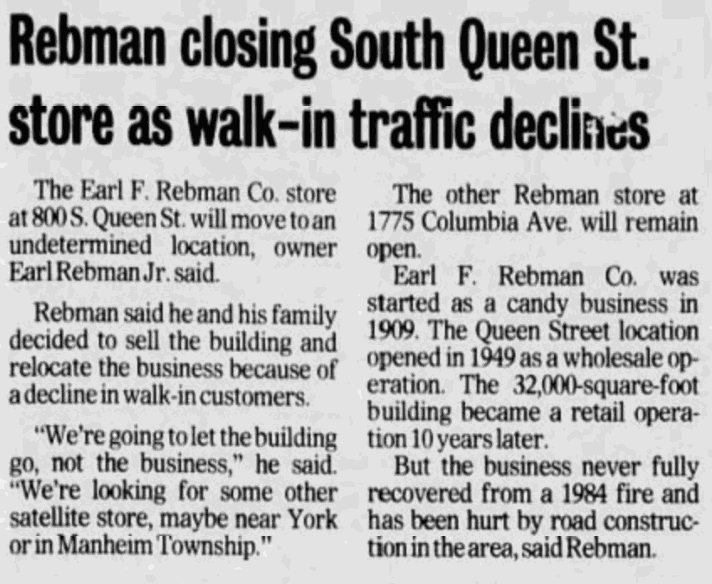 The two-store era of Rebman's would prove to last for 18 years. In May 2003, Earl Rebman Jr. announced that the downtown location on South Queen Street would be closing at the end of the year. A decline in downtown foot traffic was cited as the reason, but Rebman was quick to point out that the Columbia Avenue shop would remain open.
---
2005: Columbia Avenue store closes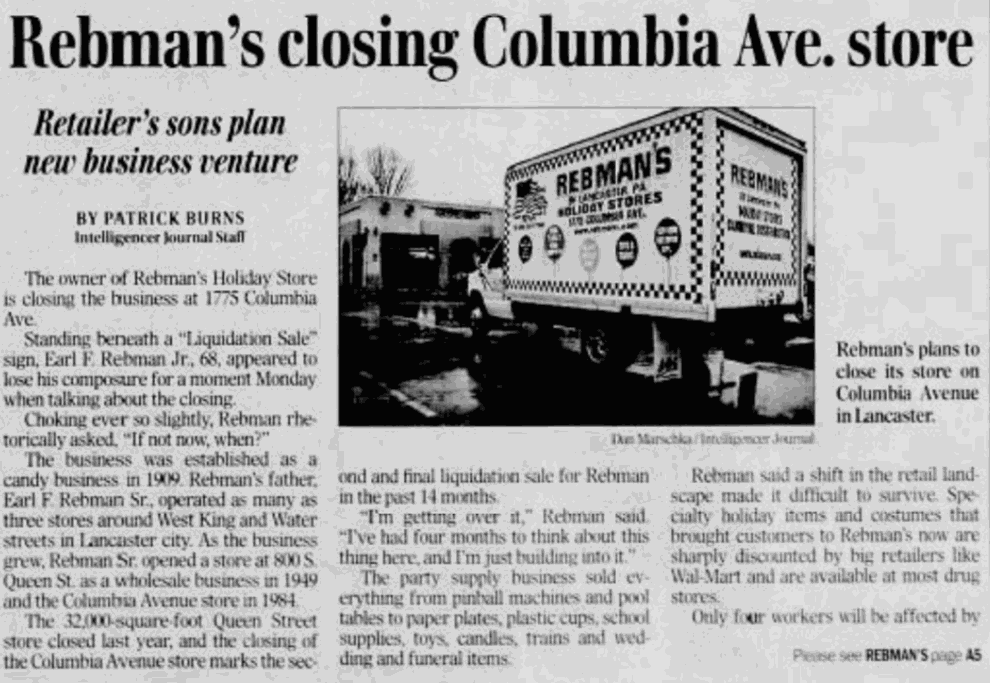 Two years later, the Columbia Avenue Rebman's location also closed its doors. Though a new business owned by younger members of the Rebman family would operate in that location selling pool tables and other gaming products - a business that still operates to this day - this closure marked the end of the Rebman's business that began on West King Street in 1919.
---
2005: End of an era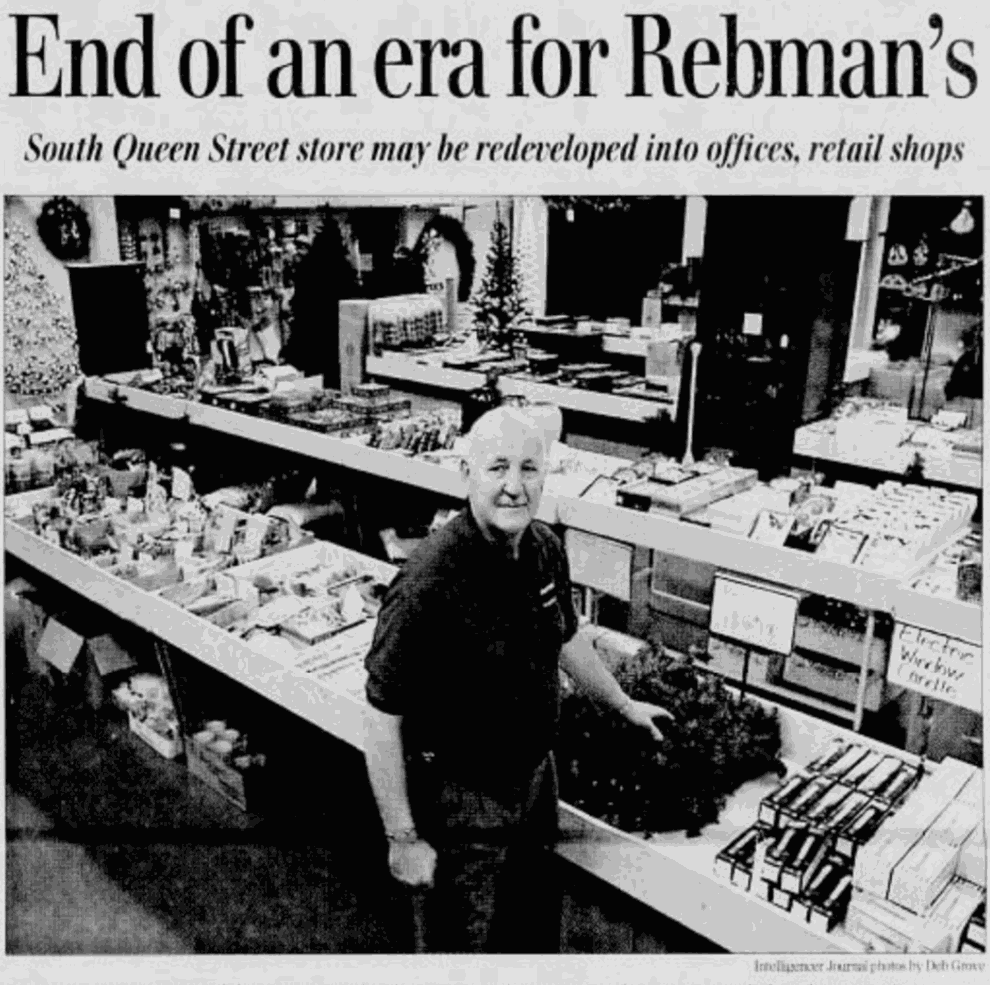 On Dec. 28, 2005, Earl Rebman Jr. announced that a buyer had been found for the South Queen Street store. Jeremy Feakins, who still owns the property today, was set to buy it for $500,000. The transaction marked the end of an era, as it brought to a close a nearly century-long family business in downtown Lancaster - from Earl Rebman Sr. starting his candy business in 1909 through the rise and fall of his three downtown locations. Regardless of what the South Queen Street location eventually becomes, for many local people, it'll always be the home of the moon room.