THIS YEAR WE TOAST TO 225 YEARS of LNP and its predecessors in Lancaster County. And because you can't have a truly great celebration without a proper beer, LNP decided to collaborate with the Pressroom Restaurant + Bar and St. Boniface Craft Brewing Co. in Ephrata to create one.
The result is 225 Lager — a traditional pre-Prohibition-style lager — which is a style that would be familiar to early newspaper readers in the county.
Lancaster and lager have been linked for more than a century. The first lager was brewed in Lancaster as early as 1842. And the newspaper and beer have been tied together since the beginning — The Lancaster Journal was originally published in a tavern on King Street.
It's easy to take the newspaper that you're holding in your hand — and all the work that goes into it — for granted. And the same goes for your favorite beer. You enjoy these things without thinking too much about how they were made. But the stories behind the news stories and the beer are full of interesting voices.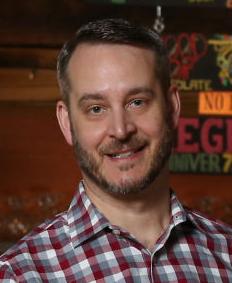 On Jan. 22, a small group of LNP staffers including myself, a photographer and a video team as well as the chief operating officer of the Pressroom Restaurant Group met at the St. Boniface Craft Brewing Co. in Ephrata to talk to the brewers and owners and observe and report on the brewing process firsthand. 
6:55 a.m. It's too cold. And too early (for me) when I pull into the parking lot of St. Boniface Craft Brewing Co. As much as I enjoy a nice icy-cold beer, right now I'm thinking more about a steaming hot cup of coffee. As I walk into the brewery, it's obvious that the employees here have had their coffee hours ago and have moved on to focus solely on beer.
The brewery is buzzing with activity as workers move through the narrow, fluorescent-lit aisles between the beer tanks. The amount of activity makes me think there are a lot more employees working here than there actually are — there's only a handful, but they are brewing, cleaning, canning, filling orders and performing various other jobs.
Luckily for me, Rob Commero of the Pressroom Restaurant + Bar has already made a coffee run and he hands me one as we chat with the owners of St.Boniface in the brewing area.
Rob Commero (Chief operating officer of the Pressroom Restaurant Group): I have lived in Ephrata for 15 years and was excited when Boniface opened here. They make rock-solid beer. We have their beer on rotation at the bar.
It was an easy decision to do this project with St. Boniface. (We) wanted LNP readers that have been reading for years to be able to drink it. Something with a broad demographic that everybody can enjoy and lager is approachable.
Mike Price (Co-owner and head of sales for St. Boniface): Rob was one of our first customers. The relationship with LNP really comes through the Pressroom. We've gotten to become really great friends with Rob and people at the Pressroom.
So, because it's the 225th anniversary (of the newspaper), we wanted to do something more traditional, that would reflect the times when the newspaper was beginning. That's why we decided to do the pre-Prohibition lager. It's a style that people would've been drinking back in the day.
Jon Northup (Co-owner and head brewer at St. Boniface): (225 Lager) is something light that appeals to the majority of people out there. In a market that's totally flooded with all these over-the-top beers, we just want to appeal to everybody. That's kind of like our tagline here: "Convert the masses."
Price: One of the things that's become clear over the last couple years in this business is that it's gone more to a local feel. People want their local beer and I think it ties in perfectly that we can team up with the Lancaster newspaper to produce something to celebrate their anniversary.
7 a.m: The LNP team and Commero meet with Jeff Campbell, one of the brewers at St. Boniface. Campbell is 33, lives in Lancaster and plays upright bass with the band Colebrook Road. He spent seven years working with Tröegs Independent Brewing before joining the St. Boniface team three years ago. Like most professional brewers, Campbell began as a homebrewer.
Above us, in some PVC piping, barley and acidic malt grains move from the auger to the mash tun — which is set at 150 degrees.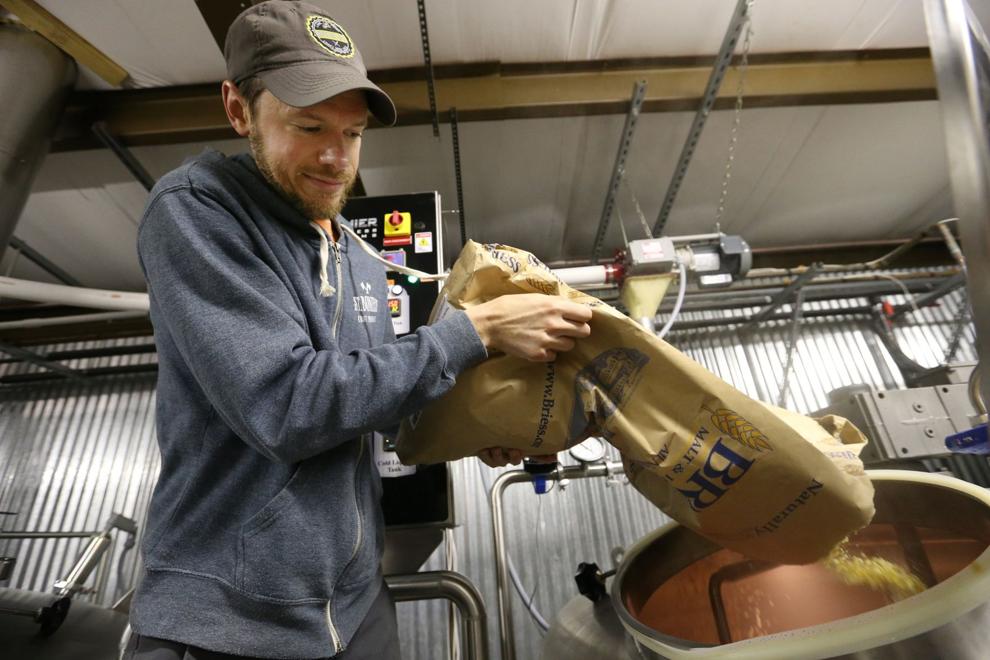 Jeff Campbell (Brewer): The lower the temperature, the drier the beer.
7:20 a.m.: Campbell dumps 50 pounds of Brewers Yellow Gold corn flakes into the mash tun. The corn flakes are unique to lager and lead to a drier finished beer. Other ingredients in 225 Lager include yeast (borrowed from Campbell's former employer Troegs) and Cluster hops.
Campbell: (Corn) is what pre-Prohibition brewers would've used. Barley is expensive. Corn is not.
Price: Brewing it is a pretty simple process when it comes down to it. You're basically taking malted grain, which is grain where the germination process has started — so it's started to activate the enzymes and the sugars. Then we grind that up and steep it in hot water for 60 minutes or so to extract the flavors, the sugars, the colors from that grain. We transfer that over to a boil vessel and that's where you add your hops — your bitterness that balances out that sweetness. You get your hop flavors as well.
Then you cool that down and you put it in another vessel. Then you put the yeast in and let the yeast ferment it out. With a lager beer you're fermenting at lower temperatures than an ale beer and for a longer period of time.
Campbell: Brewers just want to drink lager. It's easy to drink and easy to brew.
Northup: Lancaster County is a very Germanic area — so obviously the traditions come over with them. I'm sure in New England they had more ales and English styles. Lagers are really common in Germany and Czechoslovakia — and the yeast is a bottom-fermenting yeast so it's different than the English ale strains which are top-fermenting yeast that like warmer temperatures.
Price: Lager was the most popular style (around 200 years ago).
Campbell: We normally brew IPAs and stouts. But it's been nice to return to the roots of German brewing in Lancaster. Lancaster has such a rich heritage of German-style brewing.
7:30 a.m.: After the grains and corn flakes are added, the mixture sits for a half hour. Some chemistry is taking place inside the mash tun: hot water activates enzymes in the barley which converts starch to sugar. The lager will ferment for about a week-and-a-half at a cooler temperature.
Campbell: Lager is a German word meaning "to store."
Commero: Monks in Europe would cold lager beer and store it in caves.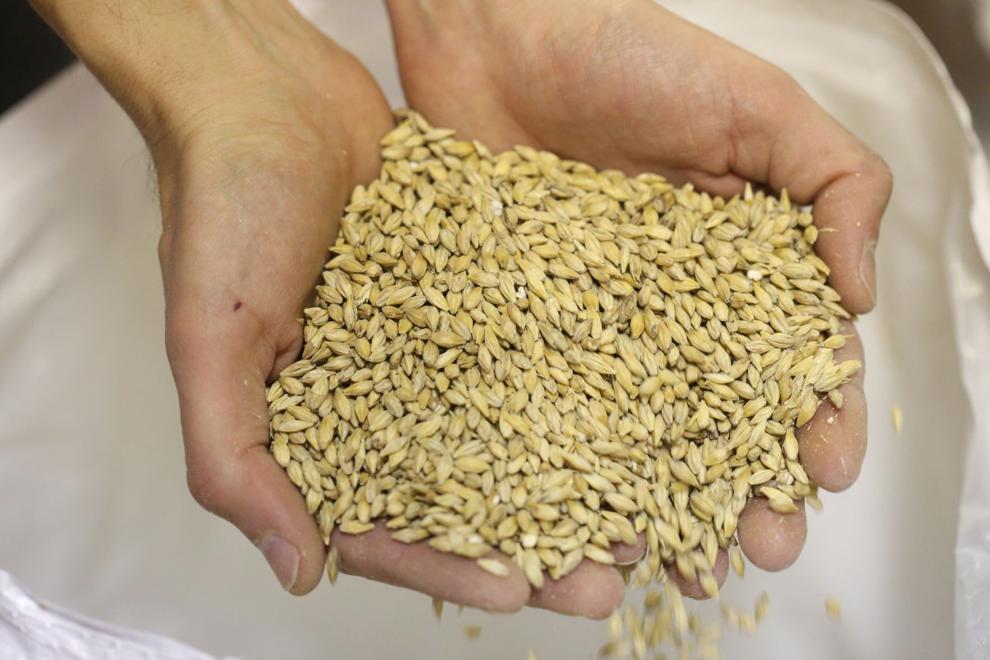 8:20 a.m.: Campbell cycles the wort (which is basically sugar-water at this point, but is nearly the color of a finished beer) through an apparatus called a grant to the boil kettle. He uses a refractometer to measure the gravity — the amount of dissolved sugar in the wort. That number determines the amount of alcohol in the finished beer. Too sweet and the alcohol content will be too high. Not sweet enough and the alcohol content will be too low. Brewing beer is a balancing act. Campbell begins cleaning the mash tun. The spent grain goes to a local cattle farmer. It's about 1,000 pounds just to make this beer.
Campbell: Sixty percent of my job is spraying things with a hose. [Laughs.]
10:15 a.m.: When the wort reaches a rolling boil of around 210 degrees, Campbell adds the first infusion of Cluster hops (about a pound-and-a-half), noting that they are native to North America and therefore an appropriate choice. The boil for the beer is an hour.
Campbell: For every gallon of beer the brewery uses 14 gallons of water.
11 a.m.: With about 15 minutes left in the boil, Campbell adds the second batch of Cluster hops. This time about half-a- pound to make two pounds of hops in total. Some yeast nutrient is added as well. The brew is resembling beer at this point. The whole brew boils for another 15 minutes at 213 degrees. Then it goes through the whirlpool process for 15 minutes, sits for another 15 minutes and is then filtered through a heat exchanger. Then the brew will be moved to the fermenter where it will sit for a period of about a week or so.
Northup: It will be fermented at low temp for seven days, then we allow it to climb in temp to 60 degrees for four more days until we chill it and transfer it for the lagering process.
Price: Lagering is simply allowing the beer to age at cold temperatures.
While the crew at St. Boniface was crafting 225 Lager, Angel Luciano — an art director at LNP — was working at crafting another aspect of the beer: the beer can artwork. As the craft beer industry continues to boom, label art has become almost as important and innovative as what's inside the cans and bottles.
Luciano: I had a color palette to stay with — the Pressroom color palette. Not too color heavy, but subtle. I went through a couple ideas. Originally, I had old newspapers silhouetted in the background, but I ran into a color problem. Some were too yellow. It was hard to get them to match. (I did) three or four different versions. Tweaks here and there. I wanted to keep it clean. Less is more. I went with that concept. I tried to get the feel of vintage, but modern.
Price: Label art has always been an important part of creating a brewery's image, but even more so now because of the amazing number of brands on the shelf. When (Boniface) decided to redesign our 16-ounce can labels, wewanted them to really be works of art and that is what our designer has accomplished. I was excited when I saw the 225 label because it continues the artistic vision that we have for our artwork.
Luciano: The "225" is a font called Chronicles. I just like the way the numbers look. Classic. Vintage. I added the lines inside the numbers and put a bronze drop shadow on them. I hand-scripted the word "lager." I like cursive script. I scanned it and put it into Illustrator.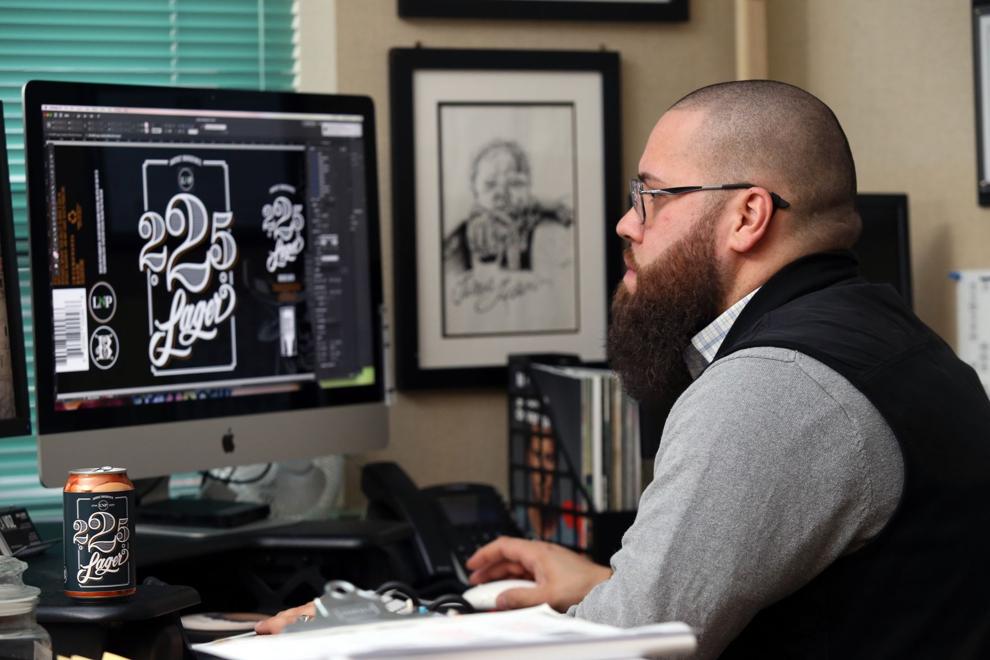 Brewing beer is an exacting process with its own set of scheduling complications. But brewing beer commercially invites a whole other level of complications. For instance, the government shutdown that spanned from Dec. 22, 2018 to Jan. 25, 2019, threw a monkey wrench into the mash tun (or, for you brewers out there, some lactobacillus into the brew). The shutdown created a black cloud of doubt for an industry that is extremely schedule-oriented from every aspect of the process from the actual brewing and fermenting to the label art. Everyone involved in the creation of 225 Lager wondered what kind of backlog the shutdown would create with the government agencies that approve labeling.
Price: Who knows how long this is going to stay on? And the backlog is going to be so much that realistically at this point is the label for this project even going to get approved in time? We don't know.
Luciano: At first, we thought we would be on time but then the government shutdown delayed everything. So we only had a week or so to design the label.
Price: The craft brewing industry is built on constant change and constant innovation — new recipes coming out, new beers coming out. I guess it remains to be seen how (the governmental agencies) are going to deal with it.
After 34 days, the longest shutdown in United States history finally ended, but for many in the craft beer business the situation caused delays and lost revenue. Luckily, St. Boniface figured a way around some of the approval issues by releasing a few of their beers under their Surprise It's Another IPA label. As far as 225 Lager was concerned, luckily, everything worked out. The label art was submitted on Jan. 9 and approved on Feb. 12. The beer is set to be released in mid-April.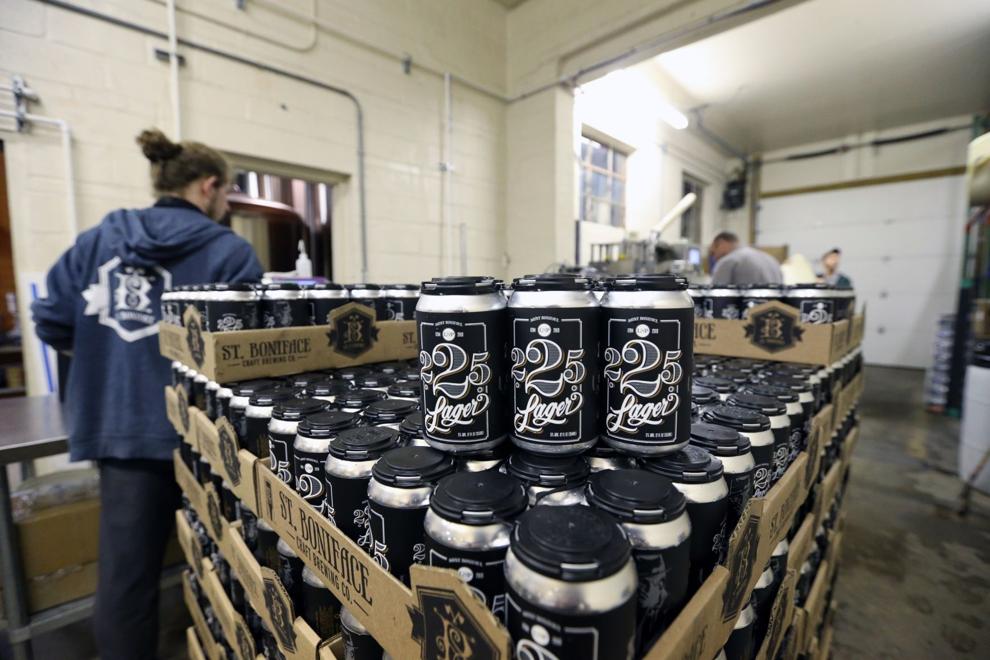 Price: I would add that they have done a wonderful job of catching up after the shutdown ended. We submitted a label for a beer that we are brewing for Lancaster County Conservancy Water Week on Feb. 7 and they reviewed it on Feb. 21. That is almost a normal turnaround time. So even though it was a little stressful because we didn't know if these labels would get approved in time for production, everything worked out as well as it could have.
A few weeks after the visit, Commero returned to the brewery and sampled 225 Lager. It wasn't quite finished yet, but he was able to get a good feel for the final product. He wrote in a text:
Commero: Tried 225 Lager today. It is not carbonated yet, but it is good. Super drinkable. Very solid representation of that beer style and is definitely period correct. And no one else is really doing it. Also a great time to release that style of beer.
In late March, at St. Boniface Craft Brewing Co. in Ephrata, cans of 225 Lager — a pre- Prohibition-style lager brewed with traditional ingredients — were expected to move down the canning line to be packaged and distributed throughout Lancaster County. That same morning, copies of LNP, filled with the day's latest news stories, will come rolling down the printing press and loaded into trucks to be delivered to readers. And by mid-spring, people will be at sidewalk tables or barstools enjoying a crisp lager with a nod to the area's rich brewing traditions pouring from the can.