When Greg Weiler and Jean Newcomer in 1987 toasted their beers at the first brewery they visited, the milestone they reached just last month would have been impossible.
How could they visit 1,000 different breweries in the U.S. when only 150 existed?
In the years since that 1987 visit, as the numbers of breweries exploded, the Salunga couple has traveled around the country to hike trails and climb to the highest points in dozens of states. And on each trip, they took time to visit the area's breweries.
Eventually, the breweries became the main attraction. On Jan. 12, Weiler and Newcomer visited brewery No. 1,000. They celebrated by trying a few beers at Iron Hill's newest location in Hershey.
Through their 32-year quest, they've gotten to know brewers who share their knowledge with customers, collaborate with their competitors and are generally a wonderful bunch of people. The couple also appreciates how their hikes and brewery visits have taken them off the beaten path as they've traveled throughout the country.
"One thing that I really enjoy is there are places that we've been that the average tourist has never ever got to. That goes for hiking as well as brewpubbing," Newcomer says. "You have to find a trailhead that may be out some dirt road that you may have never even thought about. It's the same way with breweries."
'We're done with yellow beers'
The couple started their craft beer education at a pizza shop with a great beer selection near Reading. Weiler and Newcomer met at RCA Corp. in Lancaster in 1980, and back then would often meet up at the bar near Weiler's home. The bar, now called Bruno's Pizza Ristorante Italiano, had beers from all over the world. If you tried 100 of them, you earned a free T-shirt.
Both Weiler and Newcomer are into numbers and love checking things off their bucket lists. Challenge accepted. It wasn't long before both of them walked away with T-shirts.
Around that time, they heard about a brewery opening up on the way to Newcomer's home in Salunga. Carol Stoudt was opening a brewery next to the Black Angus Restaurant her husband ran. It was Pennsylvania's first microbrewery, and the couple checked it out in the fall of 1987.
"We thought, 'Let's give this place a try. We're done with yellow beers,' " Weiler says. "Is there anything out there that would please us? Sure enough, Stoudts came through fine."
On weekends, they loved to take off and hike a section of the Appalachian Trail. Eventually, they hiked about 1,350 miles of the 2.200-mile route, which stretches from Maine to Georgia.
A year after they first went to Stoudt's brewery, they spotted Catamount Brewing Co. in Vermont's White River Junction and stopped for a sample.
As breweries started popping up more frequently, Weiler and Newcomer checked them out and started taking notes. Their list of early stops reads like a who's who of craft beer history: Lancaster Malt Brewing (opened in 1995 and bought by Lancaster Brewing in 2001), Brooklyn Brewery, Appalachian Brewing Co. in Harrisburg, Yuengling Brewery in Pottsville, Sly Fox in Phoenixville and Victory in Downingtown.
Still, it took 12 years to visit 100 breweries.
By 2000, they shifted away from the Appalachian Trail to the task of conquering the highest point in each state. And during each trip they'd look for new breweries. After Weiler visited 46 summits and Newcomer visited 43, they moved on to hike their way to "tri-points," the places where three state borders meet.
"We're really into numbers," Newcomer says with a smile.
And why not visit more breweries during these trips, they said. After a day of hiking, what's better than a craft beer?
The rules of the game
The couple met a reporter at one of Lancaster County's newest breweries, Twisted Bine Beer Co. in Mount Joy. Brewer Greg Gillette heard about their quest and offered them a tour of the brewhouse and the historic building, a former hardware store and car dealership, that houses it.
They've visited breweries that exist inside former banks, fire companies and sewing machine factories.
"A car dealership?" Weiler asks. "This might be a first."
Actually, it's not. Newcomer recalls Schaylor Brewing Co. was built in a former Daewoo dealership (a South Korean car) near Shillington, Berks County.
Years before Untappd's app listed thousands of breweries on your smartphone, it was tough to find new breweries. Recommendations at breweries have come in handy for the couple. These days, Weiler has found Beerme.com and Pub Crawler are helpful. When he reads about a new brewery in Mid-Atlantic Brewing News, he'll add it to a giant to-do list.
And while sampling beers at festivals is fine, it only counts on their list if they've actually stepped inside the brewery. Another rule: no megabreweries like Miller, Budweiser or Coors.
At each place, they'll order a sampler and try a couple of different beers. Newcomer usually drives, so she'll pick the beers with the lowest alcohol by volume and maybe take just a sip of the heavier beers.
At the last stop of the day near the hotel where they're staying, they might get a pint. Or they might return to a brewery for dinner and a pint.
Newcomer has grown to like traditional styles like Pilsner and kolsch as well as sour beers. Weiler is a hophead partial to India pale ales. He grows cascade hops at home and gives them away after harvest time.
He's learned to not grab a T-shirt from each brewery, but they do take plenty of photos.
"Don't come to my funeral because it's going to last 10 hours to go through all of those breweries," Newcomer jokes. "And the pictures at the top of Mount Whitney."
(Story continues below map.)
1,000 samples of beer
The travel has become a little easier after the couple retired in 2001. Newcomer was manager of labor relations at RCA and Weiler was an engineer at RCA, working through a consulting firm.
Since then, Newcomer joined the staff at Iron Hill Brewery's Lancaster location as a host, where she can learn more about beer.
And with more breweries opening, it's easier to explore. They celebrated No. 200 (Uptown Brewery in Tempe, Arizona) in 2002, No. 300 in Estonia on a Baltic cruise (one of a few non-U.S. spots) in 2006 and No. 400 (Dillon Dam Brewery in Colorado) in 2008.
Their 500th brewery, a big milestone, was Stone Brewing in Escondido, California, in 2011. Mark Edelson, Iron Hill's co-owner, called in a favor and the brewery made a special cake for the couple and gave them a private tour by the head of the brewing operation.
They picked up the pace and hit No. 600 (Iron Hill in Voorhees, New Jersey) in 2013, No. 700 (Ethereal Brewing Co. in Lexington, Kentucky, in 2015, No. 800 (Iron Hill in Ardmore) in 2016 and No. 900 (Iron Hill in Lancaster).
They picked Iron Hill's new Hershey location for No. 1,000. On Jan. 12, several of the brewery chain's owners joined dozens of friends to cheer on Newcomer and Weiler. She had the Ore House IPA, and he had the Lap Bar IPA. They came home with a goodie basket filled with beer, some merchandise and a promise of a four-pack of every canned beer Iron Hill brews in 2019.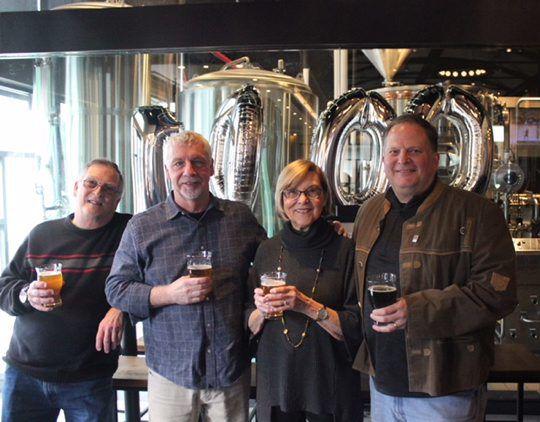 On to brewery No. 1,500
In between their trips all over the country, the couple takes a little bit of a break and doesn't visit breweries too often. Locally, they're partial to Cox Brewing Co. in Rheems and St. Boniface Craft Brewing in Ephrata.
Next up is a trip to Tampa. And maybe there's maybe a trip to Asheville, North Carolina, in the works. The last time they visited Asheville was in 2004, when they sampled beers at three breweries. Now the city has the most breweries per capita than anywhere else in the U.S.
Newcomer's grandson just moved to San Francisco, so there may be another California trip coming up. Weiler already has a game plan for their upcoming adventures. Naturally, it's in a spreadsheet that he lays on the table.
"These are all of the breweries that we haven't done yet," he says.
So the quest continues.