Brandon Adams remembers how valuable it was to him as a college art student in Georgia to get experience outside the classroom while working for a business client.
"I was realizing how much I appreciated getting projects from my professors that were real-world projects," says Adams, graphic designer for Garden Spot Communities — the company that operates Garden Spot Village senior-living community in New Holland.
So, when Destination Garden Spot Village magazine needed cover art for its spring-summer issue, Adams sought a partnership with the students at Pennsylvania College of Art & Design in Lancaster.
"I wanted to kind of pass that along to the next generation of artists and give them an opportunity to have a real-world project to work with ... to give them the opportunity to work with a client," Adams says.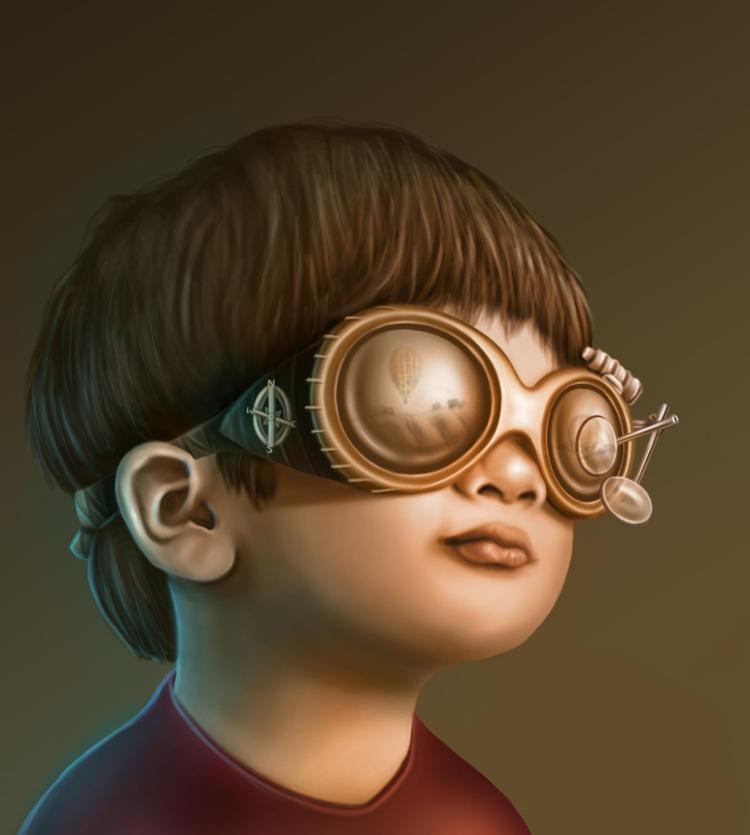 Adams and Garden Spot Village's chief marketing officer, Scott Miller, pitched to PCAD the idea of a student competition, with the winning design being featured on the cover of the semiannual publication read by the community's residents.
The result of this collaboration also went out earlier this week to 12,000 homes of people who have expressed an interest in someday living at Garden Spot Village.
Antoinette "Annie" Troller, a PCAD senior illustration major from Effort, Monroe County, won the competition, and had her illustration, titled "Through a Child's Eyes," featured on the magazine's cover.
Troller also received $250 from her client, Garden Spot Village. She already was the recipient of PCAD's Cynthia E. Price Memorial Scholarship, "our one major scholarship for seniors," Christina Hess, chair of PCAD's illustration department, says.
Senior studio
Illustration instructors at PCAD assigned the creation of entries for Garden Spot Village's competition as part of their students' senior studio class this past fall.
"All the seniors take a studio course their senior year — one in the fall and one in the spring," Hess says. "And in that course, they're introduced to client-driven projects, as well as their senior thesis. So, they start marketing themselves and their portfolio toward certain areas of the industry — book covers, editorial, visual development, whatever it may be."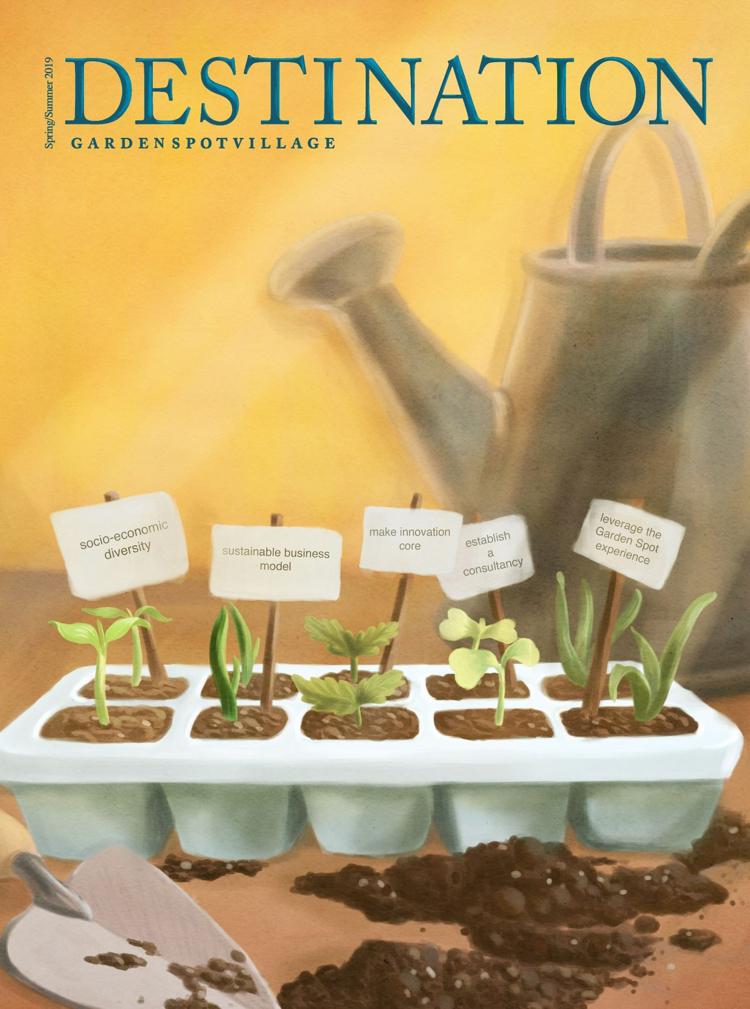 The cover art Adams and Miller were looking for needed to encompass concepts for a group of future initiatives for Garden Spot Village that had been featured in several previous issues of the semiannual Destination magazine.
"We gave an overall view of what we were envisioning for this issue and what we wanted for the cover, but we left it very much open to interpretation on (the students') end so they could keep their creative minds open," Adams says. "We wanted to keep it pretty broad to see what we got back. We didn't have a clear vision of what we wanted it to look like."
The students were given the theme, "The Envisioned Future," Miller says.
Twenty PCAD students took a tour of Garden Spot Village last fall and asked lots of questions about the community and about what they wanted in the cover art.
Hess and PCAD illustration instructor Bill Dussinger then had their senior students brainstorm, trying to figure out how to incorporate such concepts as "socioeconomic diversity" and "sustainable business model" into their works of art.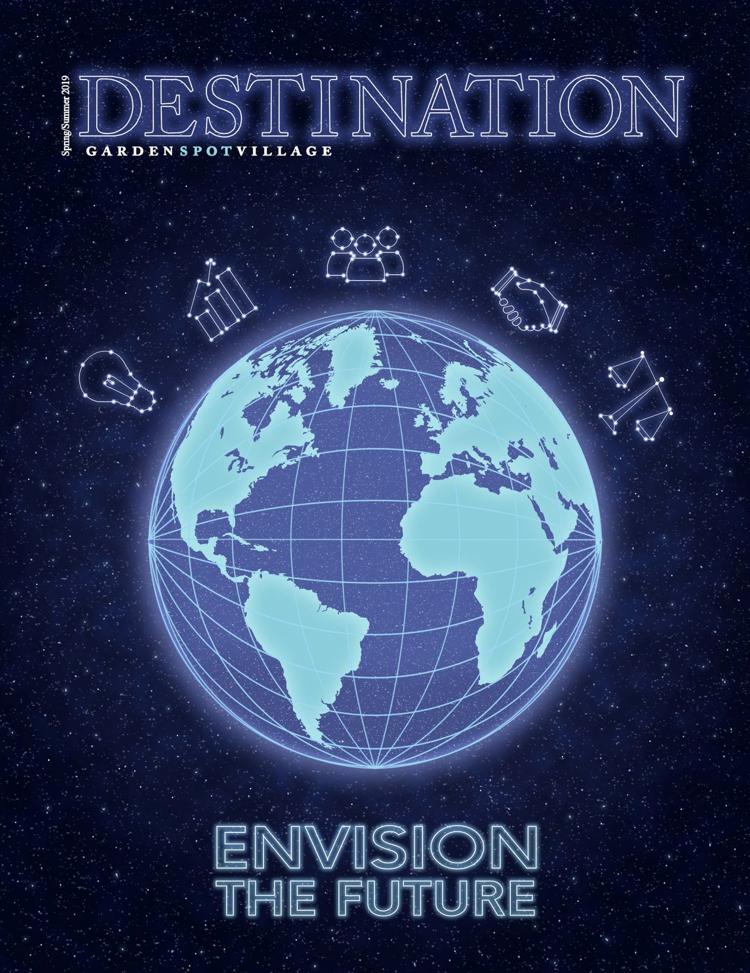 The collaboration also was an exercise in business, Hess and Dussinger say.
"With the tour," Dussinger says, the students "actually got to talk to a client right from the very beginning."
Hess notes that, when working with companies in the community, PCAD seniors also learn about writing invoices for their work.
"It was very much a client-student relationship," Troller says. "It's something we didn't have before (in class). It was a lot of fun, actually, because it wasn't just 'do your assignment and we'll critique it and it's over.'
"You really have to ask questions, and you need to make sure you're doing what they want," Troller says. "In the end, it's a job."
Child's eyes
Troller, who became interested in art in middle school when her older cousin went off to art school, says she felt an image of a child would capture Garden Spot's future theme well.
She says she looked at previous Destination covers and saw they were mostly photographs.
"I thought a good bridge between illustration and photography would be to do a realistic piece," she says. "Then I came on the idea of the little boy, and somehow I was able to fit all the categories they wanted into that one piece."
Children are always thinking about their future, Troller says — "what they want to be when they grow up" — and they're open to playing with anyone.
Her illustration shows the boy looking into the air through goggles that reflect farmland and Garden Spot Villages' hot-air balloon, and includes compass points on the temple piece.
Other submissions include PCAD senior Georgie Rider's second-place illustration of seedlings and a watering can on a yellow background, and senior Amber Benner's globe suspended in blue space, surrounded by icons representing Garden Spot's initiatives.
Other students incorporated the senior community's rose logo into a pie crust, or created a quilt out of the concepts they were to include.
Gallery show
The competition entries of all 20 PCAD students will be exhibited in Garden Spot Village's art gallery in April, Miller says.
Beyond that, after she graduates in May, Troller hopes to work in concept art design for a video-gaming company.
And Adams and Miller say Garden Spot Village will be on the lookout for other ways they can collaborate with PCAD.
As long as business collaborations can be tailored to a class project, Dussinger says, PCAD is open to other companies seeking partnerships.
"I'm hoping this opens the door for other companies to say, 'Hey, let's work with PCAD. We have a project for them.' " Dussinger says. "That would be great."