Can you identify this object? Send your guess, including your full name and hometown, to Jennifer Kopf at jkopf@LNPnews.com with "Antique Toolbox" in the subject line, or mail to Jennifer Kopf/Antique Toolbox, LNP Media Group, 8 W. King St., P.O. Box 1328, Lancaster, PA 17608-1328.
Tools used in this feature are part of the permanent collection of Landis Valley Village & Farm Museum, administered by the Pennsylvania Historical & Museum Commission.
APRIL TOOL I.D.: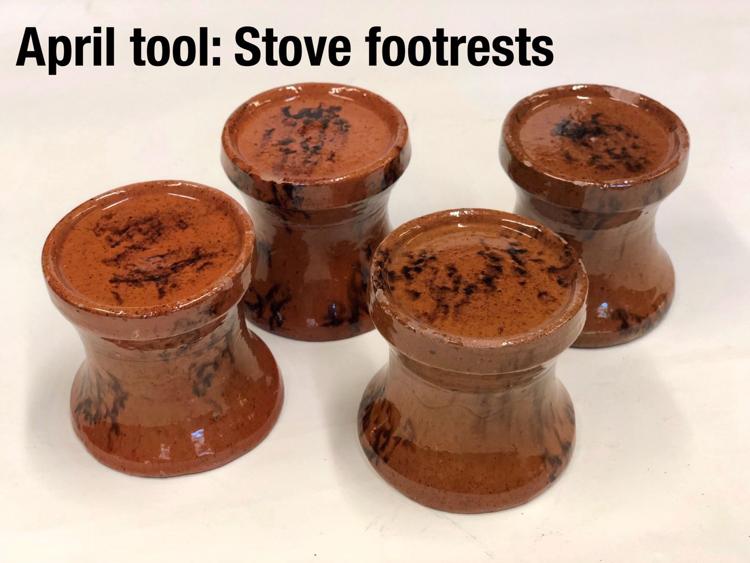 Jennifer Royer, curator at Landis Valley Village & Farm Museum, says that these are a set of 3 1/2-inch tall redware stove footrests, made in the 19th century by an unidentified person.
Cast-iron stoves rested on footrests to keep them off the floor. The rimmed top held the stove feet, and they were made in sets of four.
These footrests currently are on display in Landis Valley's redware exhibit, "Thrown, Fired and Glazed: The Redware Tradition from Pennsylvania and Beyond."
CORRECT ANSWER
Terre Hill: Marc J. Benedict.
BEST GUESSES
Thread spools, Columbia, Elizabethtown, Lancaster, Lititz; weights for a balance scale, Columbia; design stamp for pats of butter, Quarryville; hog scrapers, Lancaster; stands for Betty lamps, Millersville; paperweights, Ford City.