Can you identify these objects, all slightly different but used for the same purpose? Send your guess, including your full name and hometown, to Jennifer Kopf at jkopf@LNPnews.com with "Antique Toolbox" in the subject line, or mail to Jennifer Kopf/Antique Toolbox, LNP Media Group, 8 W. King St., P.O. Box 1328, Lancaster, PA 17608-1328.
Tools used in this feature are part of the permanent collection of Landis Valley Village & Farm Museum, administered by the Pennsylvania Historical & Museum Commission.
---
JUNE TOOL I.D.
Jennifer Royer, curator at Landis Valley Village & Farm Museum, says that this item is a pipe bowl mold from the 19th century. It is unknown who made or used it.
Potters used molds such as this to make multiple pieces in a consistent manner. Molds were made from clay, wood or plaster.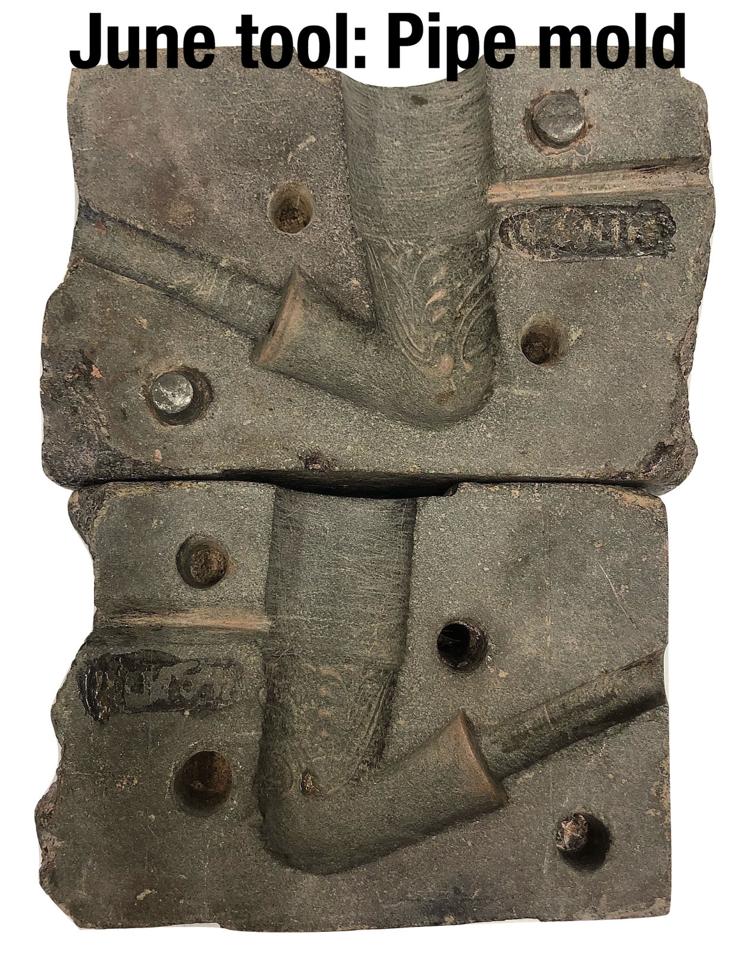 For press molding, clay would be forced into a mold that was made into two or three sections. Once the clay dried, the mold was disassembled and the piece removed.
These molds had decorative designs that would be mirrored on the surface of the piece.
CORRECT ANSWERS
Akron: Leon Brubaker.
Cornwall: Bruce Yurejefcic.
Columbia: Jim Welsh.
Denver: Linda Christy.
Elizabethtown: Dave Barley.
Ephrata: Brent Scott Becker, Jim Garner, Teddy Kurtz, Robert Smith.
Gordonville: Allen Styer Jr.
Harrisburg: Dale Rupert.
Holtwood: Kathy Seiverd.
Lancaster: Don Acker, Betsy Bauer, Robin Beveridge, John Esbenshade, Dennis Faust, Peter Gallimore, Steve Gavalchik, David Gelatt, Kelli Hammond, Scott Harnish, Joy Kessler, William C. Landis, Sandra Mauer, James B. McMullin, Kyle Neuhard, Richard Ressel, Domenick Rose, Richard Sheppard, Donald Styler Jr., Gary Waters.
Landisville: Richard Palmer, Mike Weed.
Lebanon: Stacey M. Fink.
Leola: Don Beidler, Beverly Erb.
Lititz: Tim Wolf.
Manheim: Ken Kindler, John Safstrom, Sam Zuch.
Middletown: Jeffrey Kinley.
Millersville: Skip Cauler.
Mount Joy: Fred Shoop, Doris Stauffer, Peter Summers.
Mountville: Gary Glick, George Overmeyer, Joe Woratyla.
Nazareth: Pat Houck.
New Holland: Kenneth Allison, Steve Ravegum, Reade Witman.
Parkesburg: Gerry Treadway.
Pequea: Brian Resh.
Reinholds: Kendall Fox, Tim
Martin.
Schoeneck: Lee Powell.
Strasburg: J.R. Johnson, Eugene M. Rohrer.
Terre Hill: Marc Benedict.
Washington Boro: Paul Wittensoldner.
BEST GUESSES
A mold for something steel, Elizabethtown reader.