"Amish Voices," a new book of Amish writings compiled by Brad Igou, contains a multitude of stories to which readers of all backgrounds can relate.
One such passage tells the story of a hired farm girl who watches a truck selling dishes go by her farm every day. She always wishes she could buy a fancy decorated dish or plate. Instead, the mother on the farm buys her a small, plain bowl.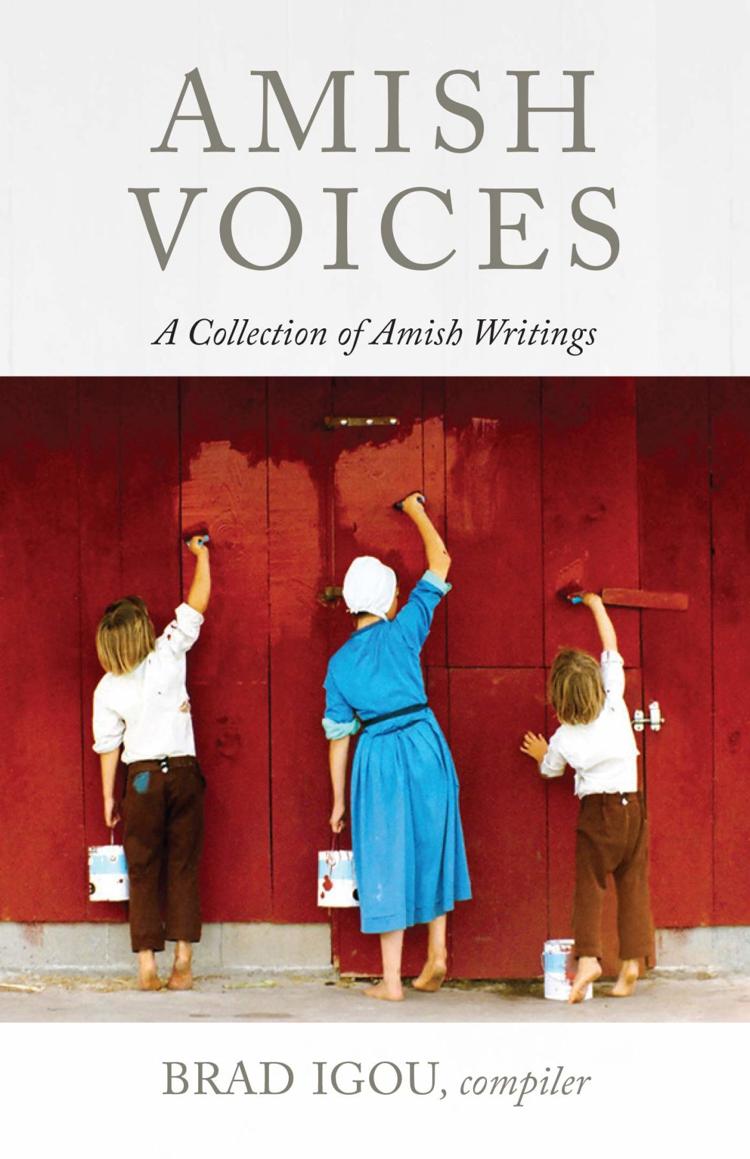 But years later, upon accidentally breaking the bowl, she realized she used it more than any of the fancy dishes she had since bought.
Similarly, while cleaning out his own mother's house after her passing, one of the only things Igou took was a plain blue cereal bowl that he often used while growing up.
"Guess what I ate my cereal in this morning," Igou says. "If somebody saw that bowl, they would probably say, why in the world do you care about that bowl? But sometimes it's just looking at simple things."
These stories, what Igou calls "Amish parables," are just one kind of entry readers will find in "Amish Voices."
The book is a collection of writings from the first 25 years of "Family Life," an Amish magazine both written and published by the Amish. And, as Igou found, there's plenty to relate to within them, and lots of insight into Amish life, from the Amish themselves.
Igou first came across the magazine while staying with an Amish family in New Providence for three months during college.
The magazine featured articles from the staff, in addition to subscribers' write-ins explaining their thoughts on certain matters, their woes and their requests for advice.
For example, one man wrote in asking for advice regarding how to best comfort his wife during her "crying spells," or if he should at all.
One subscriber answered: "Be her protector, her comforter, her friend. You can be sure that if you understand each other's needs, she can be these things to you also!"
Another wrote, "My guess is that if all the men who have gone into the silo and cried alone would write to 'Family Life,' we would also have many letters."
Igou, who is the current editor of Amish Country News and the former owner of The Amish Experience at Plain & Fancy Farm in Bird-in-Hand, thinks that many people misunderstand the Amish, either idealizing them or ridiculing them.
Even though Igou has lived, worked and spoken with Amish every day, the magazine still enlightened him on several matters.
"I was living with the Amish, I was getting perspectives I hadn't gotten before, but for most people, they don't have that opportunity," he says.
" 'Amish Voices' is a chance for people to see that the Amish have a diverse range of opinions and thought, on everything from marriage to the use of different technologies," Igou says.
He says that The Amish Experience is another way that people can interact with a new culture, learn something about it, and perhaps something about themselves in the process.
"I think sometimes people can be a little frightened of things, of cultures that are different than theirs, which is understandable," Igou says. "But I think you need to look at it as being curious."
The book is a condensed version of a similar book Igou released in 1999, titled "The Amish in Their Own Words."
"Amish Voices" has slightly fewer historical passages and more condensed articles, making it easy to flip through or read in quick spurts.
The book is also separated into different sections, each comprised of passages focusing on a different idea, including "Church," "Clothing," "The World" and "Controversies."
Within each section, the writers discuss several different topics, from the use of cars to children growing up and leaving the Amish community.
The inciting event to collect the passages, for Igou, was witnessing the selection of a minister in the Amish church.
Typically, only baptized members of the church are supposed to be present for the selection process, but Igou was not asked to leave.
He watched as men were nominated and one was selected "at lot," by choosing a book with a name inside.
"I knew what was going on because I had read about it in academic books," Igou says. "But what I was totally unprepared for was when it became known the man who would be the new minister, there was this incredible release of emotion in the room."
Igou found the explanation he was seeking within the pages of "Family Life."
A passage noted that there are many intense emotions that come along with selecting a minister or being selected a minister, since it's not a very enviable position.
The Amish never congratulate a man who is selected, because they know the weight the position can hold.
"But I didn't understand that emotional side of things until I read that particular article, and I thought, I'm not the only person who would find that insightful," Igou says.
"Amish Voices" is available in bookstores and online.