The borough of Strasburg, along with its railroad museum and some local ice cream, got a shoutout Sunday night on AMC's zombie series, "The Walking Dead."
But don't worry; no zombies are headed toward Lancaster County.
The local mentions come 32 minutes into the episode, as the character Eugene Porter is talking to an anonymous woman via a long-range radio.
"I grew up in Pennsylvania," the woman tells Dallas, Texas-born Porter. "A small town called Strasburg."
"Dubious as it may seem," Porter replies, "I know Strasburg, Pennsylvania well."
The woman expresses doubt, to which Porter replies that he was a railroad buff as an adolescent.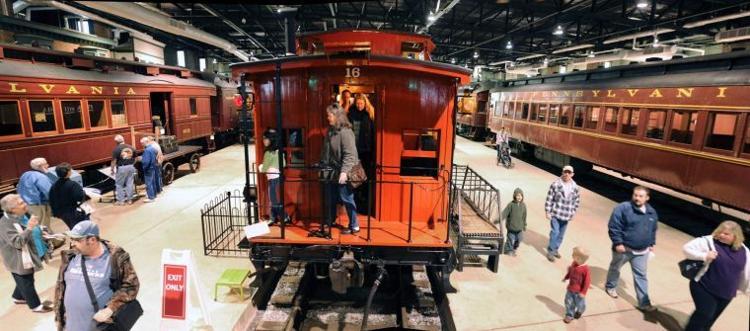 "Locomotives were my jam," Porter tells the woman, adding his parents took him to the "1995 Train Fan Expo at the railroad museum" in Strasburg.
Porter is, of course, referring to the Railroad Museum of Pennsylvania. In May 1995, the museum held a three-day celebration for the grand opening of its new Railroaders' Hall, according to LNP archives.
"I have the most vivid memory of an ice cream shop with the most marvelous batch of black raspberry ice cream," Porter says, continuing the radio conversation with the unknown woman.
The woman tells him the shop was called "The Inside Scoop" — which may have been a TV pseudonym for the Strasburg Creamery on Main Street. 
Uncle Leroy's has an ice cream and candy shop near the museum, at the Choo Choo Barn and Shops at Traintown, but that location wouldn't have been open in 1995.
Porter, played by Josh McDermitt, is an engineer for what's known as the Alexandrian Safe-Zone, a walled-off community for survivors of the zombie apocalypse.
Sunday night's "Walking Dead" was episode 6 of season 10, and was titled "Bonds."
By late Sunday night, "Walking Dead" fans had updated their fan pages with information about Strasburg, the railroad museum and the creamery.
Even the "Walking Dead" Wiki fan page for Porter's character had been updated to note that Porter had visited Strasburg, the museum and an ice cream parlor as a teen.
A new post on nerdist.com says that, in the "Walking Dead" comic book series by Robert Kirkman and Tony Moore, on which the AMC TV series is based, Porter starts a relationship with an Ohio woman via radio communication. 
Nerdist writer Tai Gooden speculates the series may be introducing this Ohio woman as a new character, and giving her a backstory with a hometown of Strasburg.