Round one of the fall season pits the Alcoballics vs. Sit On My Base. Later, Shared Hitless kicks off against One Kick Wonders and then Kick in the Grass faces Jesse and the Rippers.
Adult kickball is back.
This playground sport is no longer just for kids looking to burn off some energy during recess. Lancaster Recreation Commission has already filled up its roster for the fall season and Lancaster Young Professionals fielded 300 people in its first kickball season.
The fall season starts this month for kickball athletes who like a sport in which it's perfectly fine not to be the biggest, strongest or fastest.
"The ball they use is the big giant ball. When you have the strongest guy kick it, it doesn't go far either," says Tim Eckert, a team captain. "It's kind of the great equalizer."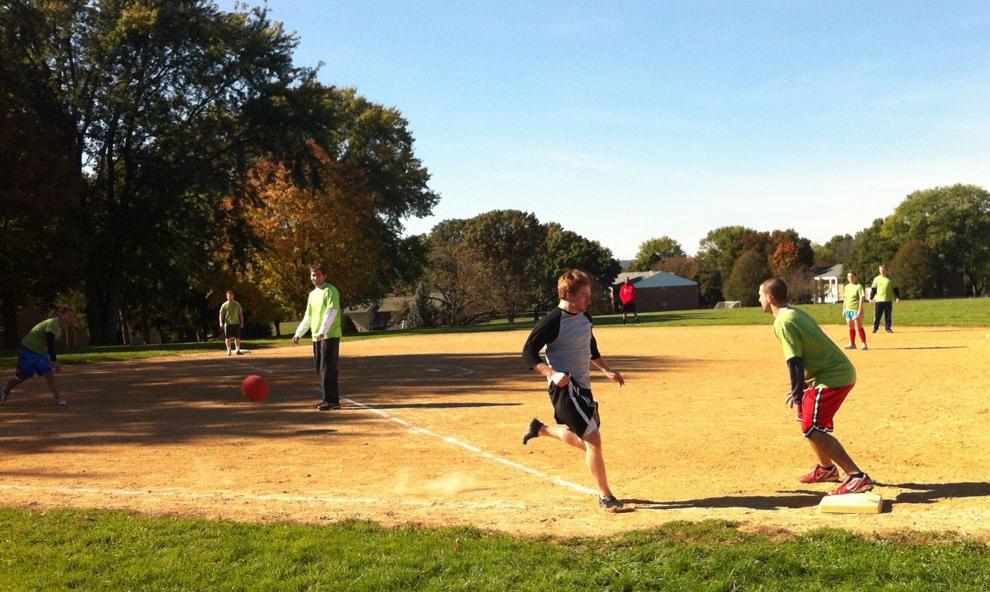 Lancaster Rec started a coed kickball league for adults seven years ago to add a sport that's more about recreation than competition, says Audra Lander, director of sports services.
Softball still reigns as the most popular league, with about 75 coed teams signed up for the spring and fall seasons. A dodgeball league came and went but the eight-team kickball league still sells out weeks in advance.
"People going back to their playground roots," Lander says.
Teams play each other during the two-month season and then start the playoffs.
Eckert's team, Sit On My Base, is going for a seventh championship this fall.
He signed up for kickball after the dodgeball referee suggested he join. He and the dodgeball referee are now married, and Eckert also plays in the commission's other sports leagues.
"Kickball is one that's a little bit easier. People of all skill levels can enjoy it," he says. "And it's fun playing in a league to meet people. We often go out to get drinks with another team after a game. You get to meet more people that way, too."
The team he captains has a roster of 20 players, more than enough to field a team of 10. As teammates started families or had other obligations, they've left and new players have replaced them.
Eckert's team hadn't lost a game until last year, when it finally was beaten.
(Story continues below quiz.)
The team's players may have grown older (they're now 25 to 34), but they have experience on their side. They know strategies, Eckert says, like don't try to kick the ball far and place the ball where the other team isn't.
Lancaster Young Professionals started a kickball program in the spring as a way to kick off its sports leagues.
Not everyone's comfortable going to a networking mixer or a professional development session, says sports commissioner Brock Snider. A sports league is a way for people to get involved with the group.
LYP started with kickball because, "You can only be so good or so bad at kickball," Snider says.
And people responded.
The group wanted four teams to start.
"We thought if we could get six, that would be phenomenal," Snider says. "We ended up with 14 teams and over 300 people."
The group has "young professionals" in the name but people in their 40s and older also signed, and the players include plumbers, electricians and firefighters.
At the beginning of the season, most looked like they hadn't played since third grade, says Snider, who was a referee.
"By week four and five, there were definitely a lot of teams that got a lot more competitive. Others were out there to have fun," he says. "Regardless of whether you were out there to have fun or not, by the end of the season you're making lineup switches and playing people in certain positions."
The group is looking into adding more sports, like volleyball or bubble soccer.