Sometimes the perfect gift is one that is heartfelt, like art. As a seventh-generation beef producer from State College, Pennsylvania, Maggie Harding enjoys creating pieces that honor, celebrate and inspire those who love scenes of farm life, dogs and livestock. Some of the best artwork to gift others is a landscape with a barn or nature, but Harding says she has a penchant for cows. "I love a good cow."
Since she was a young girl, Harding has created cards to give to her family and friends. In high school, she took art classes and then some classes while she attended Penn State. But she is largely self-taught with some assistance from her mother, who paints as well. Now, in New York, she has grown her business, which she balances with her full-time job as a scientist for a cheese company.
"I love the creativity and love trying new things," she said. "I just love making things."
Harding enjoys interacting with her clients as they share stories about their pet or their dogs. She says the conversations she has with them allow her to get an accurate portrayal of the personality and appearance of the animal. She also always requests that she be given three or four photos showing all the angles of the animal. Harding says knowing little details like an ear flopped over or tongue out is instrumental to capturing a perfect image of the client's pet or favorite livestock.
Watercolor is the most common request as the painting process takes three weeks, much less time to complete compared to acrylic paints, which take about four weeks to dry and be completed.
Oil paintings are also popular, but they take longer depending on the subject — it could take three weeks to months to complete. "I don't say no to any medium," said Harding. She has also painted with milk paint, a water-based paint made from milk and lime. She likes to use plain white canvases for most of her art, but for small prints she prefers to use wood panels.
She has also painted artwork on a Yeti cup. Her method is to paint with bright colors in the background, she said.
A lot of her artwork follows the design pattern of light to dark. Harding also offers a suite of artistic services besides candid paintings.
She does logo designs and has illustrated a children's book, "Rooster the Red Pony."
One of the popular items she does during the holidays is creating personalized stationery. She'll take her original print and copies it on a series of notecards. She prices the cards at $2 a card or a pack of 10 for $20. Harding does some community service with her work.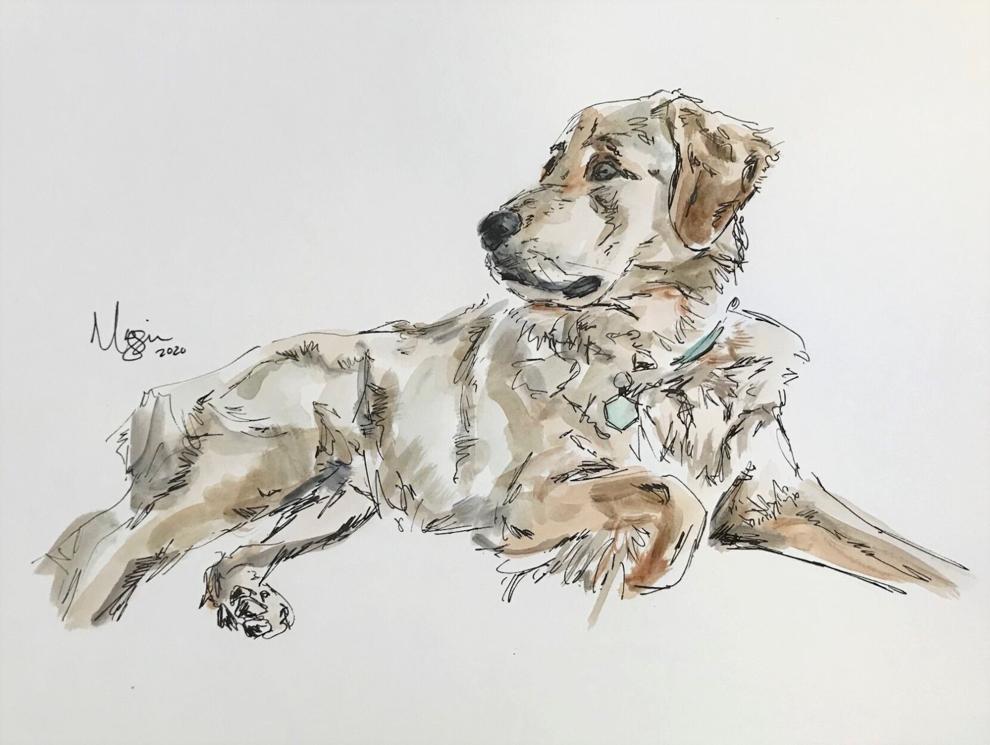 She paints artwork every year for Penn State's College of Agriculture Sciences. During the start of coronavirus, she painted and sketched free portraits of health-care workers' pets.
"I felt the need to boost morale," said Harding. The pricing of her artwork varies depending on the size of the canvas and medium. Watercolor pictures that are by 8x10 inches cost about $65. Oil paintings that are 11x14 inches cost around $90.
Editor's note: Maggie Harding can be reached at through her website www.maggiecardco.com or by email maggie@maggiecardco.com.
---