People have celebrated Halloween in any number of ways throughout time, from setting bonfires to trick-or- treating, carving pumpkins and wearing costumes.
In the 19th century, one favorite way to celebrate the scary holiday was a phantasmagoria.
Sounds like something from an old Vincent Price movie, doesn't it?
But a phantasmagoria is a form of horror theater using a magic lantern to project mostly frightening images.
The precursor to motion pictures, magic lanterns showed images from slides, which were projected on a screen. In the 19th century, magic lantern theaters sprung up everywhere. By the early 1900s, motion pictures had swept the country and magic lanterns disappeared.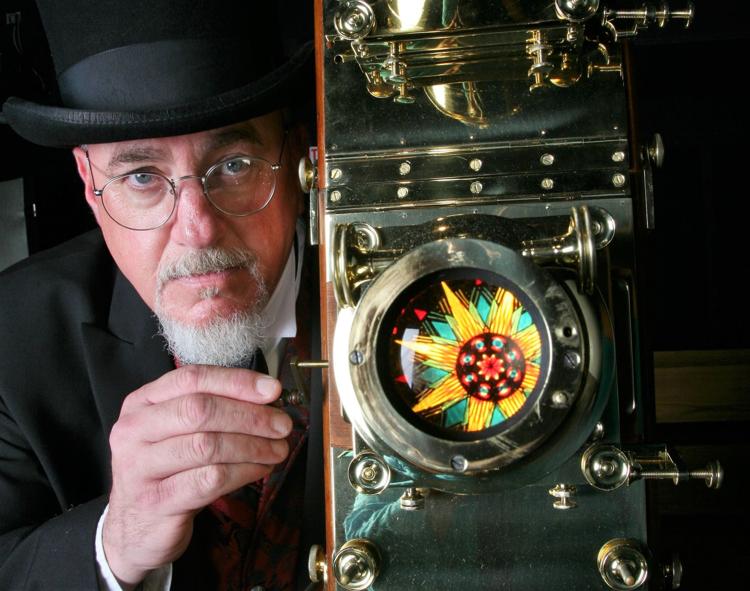 Today, Lancaster County has the only full-time magic lantern theater in the world, located on the grounds of Plain & Fancy Farm in Bird-in-Hand and hosted by the Amish Experience.
And that calls for a phantasmagoria.
"Theater of Fear," as the new show at Magic Lantern Theater is called, is patterned after shows in Paris in the early 1800s, with some special acts and "images from beyond" from the magic lantern.
"The show is designed to make you giggle, jump and go woah!" says Mark Sullivan, who oversees the Magic Lantern Theater and develops, writes and acts in the shows. "I've been involved in a lot of Halloween productions — at Mount Hope and the Terror Trail — but I wanted to do something different this time, an alternative to the gory stuff."
It is still scary enough that nobody younger than 13 will be admitted.
The host of the evening is Alistaire Graves (Sullivan). Joining him wll be Edwina Nightshade (Shelli Nock), whom Sullivan describes as a "very attractive but deadly black widow," and Edgar Allan Poe (Todd Loughrey), who will be reading some of his most famous melancholy and terrifying poems.
Phantasmagoria slides are hard to come by, but Sullivan has found some.
One set is called "The Monster Show" and features slides from the early 1800s of strange creatures.
"I got them from a museum in Portugal," Sullivan says. More whimsical than frightening, they are a fascinating look at what phantasmagoria meant back then.
Another set of magic lantern slides came from England.
"We knew nothing about them," Sullivan says. "After some researching we found reference to them in an Australian newspaper. So I wrote the story."
Sullivan calls it "The Yorkshireman and the Amish Ghost," and it is a creepy little story about a man who insists on buying an abandoned and haunted manor and what happens to him there.
There is plenty of excitement in "Theater of Fear."
"We'll have explosions and rolling smoke. The music will be very intense and powerful, like surround sounds. We want people to feel it," Sullivan says.
Poe will read his "Conqueror Worm" and "The Telltale Heart" among several others, and Miss Nightshade will do her show.
"She's a sideshow artist," Sullivan explains. "She eats fire, blows fireballs and walks on top of wine bottles, which is freaky."
Later, she'll do her silk show, featuring "death drops," which Sullivan calls thrilling.
Sullivan worked on "Theater of Fear" for a year and a half and plans to keep it going, stating confidently, "We'll be doing this for years to come."¶