It's a common dilemma in the Plain sect community of eastern Lancaster County.
A farmer or a farmer's son starts a woodworking business on the family's property to make gazebos, sheds, furniture or other products.
The business prospers. It needs to expand to meet demand, but zoning regulations prohibit that in an agricultural area.
So the family looks to move the business off the farm and into a vacant industrial building, or buy an industrial lot in the area and construct a new facility there.
But that too leads nowhere — no suitable buildings or lots are available. Now what?
To help solve that problem, a local airline pilot who grew up in Bird-in-Hand is proposing to develop the Vintage Business Park on a 62-acre property at 27 S. Vintage Road in Paradise Township.
The site, zoned commercial-industrial, is a half-mile south of Lincoln Highway East.
The park would have 20 lots ranging in size from 1.5 acres to 4.1 acres, though businesses could buy more than one, of course.
And while it would be tailored to Plain sect businesses that have maxed out their rural locations, it would be open to businesses with any kind of roots.
"The Vintage Road project addresses the critical shortage of industrial sites for small and on-farm businesses in eastern Lancaster County," said John Biemiller of the Economic Development Company of Lancaster County.
Biemiller, director of business retention and expansion, said that finding or creating more industrial sites is "key to sustaining and growing our existing businesses."
The state agrees.
The Pennsylvania Industrial Development Authority last week approved a $2.25 million loan for the venture, citing the benefit to "growing Plain sect and on-farm businesses ... in eastern Lancaster County."
EDC Finance, a sister organization of the Economic Development Company, helped to secure the loan.
Developing the site would cost about $50 million to $75 million, including the cost of the land, building infrastructure such as roads and sewer lines, and erecting buildings, said project spokesman Scott Bradbury.
About 100 to 200 people would work at the businesses in the park, according to PIDA.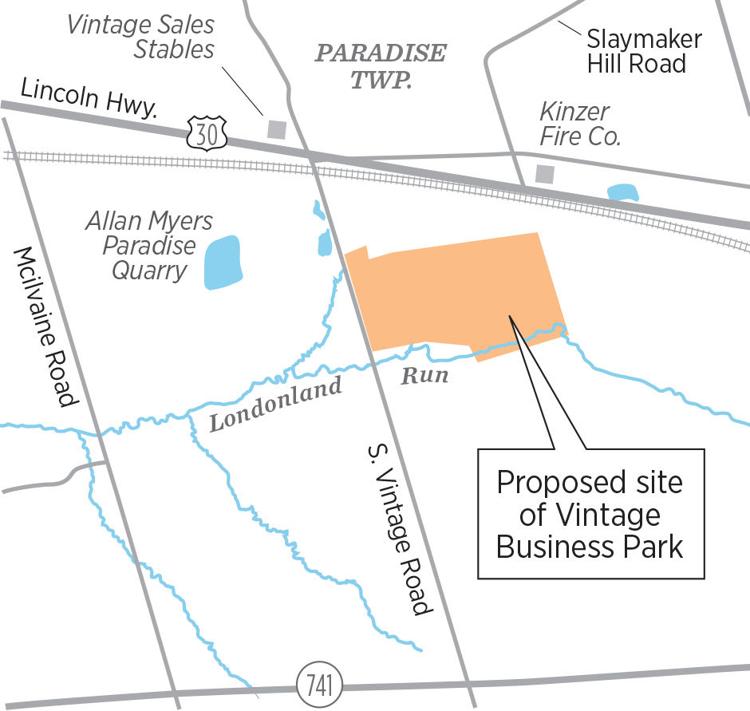 ---
Local developer
The developer is M Land Develop LLC, owned by county resident Myron Stoltzfus.
Stoltzfus' LinkedIn page shows he's a pilot for American Airlines and a principal in M Construction, a builder of structures for the mushroom industry.
In a statement, Stoltzfus said he learned about the lack of industrial sites in eastern Lancaster County through his "personal and business relationships" in the area.
"My hope is that the project will benefit the Plain sect who have on-farm businesses to grow and expand for future generations. I also believe the lots will appeal to other Lancaster County businesses that are looking to build larger facilities, but have not been able to do so due to the overall lack of available sites in Lancaster County."
A local authority on Plain sects here agrees the need is pronounced.
"Rural zoning doesn't accommodate (business expansions) ...," said Steven Nolt, senior scholar at the Young Center for Anabaptist and Pietist Studies at Elizabethtown College. "Having another place to grow would be welcomed" by Plain sect businessmen facing that challenge.
Bradbury, a senior vice president at Lancaster-based U.S. Commercial Realty, and other Realtors here have long lamented the lack of available industrial properties.
"It's a countywide problem," Bradbury said. "There's hardly anything available." And the scarcity is driving up the price of the few industrial parcels on the market, he added.
---
Leased to farmer
M Land has had the tract under agreement for nearly two years, Bradbury said. He declined to name the land owners, but public records show they are John and Rebecca King, of Leola.
The land is being leased to an Amish dairy and crop farmer.
Bradbury is handling the sale of the parcel to M Land. Assuming the project wins township approval, the land would be divided into lots; Bradbury would handle their sale to the park's occupants.
He declined to disclose the prices of the lots.
The proposal is in the early stages of municipal review, with a preliminary land development plan soon to go before the township supervisors for a conditional approval, which township planners have supported.
Despite being early in the approval process, Bradbury says interest from local businesses already is "very strong."
Bradbury said he's had "numerous conversations" with owners of area woodworking, metal fabricating and other businesses, both Plain sect and not. "They're all excited about this," he said.
Vintage Business Park could accommodate about 510,000 square feet worth of buildings, he said. For comparison, that's roughly the size of 10 football fields.
Depending on the pace of the township approval process, Bradbury hopes groundbreaking could be held late this year or in spring 2020.
"Everybody is working to help this project through," said Nick Lopez, township zoning officer. "We try to be as business friendly as possible," while making sure a project meets the requirements of township ordinances.
---
Village growth area
Bradbury said the site is well suited for a business park.
Besides being appropriately zoned and near a main road, the parcel is within the village growth area as defined by the Lancaster County Planning Commission's Places 2040 plan, he noted.
The developer would need to extend a public sewer line to the site, according to Bradbury.
M Land also expects to widen South Vintage Road in the vicinity of the business park, he said, though the particulars remain to be determined.
Several other aspects of the project remain to be figured out as well, as is typical for industrial projects at this point of the process.
Since the site lacks public water, the developer is assessing the capacity of an aquifer there, Bradbury said. That would determine how many employees could be supported, Lopez said.
In addition, the township is paying its engineer, Rettew Associates, $9,400 to take a look at two traffic matters, said Dennis Groff, a township supervisor and its roadmaster.
Rettew, said Groff, is evaluating the nearby intersection of South Vintage Road and Route 741, "to see what needs to be done to handle the business park's traffic."
In the same way, Rettew also is evaluating the width, durability and strength of the stretch of South Vintage Road past the park, Groff said.