It was January 2015 when developers of the Lancaster Marriott at Penn Square proposed adding a second tower to their 300-room hotel.
Two reports had warned that a shortage of rooms within walking distance was impacting business at the adjacent Lancaster County Convention Center.
Adding capacity, they advised, would allow the complex to attract more large events and retain ones that might otherwise outgrow it.
Now, 4 1/2 years later, the finishing touches are being put on the $39.4 million project.
"We're occupying rooms right now," Tom Smithgall, senior vice president of development for High Real Estate Group, told the city redevelopment authority earlier this month.
The redevelopment authority owns the hotel property and leases it to developer Penn Square Partners.
An affiliate of High is the general partner in Penn Square Partners. An affiliate of LNP Media Group, publisher of LNP and operator of the website LancasterOnline, is a limited partner.
The convention center is owned by a public authority.
---
10th anniversary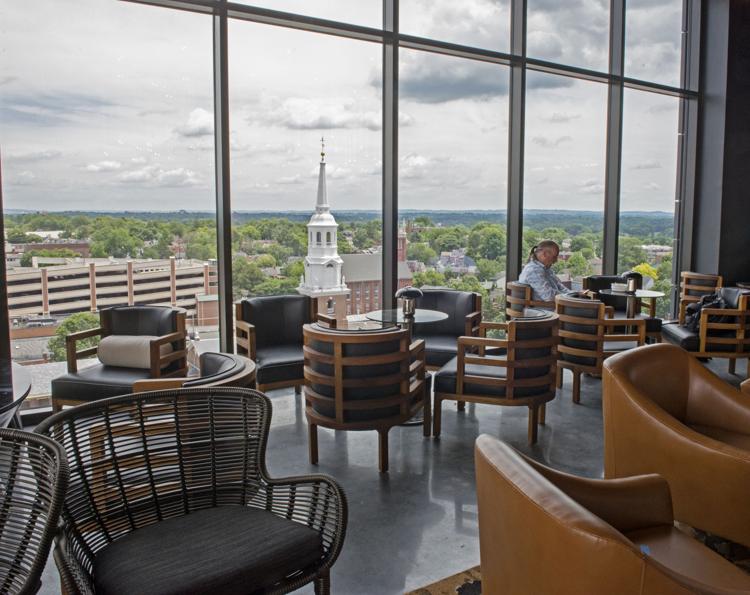 The original Marriott and the convention center turned 10 years old this month, having opened for business June 19, 2009.
In 2012, the firm Conventions, Sports & Leisure International said a lack of hotel rooms already had kept nine or 10 large events from booking the convention center. A 2014 report done for Lancaster City Alliance reached a similar conclusion, leading the alliance in 2015 to call for 300 additional city hotel rooms to be built by 2030.
Four years later, "we are getting very close to that," alliance President Marshall Snively said.
The new 12-story Marriott tower, just east of the original hotel, adds 110 guest rooms.
Meanwhile, another 216 rooms are available a few minutes' walk away at the newly renovated and rebranded Holiday Inn Lancaster, 26 E. Chestnut St. About 40% of its rooms were offline prior to its renovation.
"We are excited to partner with the Marriott and the convention center to bring more and more people and positive energy to Lancaster," said John Meeder, the Holiday Inn's developer.
Having enough convention-quality rooms nearby is vital to maximizing the convention center's economic benefit, said Kevin Molloy, executive director of the Lancaster County Convention Center Authority.
Studies confirm that overnight guests spend significantly more money than day-trippers, he said. He offered "a big thank you and congratulations" to the Marriott and Holiday Inn alike.
"There's not a hotel in Lancaster County I'm not a fan of," he said.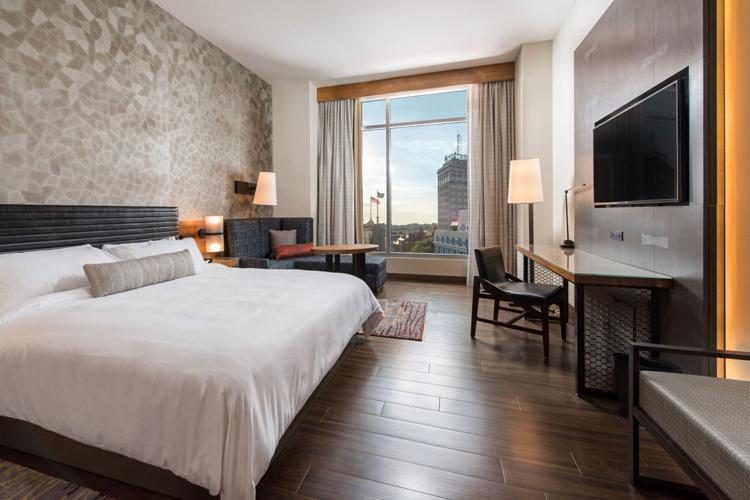 Smithgall said the venues' respective locations are ideal.
The walk between the Holiday Inn and Penn Square takes you through one of the most vibrant small cities around. Visitors enjoy discovering what's here, and their presence increases business for downtown restaurants, shops and other venues.
Lancaster enjoys a stellar reputation, and the city plays a key role in the Marriott's and convention center's marketing, Smithgall said.
Those efforts are led by sales and marketing director Josh Nowak. He said the larger stock of hotel rooms becoming available has indeed helped in booking larger events, but he stopped short of citing specific examples.
---
A bar, a restaurant, a lounge
What else is coming to the Marriott besides more rooms?
At the top of the east tower sits The Exchange, a rooftop bar featuring craft cocktails and artisanal small plates. Slated to open Monday, it has a dedicated entrance at ground level, making it fully accessible to the general public as well as hotel guests.
It has indoor and outdoor seating, both offering panoramic views of Lancaster.
In the original Marriott, the former Penn Square Grille space is being renovated to host a new flagship restaurant, Plough. Set to open in August, Plough is centered around a display kitchen and boasts a circular bar and seating for about 190 people.
To its east will be a breakfast eatery named Two Kings.
Plough's opening will free up the convention center's front lobby for a renovation there. It has been used as a temporary bar and restaurant during Plough's construction.
Upstairs, in what is now labeled the west tower, the rooms are being redone.
It's standard procedure for brands like the Marriott to undergo a "refresh" every decade or so, Smithgall said.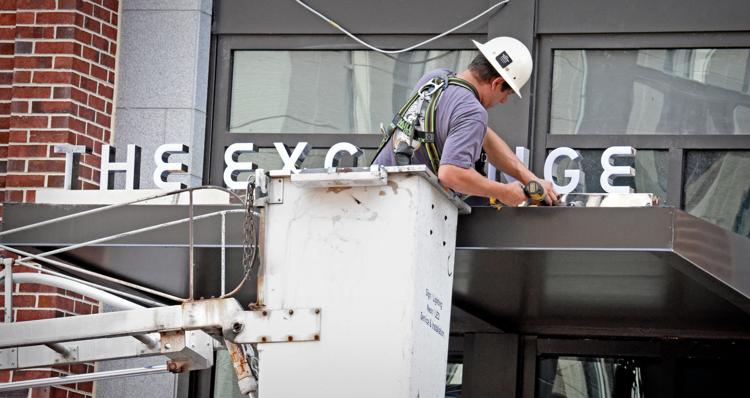 The work began in mid-April and is proceeding three floors at a time, top to bottom, at a cost of about $4.5 million.
When complete, the west tower rooms will match their east tower cousins, with new flooring, wall treatments and furnishings. The flooring being used is a high-end luxury product manufactured by Armstrong Flooring right here in Lancaster County, Smithgall said.
A concierge lounge on the 18th floor is being replaced with an M Club lounge on the first floor for loyalty program members and guests who upgrade their reservations. The M Club concept is relatively new for Marriott, and Lancaster's is among the first in a market this size, Smithgall said.
Between that and a few other layout changes, the west tower's rooms will total 306. Adding the east tower's 110 rooms brings the total to 416, including 13 suites.
Everything should wrap up by September, Smithgall said. The hotel's number of full-time equivalent jobs is increasing by 40 to 240, he said.
A celebration to mark the new tower's debut and the existing complex's 10th anniversary is planned for Aug. 21. 
---
Funding the new tower
Work on the east tower project began in May 2017. It generated about 500 construction jobs, Penn Square Partners said.
About $9 million of the financing is provided through the City Revitalization & Improvement Zone program, which allows developers to apply what would otherwise be state and local business taxes to debt service.
The remainder was funded by bonds issued through the redevelopment authority, which Penn Square Partners is paying down. The partnership also made a $2.5 million equity investment.
Because the Marriott properties are leased from the redevelopment authority, they are tax-exempt.
Instead, under a payment-in-lieu-of-taxes agreement, or PILOT, Penn Square Partners pays a base rent plus additional amounts if certain profit thresholds are reached.
City officials have said they expect the PILOT to generate more revenue than Lancaster would get if the property were taxable. In 2017, the city agreed to share the PILOT with the School District of Lancaster.