Last fiscal year, Lancaster General Hospital had a record operating surplus of $143 million.
That's enough to pay for the $67.3 million expansion it's currently completing along Lime Street more than twice over.
Yet when viewed as a percentage of net patient revenue, the large surplus — or operating margin — was not unusual for hospitals here.
Although hospital leaders consistently talk about efforts to lower costs for their patients, financial records in a report by the independent state agency Pennsylvania Health Care Cost Containment Council show that most hospitals here, including nonprofits, maintain high margins year after year.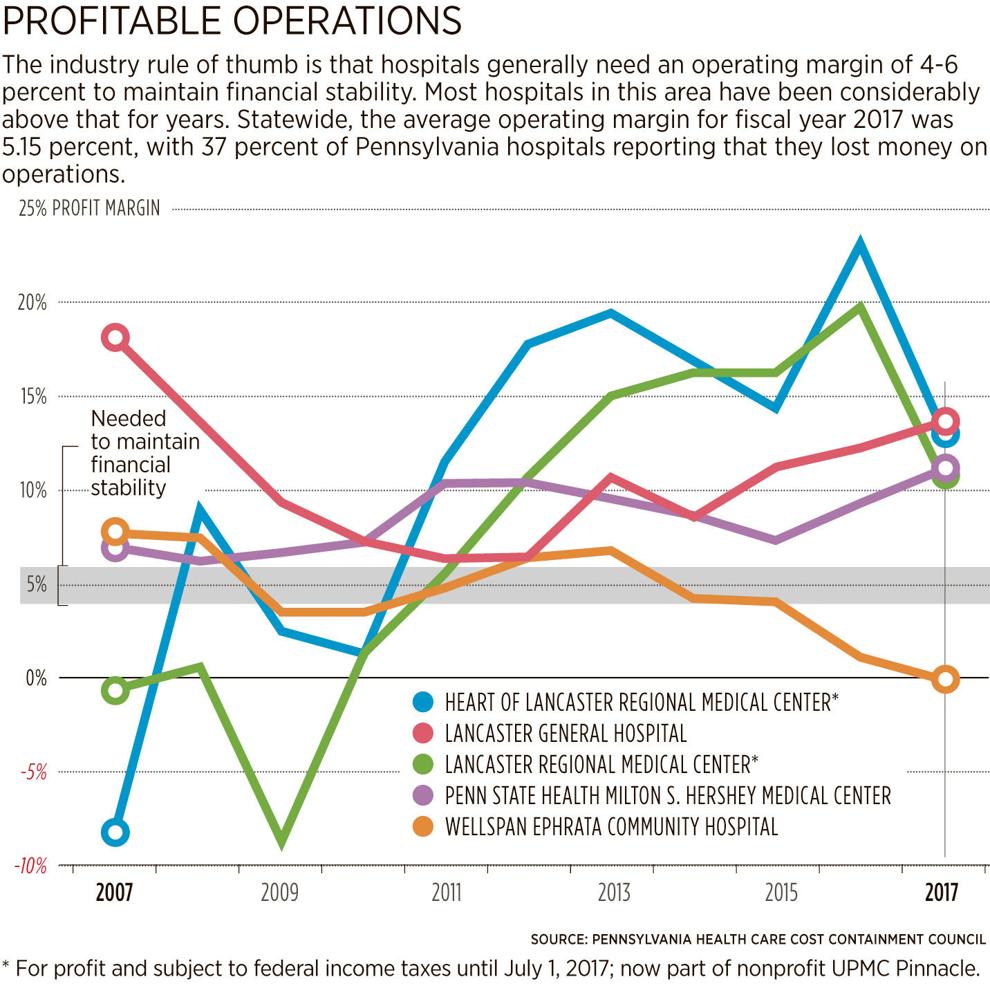 Industry experts say every situation is different, but hospitals generally need an operating surplus of 4 to 6 percent to maintain financial stability.
In Lancaster County and the surrounding region, four of five hospitals in the last fiscal year had operating margins roughly twice that high.
Statewide, average operating margins have tended to be in that 4 to 6 percent range.
But a closer look shows a distinct gap between those that are flourishing and the 37 percent of Pennsylvania hospitals that lost money on operations last fiscal year.
The report shows that most hospitals losing money on operations are small ones, but it does not assess why some hospitals flourish and others don't.
The council's report did not identify an acceptable range for operating margin, but it did note that how much a hospital needs for stability depends in part on its recent financial history, debt levels and condition of buildings and equipment.
Local numbers
The agency's latest report is for the 2017 fiscal year, which ended June 30, 2017. It shows operating margins for the following regional hospitals:
— Heart of Lancaster Regional Medical Center (which has since become UPMC Pinnacle Lititz): 13.1 percent surplus totaling $8.5 million.
— Lancaster General Hospital: 13.6 percent surplus totaling $143 million.
— Lancaster Regional Medical Center (which has since become UPMC Pinnacle Lancaster): 10.7 percent surplus totaling $12.6 million.
— Penn State Health Milton S. Hershey Medical Center: 11.1 percent surplus totaling $166.7 million.
— WellSpan Ephrata Community Hospital: 0.02 percent shortfall totaling $45,000.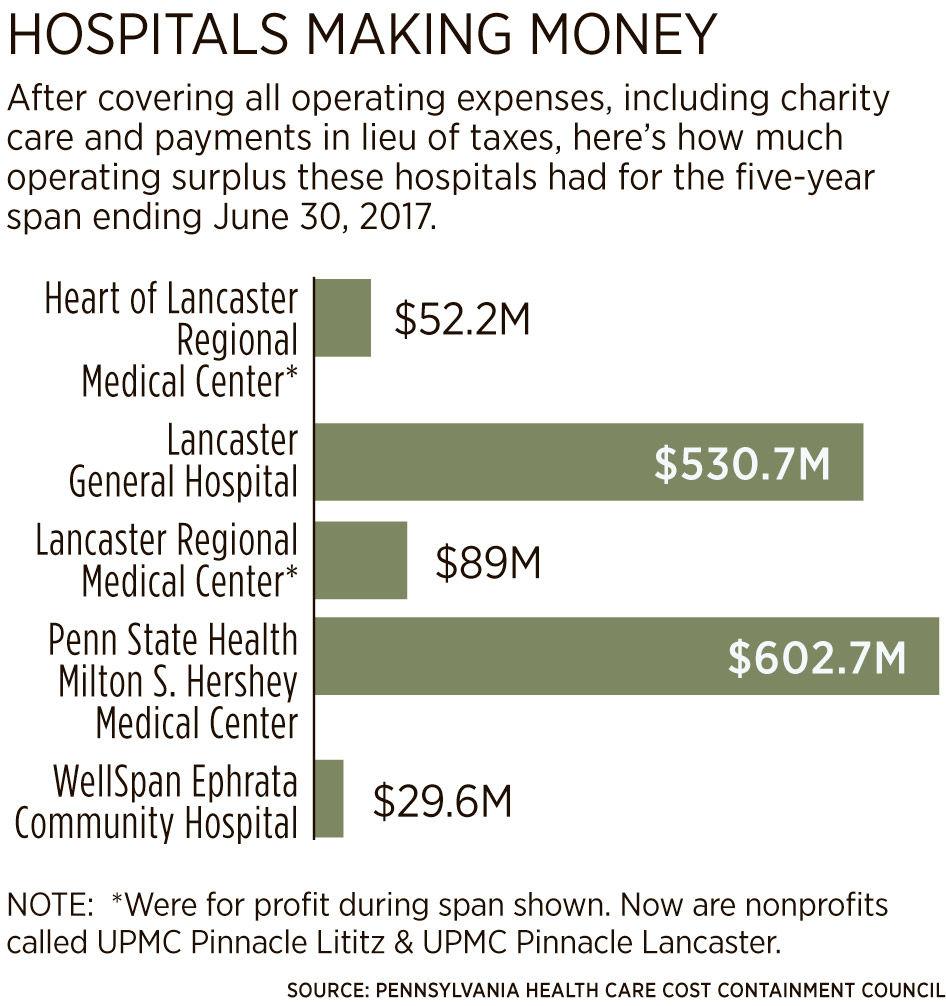 All the hospitals are currently nonprofits, but the two now known as UPMC Pinnacle Lancaster and UPMC Pinnacle Lititz were for-profits through fiscal year 2017.
Nonprofit hospitals are required to use any surpluses for the community's benefit.
They often use the term "community benefit" to describe charity care and payments in lieu of taxes, but as the agency defines it, those are operating expenses and don't come from surplus funds.
Ways that nonprofits are allowed to use surpluses include adding or improving buildings and services.
The agency report lumps bad debt and charity care together under the heading of uncompensated care.
For fiscal year 2017, the report shows uncompensated care as the following percentages of net patient revenue:
1.74 statewide
2.96 at WellSpan Ephrata
2.68 at LGH
1.42 at Hershey Medical Center
1.22 at Heart of Lancaster
and 0.79 at Lancaster Regional.
---
BIG QUESTIONS FOR THE HOSPITALS
The presence or absence of large surpluses at area hospitals raises some big questions, and LNP asked them.
Hospital leaders responded with written statements, from which the below excerpts are taken.
Lancaster General Hospital
With high costs arguably the biggest problem in health care here and nationwide, why are you consistently maintaining big surpluses instead of cutting prices so Lancaster County residents can keep that money in their pockets?
Spokesman John Lines said LGH's operating margin is similar to those of other hospitals in the region, and its financial performance "enables us to invest in the health services needed to meet our growing community."
"We will invest more than $100 million each year, for the next five years, to renew and enhance our facilities and technology," he said. "Those investments aim to strengthen the health of our community, lower readmission rates and improve clinical outcomes. This often leads to further lowering the total cost of care for our patients."
He also listed a variety of community benefits like charity care and payments in lieu of taxes, which the Pennsylvania Health Care Cost Containment Council counts as operating expenses and do not come out of surplus funds.
WellSpan Ephrata Community Hospital
WellSpan has charted a different path than most systems here, acquiring smaller hospitals instead of joining a larger organization. WellSpan Ephrata's surpluses show a difference, too: Since 2012, it has had the lowest surplus of any area hospital each year, and 2017 marked its first operating loss in at least a decade. Is the Ephrata hospital in trouble?
Carrie Willetts, senior vice president of WellSpan Health and president of WellSpan Ephrata Community Hospital, said 2017 numbers were "impacted by the costs related to the implementation of Epic, our new electronic health record."
"These are non-recurring costs and there has been significant improvement in the hospital's finances in 2018," she said.
Willetts also said the hospital continues to grow, and in the past two years has completed a $47 million project that added a new operating suite and expanded its cardiac services. It also launched a total joint replacement program and acquired a da Vinci surgical system.
UPMC Pinnacle
You acquired two for-profit hospitals formerly known as Lancaster Regional Medical Center and Heart of Lancaster Regional Medical Center, and turned them into nonprofits named UPMC Pinnacle Lancaster and UPMC Pinnacle Lititz, respectively. What kind of changes might we expect to see in fiscal year 2018 as a result?
William Pugh, executive vice president and chief financial officer of UPMC Pinnacle, said since acquiring the Lancaster County facilities and several other hospitals at the start of fiscal year 2018, the hospitals have implemented Epic, upgraded lab equipment and broadened mammogram and stroke services.
Locally, he said, UPMC Pinnacle Palliative Care will be coming to Lancaster and Lititz "in the near future," and the system will conduct the community health-needs assessment that nonprofit hospitals are required to complete, using the results to guide its efforts.
The system will keep assessing areas where it can improve quality, increase access and lower costs, he said.
Penn State Health
You've said you want a hospital within 30 minutes of patients you serve, and you recently proposed adding a new one in Cumberland County. You hired a lot of doctors here last year; are you planning to build a hospital in Lancaster County, too? Also, why build new hospitals when inpatient stays have generally been getting rarer and shorter and we hear so much about efforts to improve preventive care and use technology to keep people out of hospitals?
Spokesman Scott Gilbert said Penn State Health's Hershey Medical Center was the first hospital in southcentral Pennsylvania to offer outpatient hip and knee replacement surgery, and is expanding telemedicine programs.
But, he said, a lot of people still need hospital care, the region is growing and and the hospital in Hershey is regularly near or at capacity. The new hospital should help relieve that pressure and give patients options closer to home, he said.
In Lancaster County, he said, the system continues to evaluate the best ways of giving patients access, but is currently focused on the outpatient primary and specialty care center that could open by January in East Hempfield Township's Lime Spring Square.